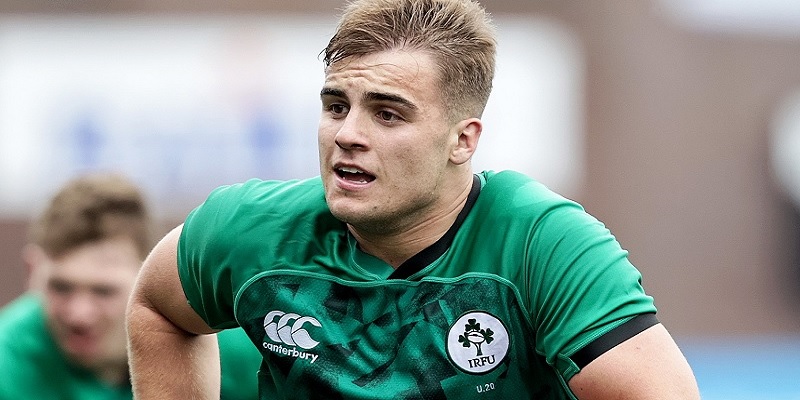 Wrapped up in Cork's fabled food culture, Alex Kendellen enrolled in the BSc Food Marketing and Entrepreneurship at Cork University Business School so that he could gain the practical knowledge to help grow his family's food business after his rugby career comes to an end.
Target driven and extremely determined, Alex's long-term aspiration to add value to Basil Market and Deli sits comfortably alongside a burning desire to excel on the rugby field in the coming years.
Together with my three brothers, I'd love to help bring our family run food market deli onto the national stage.

That's why I selected the BSc Food Marketing and Entrepreneurship. I have always been interested in food business and the programme gives you the skills to be able to run one.

Those skills, alongside the science aspects of the programme, really appealed to me. It's about setting myself up for a career after I finish playing rugby.
A Quercus Scholar, Alex faces the challenge of striking a balance between his on-field ambitions and his desire to maximise his academic potential.
Supported by CUBS faculty and those involved in the Quercus Talented Students' Programme, Alex is able to manage his time efficiently so that he can excel and deliver on his enormous potential.
I want to represent Ireland, that's my longer-term rugby objective. The Quercus Talented Students' Programme is designed to help me achieve that.

People like Michele Power and Elaine O'Mahony are always available to me if I need anything academically.

Because I'm based in Limerick with Munster a lot of the time, I'm not able to attend every lecture or submit some assignments on time.

Michelle and Elaine have been fantastic around negotiating some flexibility when required making sure that I don't miss out if I'm selected to play a match on any given weekend.

They always do their best for me and all the other Quercus Scholars.
Having to train in Limerick means that Alex has restricted availability for on campus activity. This of course presents challenges for him, particularly around the social aspects of college life.
While this might seem like a reasonable price to pay to pursue a career as a professional athlete, missing out on those formative moments and early networking opportunities does weigh on Alex.
I'd be lying if I said that I wasn't bothered about missing out on class nights out or being able to immerse myself into the culture of the group.

If you're limited in the time that you can be on campus, you are going to miss out on the social aspects and early career opportunities.

It can be tough, but two years ago I made a decision to prioritise rugby, which means that it's something that I'm going to have to get used to and take every opportunity to immerse myself into the group when I'm on campus.
Now two years into the BSc Food Marketing and Entrepreneurship, Alex has established himself in the Munster squad having secured a senior contract ahead of the 2022/23 season and is developing the knowledge that could help catapult Basil Market and Deli onto the next level.
In third year, Alex will be given the opportunity to put much of what he learned into practice as part of the programme's immersive six-month placement module.
The knowledge that Alex has developed at CUBS, along with the leadership attributes he has cultivated as a professional athlete, will ensure that he will be a welcome addition to any ambitious food business when he does go out on placement next year.