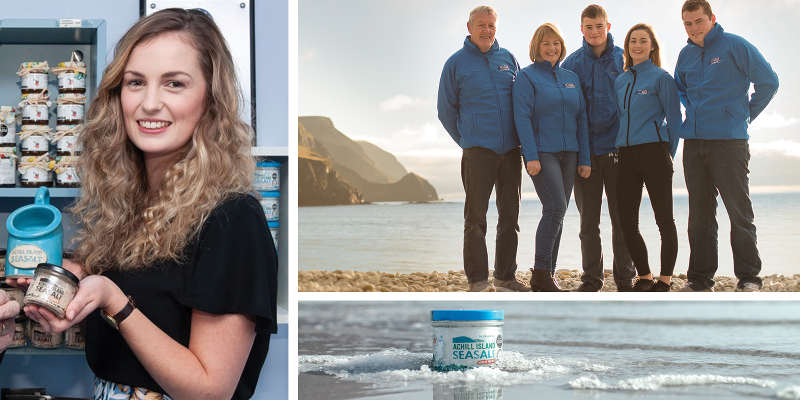 "We began by boiling seawater in our kitchen until we eventually made salt" - Maebh O'Malley, CUBS graduate and Marketing Manager for Achill Island Sea Salt.
At some point in the future, researchers might look back on the first 20 years of the 21st century to understand how the humble Irish kitchen spawned and sustained a thriving artisan food industry.
Right across the country, kitchen tables have borne witness to people using local ingredients and traditional techniques to establish artisan food businesses that have scaled beyond market stalls to become food brands that provide sustainable jobs.
From craft cheeses to rustic crisps, natural honey and even everyday dairy items, artisan producers are offering consumers quality produce that haven't just replaced established brands in our shopping trollies but resonate with the values we aspire to hold as a society.
It is this kind of altruism that drives Maebh O'Malley, Marketing Manager for Achill Island Sea Salt. A graduate of the MSc Food Business and Innovation at Cork University Business School, UCC, Maebh sees the company as being part of the island's commercial ecosystem, where a holistic approach provides mutual benefits.

When we opened our visitor centre in June 2019, we really wanted it to add value to the offering on Achill Island.

Food tourism is an area that is growing in popularity, and consumers are now more interested in finding out where their food comes from, while gaining an authentic experience.

That's why we're working alongside Achill's food and drink producers to develop an Achill Food Tour, Flavours of Achill, which we hope to have up and running next year.

We hope that initiatives such as these will help develop Achill as a unique Irish food destination, and act as a way of extending the tourist season, attracting visitors to Achill all year round.
Extending the tourist season won't just create opportunities for people in the here and now. In the longer term, the prospect of sustainable employment provides graduates such as Maebh with the option of deploying the skills and knowledge they developed at University in their local communities.
In fact, the possibility of working in Achill is central to Maebh's story. When her mother first established Achill Island Sea Salt in 2013, Maebh helped out with marketing and social media while studying microbiology in UCD.
After graduating in 2016, Maebh became responsible for sales and marketing, but understood that she would need to enhance her skill set if she was to turn a part-time role into a full-time position. Consequently, she took the decision to enrol in the MSc in Food Business and Innovation at CUBS.
Given the challenges associated with marketing an everyday item such as salt, Maebh was particularly interested in the placement opportunities provided by the MSc, and excited by the prospect of bringing that practical experience back to Achill Island Sea Salt.

As part of the MSc, I was really lucky to work with Musgrave as a marketing intern. I was on an exciting team called Future Brands, which worked on brand concepts that sit in SuperValu and Centra stores.

These brands included Caramico Pizza, Moo'd Ice Cream, Green Kitchen and XO Donuts. It was a small team consisting of marketing, sales, trading, product development and finance, so I got a taste of all sides of the Musgrave business.

I gained insight and experience in different aspects of brand development, from launch initiatives, social campaigns, local retail marketing support and activation of national experiential campaigns.
Joining the Musgrave as an intern also had the effect of deepening the relationship between the Food Academy programme and Achill Island Sea Salt, whose products can be found in over 40 SuperValu stores as a result of their participation.
Soon after graduating, Maebh applied her new found knowledge and expertise to overcome some of the marketing challenges that Achill Island Sea Salt had encountered by telling the Achill Island Sea Salt story to customers and explaining what made their brand different.

Many people think salt is just salt, however, there are many types of salts on the market, with different methods of evaporation yielding salts differing in taste and texture.

For example, table salt is often mass produced and stripped of its minerals. It also often has anti-caking agents added to prevent clumping.

Achill Island Sea Salt however, has over 60 trace minerals including magnesium, calcium and potassium. These minerals are what gives the salt a sweet taste, while our slow method of evaporation contributes to its soft flaky texture.

We use in-store tastings and social media to tell our story. We also have a recipe section on our website which I update regularly to highlight the many different ways that salt can enhance a dish.
Daily tours of the visitor centre enables Maebh to expand on the Achill Island Sea Salt story and to demonstrate just how they harvest salt from the Atlantic Ocean by hand.
It's an experiential tour that came about after people started knocking on their door asking to watch the process involved in producing sea salt.
We never really intended on opening a visitor centre, but people kept knocking on our door. I can't really take credit for the idea!!

It's a great way to get in front of consumers and share how far we've come. While we've only been open a couple of months, we've seen the benefit it has to our business as an additional income source and as a means of promoting both Achill Island Sea Salt and Achill's food culture.
In the six years since Achill Island Sea Salt was formed, the company has outgrown the kitchen table to occupy a purpose built facility that will support sustainable jobs on Achill Island.
Maebh and the team aren't resting on their laurels either. Throughout the last number of years, they have been collaborating with like-minded companies throughout the country, creating Achill Island Sea Salt inspired products that have increased brand awareness.
In the coming months, they plan to enhance the visitor experience to cater for extra demand, and launch two new products, a seaweed salt, and a delicious-sounding salted caramel fudge!!