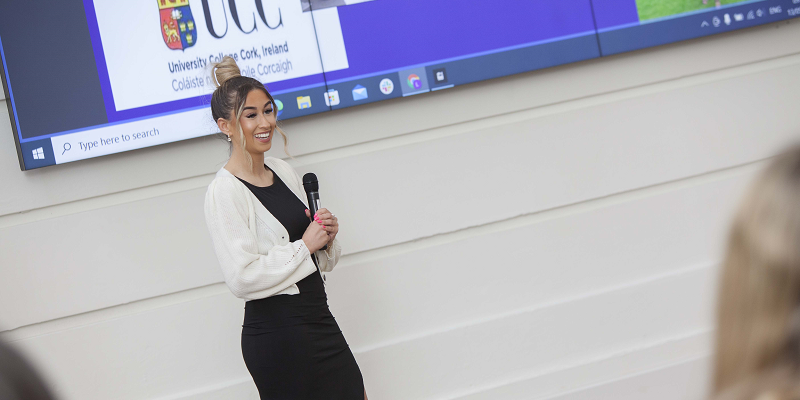 An Arts graduate with an ambition to break into the world of business, Lucy O'Sullivan enrolled in the MSc Management and Marketing at Cork University Business School to develop the organisational skills that resonate with employers.
Excited by the prospect of learning those skills while on work placement with a leading company, Lucy didn't think twice about accepting her place on the programme.
What really got me interested in the programme was the work placement. I had learned a lot studying Arts, but I didn't have any real experience or practical business knowledge.

Gaining those insights allowed me to secure my placement with Starcircle. I had unsuccessfully applied for two other placement roles, which was obviously disappointing, but I learned so much from the process that those lessons stood to me when I applied for the position at Starcircle.

I absolutely love working at Starcircle, the culture and environment here is so positive and everyone is hugely supportive.

I knew from the minute that I finished my interview that it was where I wanted to do my placement.
Companies all over the globe are grappling with the challenge of finding talent in the post pandemic world. Starcircle helps scaling and ambitious companies overcome those complex hiring challenges by giving them access to pipelines of undiscovered talent.
The Starcircle expertise lies in their ability to help their clients overcome seemingly impossible talent challenges.
Starcircle helps some of the world's best-known companies such as Doordash, Amazon, Google, and Cisco, to find talent for even the most difficult to fill roles. The opportunity to work with Starcircle, who are providing such a business-critical service right now was very attractive to Lucy.
Now three months into her six-month placement with Starcircle, Lucy is building her knowledge base and skillset so that she can maximise the learning opportunity afforded by the MSc Management and Marketing.
This has provided Lucy with insights into how a company with a global footprint is adapting to the world of hybrid and remote working.
I spent a lot of time shadowing Starcircle's HR manager Brita O'Connor during the onboarding process.

Brita has over 20 years of experience in HR. I gained a lot of insight and knowledge from her expertise in the area.

It was really interesting, and I really got to learn a lot about HR and how that function changed so much during the pandemic.

I have been learning so much about how teams communicate, what motivates them and how companies can maintain a sense of collective purpose in the hybrid and remote environment.

As part of that process, I helped organise a company-wide event in the UCC Centre for Executive Education on Lapps Quay.

I think that experience will really stand to me because I was given real responsibility and the opportunity to demonstrate my ability.

Being given that kind of responsibility speaks to Starcircle's values. At no stage did I ever feel like someone coming into the company on a work placement, they really went above and beyond to make me feel like a valued member of the team.
Now that Lucy is halfway through her six-month placement, her attention is beginning to shift toward completing a dissertation that will incorporate much of what she learned at Starcircle.
Working with the HR team at Starcircle, Lucy will interview several key people across the organisation to fully understand how the company promotes employee engagement across its global workforce.
Completing the dissertation will provide Lucy with the kind of insights and knowledge that HR professionals across multiple industries are crying out for.
As such, by leveraging the academic and practical components of the MSc Management and Marketing, Lucy will be able to impress specialist HR recruiters and hiring managers immediately after graduating.
Brita O'Connor Starcirle's Director of HR on Lucy's impact on Starcircle:
Lucy has been a brilliant addition to our HR Team. This is a big year for HR in Starcircle as we announced 100 new jobs recently and are focused on becoming a Great Place to Work, which means lots of new People initiatives which Lucy has been involved in.

In particular internal comms and employee engagement are areas we really want to focus on, and Lucy's marketing skills have been hugely beneficial in those areas.

Lucy's creativity and innovation along with her natural people skills make her a dream addition to our HR team. She is wonderful to work with and we hope it's a relationship that will continue long after her internship.