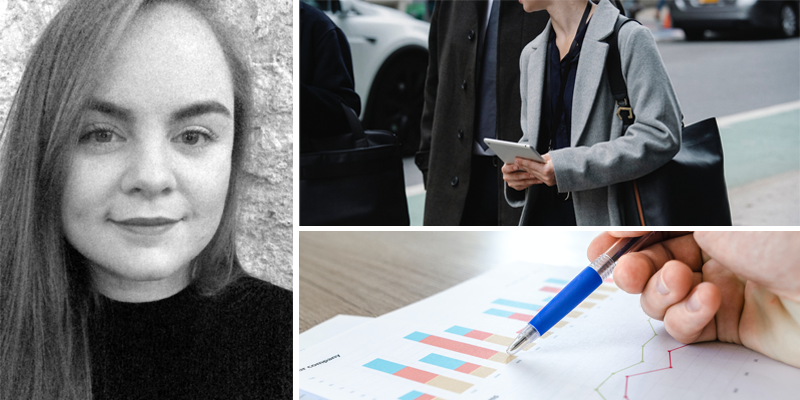 After only studying accountancy for five weeks, Arts graduate, Niamh Power, secured a position on EY's prestigious graduate programme.
A relative newcomer to the world of accountancy, Niamh enrolled in the MSc Management Information and Managerial Accounting Systems at Cork University Business School in September and began the tentative process of impressing talent managers at some of Ireland's leading firms.
Given my background, I was a little hesitant about applying for graduate roles with Big Four companies.

Although I completed the applications, I didn't expect to get called to interviews due to my lack of experience. Even my father, who is always very supportive, was managing my expectations!

In the end, when I was offered a place on EY's graduate programme, I couldn't believe it. It was completely unexpected.
Although Niamh won't be taking up the position until after she graduates in 2021, she hopes to undertake the postgraduate programme's work experience module at EY so that she can acclimatise to her new surroundings.
Until then, Niamh will be learning some of the key skills associated with Managerial Accounting from specialist lecturers and industry experts.
In fact, CUBS faculty have helped Niamh navigate the transition from Arts to Accountancy, which can be difficult at times.
Because accounting is a totally different discipline, I do struggle with some of the elements of the programme, but I am enjoying it.

The lecturers are quick to provide help and the atmosphere is very constructive. That's very important to me, because, without any background in accountancy, I need to be able to ask obvious questions.
Although she might have left Arts behind, Niamh is philosophical about some the skills she developed as an undergraduate student.
This sentiment echoed by MIMAS programme director, Dr Michelle Carr, who has identified communications skills as something accounting students might benefit from studying.
Niamh is a perfect example of how students can pivot their career direction by bringing the knowledge and skills acquired in an undergraduate degree into the world of business by completing a Master's programme in the Business School at UCC.
For now, though, Niamh has set her sights on graduating before embarking on a successful career with EY.
Find out more about the MSc Management Information and Managerial Accounting Systems.