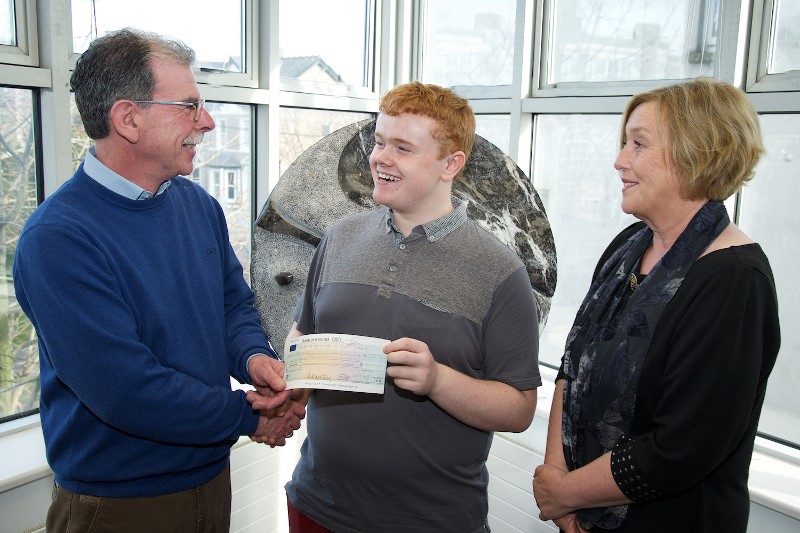 Funds raised were presented by the BIS first year students to representatives from the Cork conference of the Society of St. Vincent de Paul, as well as committee members from UCC's St. Vincent de Paul Society (UCC SVP), the oldest charitable society in UCC at a reception in UCC's Business Information Systems on March 16th.
Speaking at the launch Professor Ciaran Murphy, Head of BIS at UCC said "From the time they enter first year in UCC, we encourage our students to invest in themselves, but in that, not forget the needs of others – and their understanding of this is clearly evident in this project. These students had the initiative and drive to record the CD, and then sell it, and themselves selected the Society of Saint Vincent de Paul as the beneficiary, and for this I commend them."
First year student Donnacha Murphy chaired the coordination of recording and production of the album, and speaking on behalf of his fellow students at the cheque presentation he said "This project saw the students involved learn a lot of new skills, both in terms of skills that are transferable to our course, but also on a personal level, so it was a great learning experience, and for many of us, the highlight of our first year in BIS."
The BIS first years involved in the CD project were Donnacha Murphy, Patrick Wrenn, Conor O'Dwyer, Alan Dineen, Andrew O'Donovan, Brian Thompson, Ciara Quinlan, Conor Walsh, Daniel Healy, Davis Finn, Denis Keane, Dion Looney, Edel Slattery, Mark Merriman, Meadhbh Buckley, Molly Kennedy, Sam Punch, Alison Ring, Michael Gannon, Jack MacSweeney, Clodagh Lynch, Ciara Cooke, and Lydia Looney. The CD was produced by BIS graduate, Ciaran Williams.
To learn more about BIS (CK 203) in UCC visit www.cubsucc.com.