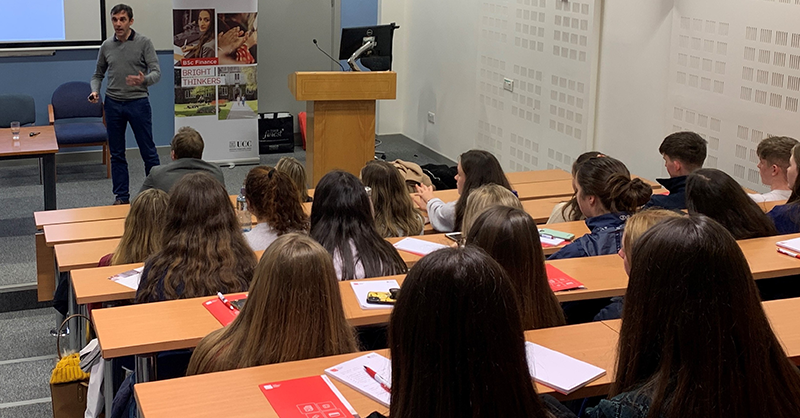 On Wednesday 8th January, nearly 100 Leaving Certificate Students from both local and regional schools came to Brookfield Health Science Complex, to hear about the merits of the BSc Finance programme.
This event is proving to be immensenly popular with secondary students as an introduction to CK204.
Professor Mark Mulcahy welcomed the group before Programme Directors, Dr. Steve O'Callaghan and Dr. Fergal O'Connor gave presentations on all aspects of the programme inclduing corporate finance and financial economics.
Ms Aileen Waterman advised on the six month paid placement in Year 3 of the programme which is arranged by Careers Services in UCC, in a designated financial institution or related organisation located in Ireland or the UK.
A current 3rd year student, Eabha Landers, gave a fantastic presentation, outlining the highlights of her time in UCC, both academic and social.
The guest speaker of the day was Mr. Paul Whycherly, BSc Finance Graduate. Paul has had a fascinating career since graduating from UCC including working in Milwall Football Club, Queens Park Rangers Football Club and lately as General Manager of Cork City Football Club. He managed to combine his Finance Degree with his love of sport and is currently a Director and founder of PW Football Recruitment.
The BSc Finance degree prepares you for a career in the financial markets and financial services sector.
Graduates from the course have gone on to work in:
Investment Banking
Securities Trading
Stock Broking
Financial Consultancy
Corporate Banking
Fund Management
Fund Accounting
Insurance
Accountancy