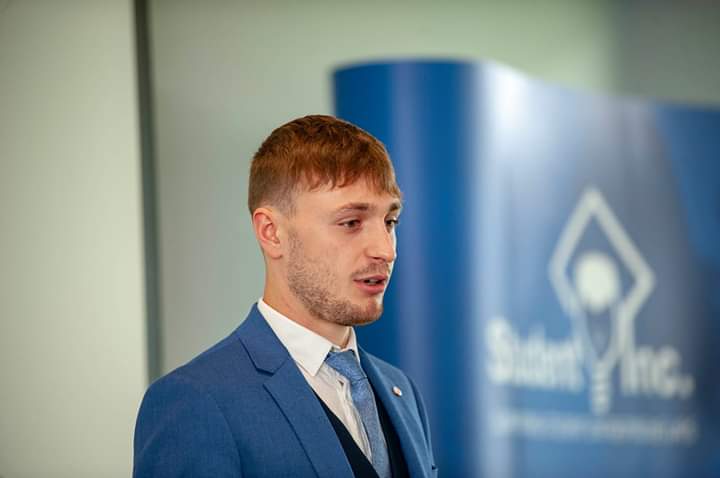 Guided by passion and resilience, Luke Pottinger's entrepreneurial journey can be characterised as being filled with a mixture of risk and opportunity. As an accountancy student with a secure career path ahead of him, Luke often toyed with the idea of setting up his own business and breaking into the world of entrepreneurship. However, any entrepreneurial ambitions he held went largely unexpressed as he progressed through the BSc Accounting programme at Cork University Business School.
After all, Luke was enjoying the programme and felt enthused by its various modules. In fact, it wasn't until he started the work placement element of the programme that Luke began to feel that accountancy wasn't for him.
In the midst of my work placement, I came to the realisation that accountancy wasn't for me. So I began to look at how I might set up my own business as an alternative career path.

At the time, my friends and family thought I was crazy, but with the help of Eimear McGeown, I began to sketch out a business plan.
With Eimear's support, Luke was offered the opportunity to write a market research report rather than complete his placement. This process allowed him to crystallise the concept for Stalias Glove Solutions and take advantage of the entrepreneurial supports that exist for students at UCC.
With the assistance of Blackstone Launchpad at UCC, Luke was able to take the first practical steps toward setting up a business. Additionally, the three months he spent on the fully paid Student Inc. programme encouraged Luke really think about the direction of Stalias Glove Solutions and what he was trying to achieve.
If I wasn't on the Student Inc. Programme, I wouldn't be where I am today. The workshops, mentoring and reality checks constantly pushed me to refocus in the right directions.

After working full time on the business for 3 months, I was motivated to totally commit myself to Stalias Glove Solutions.

Student Inc. helped me figure out a plan and gave me a tremendous amount of confidence, which has had such a positive impact on my life.
Having developed a prototype protective glove, Luke is currently negotiating with a manufacturer with the ambition of bringing it to market in early 2020.
The key for Luke was to have a product that could serve a number of functions, so the protective glove was designed to be Kevlar cut-resistant, puncture-resistant, water-resistant, breathable and washable at 90 degrees (Sterilization wash). Coated with a strong silicone grip, the gloves are also reinforced between the index finger and thumb for added protection and durability.
Already, there is demand emanating from the food and beverage sector, where employees can suffer from cuts, burns and dermatitis as a result of handling knives, glass and cleaning chemicals.
However, there is also potential to expand into other industries like construction, agriculture, security, and even leisure activities like golf and cycling where participants battle with the elements during the cold winter months.
Looking back on his short career as an entrepreneur, Luke can recall working with his uncle, a sole trader in the jewellery industry. Travelling around Ireland, he became enthralled by his uncle's dynamism and quickly became open to the possibility of working for himself.
Now on the verge of bringing a product to market, Luke is drawing on his uncle's inspiration and the formative lessons he learned working under him to make a success of Stalias Glove Solutions.
Visit www.staliasgloves.com to find out about the protective glove developed by Luke Pottinger.