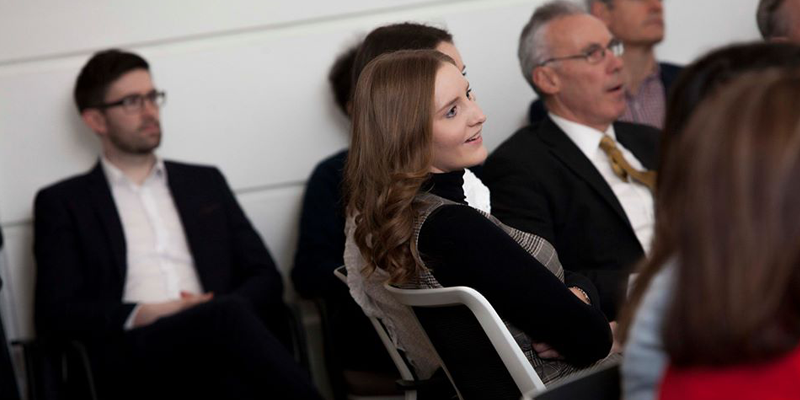 More than 160 CUBS alumni connected with CUBS leadership and faculty at two events earlier this year.
On 22 January, Professor Thia Hennessy, Dean of CUBS, spoke at a UCC networking breakfast in the Kerry Global Technology Innovation Centre in Naas, Co. Kildare alongside Kerry CEO, Edmond Scanlon (BComm 1996), and CSO Brian Mehigan (BComm 1983).
They discussed the long standing relationship between Kerry Group and UCC, a relationship which predates the formation of Kerry Group as many UCC graduates were involved in the Kerry creamery network.
Prof. Hennessy also spoke about the Business School's ambitious plan to construct a state of the art campus in the heart of Cork City centre, and the need to position sustainability, diversity and industry engagement at the core of CUBS' future.
On 6 February, nearly 100 alumni and friends of the Business School listened intently to Professor Hennessy and CEO of AIB, Colin Hunt (BComm 1991), describe the challenges posed by the climate crisis and how the banking industry can take to help tackle it.
The engaging event also heard Dr Hunt speak about the importance of gender equality in the boardroom, and how AIB has become only the second bank in the world to establish a gender-balanced executive committee.
Postponement of CUBS Emerging Alumni of the Year
Due to the current crisis, we have unfortunately had to cancel the inaugural CUBS Emerging Alumni of the Year, which was scheduled to take place in the Aula Maxima on Friday 12 June.
We received an excellent response to our call for nominations earlier this year. Over thirty recent CUBS graduates, who are making significant contributions in a variety of fields ranging from business, entrepreneurship, active citizenship, public life, academia and technology, were nominated by staff and fellow alumni.
Though we are disappointed to have to postpone the event, we are proud that our early-career alumni are already making their mark.
Those already nominated will be considered for an award next year, and there will be another chance to nominate a deserving alum before the rescheduled event takes place in the summer of 2021.
While live events are understandably difficult to plan in the current climate, CUBS remains committed to reaching out to alumni as a priority, and we look forward to welcoming you to an innovative programme of alumni events in the near future.