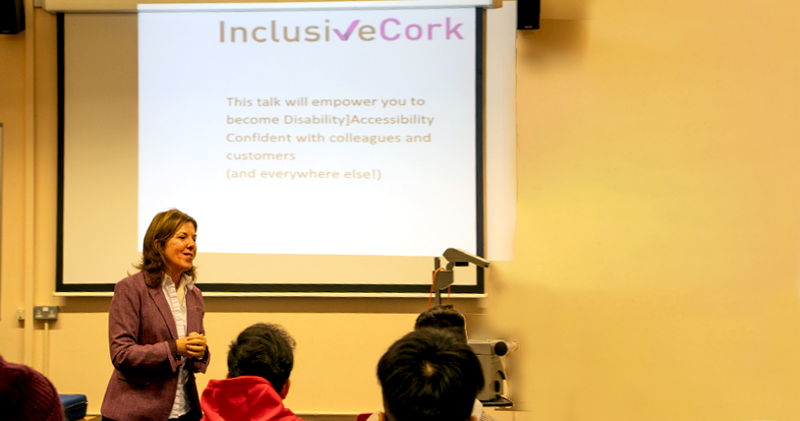 In an online world dominated by websites that are designed to bolster, filter and convert internet traffic into results, designers can struggle to incorporate the needs of people with disabilities.
All too often, small text, a lack of metadata or the absence of photographic descriptions hinder the ability of people with disabilities to navigate websites and avail of the products and services they offer.
That was the message Clare Kennelly delivered to students from the MSc in Design and Development of Digital Business at Cork University Business School.
The World Health Organisation estimate that 20% of the global population have a disability, in Ireland its 13.5%.
To put that in context, one in seven people in Ireland have a disability, and one in three of us love someone with a disability.

Disability is complex and it's not a label that can solely be applied to people with a physical disability.

You also have to realise that it's the environment disables, so if a person visits a website that is not accessible, the statistics show that 50% of people won't visit again.
As someone with a degenerative eye condition, Clare relayed her own personal and professional experience of navigating the online business environment, and suggested methods, tools and strategies to place accessibility at the heart of web design.
Peppering her guest lecture with anecdotes, Clare described how her visual disability contributed to her dropping out of university, and that although she returned to 3rd Level five years later, she was not confident enough to disclose her disability to a subsequent employer for eight years.
It might sound silly, but at the time I felt that the word 'disability' held negative connotations.

So, I worked as a teacher for eight years without disclosing my disability. But when I did inform management, they were really supportive.

The whole experience allowed me to really empathise with other people who found themselves in a similar situation.
Throughout her teaching career, Clare worked with students with varying disabilities and noticed that even though they were succeeding in education, many met obstacles when looking for work placement and employment.
Finding a way to remove that obstacle is what drove her to establish Inclusive Cork. Placing empathy at the core of the business, Clare works with clients to remove the myths, fears and stereotypes associated with disability.
We have found that some organisations are simply afraid of getting it wrong when it comes to disability/accessibility.

We see our role as empowering organisations to become disability/accessibility confident with colleagues, customers and the public.

We do that by providing training and offering solutions to organisations.
During her guest lecture, the students themselves got a taste of the kind of empathy centred training Clare provides when she asked them to try on a series of glasses that simulate various types of visual impairments.
The engaging session allowed her to bring to life some of the challenges faced by people with visual impairments, and acted as a segue that enabled Clare to introduce concepts that make websites more accessible.
Clare concluded the lecture by introducing the students to her podcast, the DisruptAbility podcast, which acts as an information platform for employers, employees, professionals and parents/guardians to highlight the barriers and opportunities for employing people with disabilities in Irish society and beyond.
Discover how the MSc in Design and Development of Digital Business can provide you with the skills to start your own e-business or work at an innovative tech company.