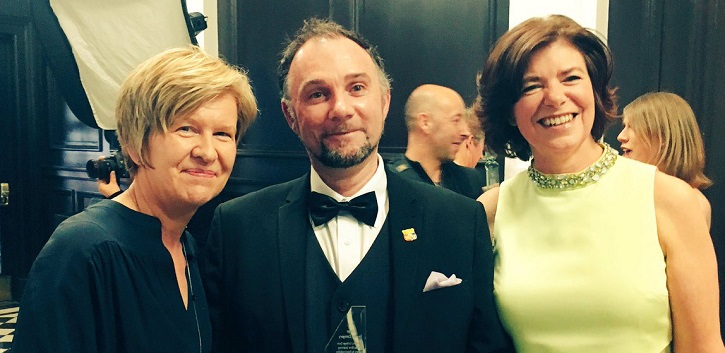 The BA (Hons) Economics and UCC Careers Services have won the Association of Higher Education Careers Services Awards for Excellence – Employability Award at the GradIreland Awards.
The BA (Hons) Economics (Through Transformative Learning) is designed to formally integrate scholarly and professional development with self-development to challenge and support students to reflexively design their 21st century life plans.
Within the programme the Transition to Professional Life modules (10 credits delivered in each year of the three year programme) are formed a three-way partnership between the UCC Career Services, Department of Economics and 8 employers forming a University –Industry Collaboration - Bank of Ireland, Citco, CSO, Davy, Glanbia, KPMG, Musgrave and Zurich; each providing (10 hours per year) student-centred performances. Each employer collaboratively designing and delivering student centred employability/transformational learning performances. Other employers/ external champions also co-design and deliver employability/transformational learning performances – (for instance) Pundit Arena (innovation challenge), Evening Echo (communication), Aspira (project management), Making Shift Happen (problem solving) and Professor Tony Ryan, Consultant Neonatologist, CUMH (leadership),FDM – (assessment centre) and Leadnow! (UK), delivered a 2-day leadership performance to third years on developing the emotional intelligence to lead themselves, others and groups.
The TPL modules recently won the Irish Association of Higher Education Careers Services (AHECS) – Employability Award (Gold). The judges stated:
'This is a developmental, inspirational and incremental employability initiative that can act as a template for other departments and other institutions. Delivering clear employability skills for students from First Year to Finalist, we look forward to hearing the employment outcomes from the programme'.
This award is open to AHECS member careers services or individuals within the careers services who demonstrate outstanding employability initiatives. The winners demonstrate an effective approach to enhancing the employability of higher education students or graduates through careers education, information, advice or guidance. The judging panel look for:
Creative and innovative approach.
Evidence of student, employer and/or academic engagement.
Benefits/positive outcomes for the student/graduate participants, employers, academics and/or the Careers Service.