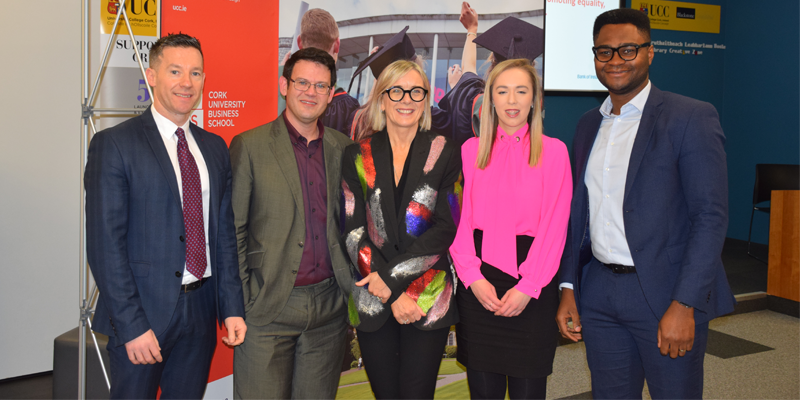 To celebrate International Women's Day on 8 March, the BIS Athena Swan Committee invited several high profile speakers to discuss the theme "Diversity in Business is Win Win" in the Boole Library's Creative Zone at UCC.
The event saw Professor Joe Feller, Head of BIS at Cork University Business School, speak about diversity in the modern workplace alongside BIS alumni; Andrea Graham, Senior Software Engineer and Team Lead at Workvivo and Emmanuel Adeleke, Data and Analytics Director at EY.
Alan Carroll, manager of the Bank of Ireland branches in both UCC and CIT, and Gillian Keating, Partner at Ronan Daly Jermyn, were also on hand to offer their opinion on stage.
After a series of brief introductions, students and staff in attendance listened intently as each speaker candidly discussed the subject matter and how diversity has changed the way organisations operate and perceive themselves.
The formal talks soon gave way to an open panel discussion, where dynamic ideas and differing experiences were exchanged and expressed.
Taking questions from the chair and the floor, the speakers openly discussed concepts such as the advantages establishing a diverse workplace, work/life balance, the challenges associated with achieving diversity particularly in STEMM careers, and the role students, along with Universities as a whole, can play in achieving a diverse and inclusive workplace.
Speaking after the event, Andrea Graham, Senior Software Engineer and Team Lead at Workvivo, described how a diverse and open workplace can foster both personal and professional growth.
"I was delighted to have been invited to discuss, as part of an engaging panel, diversity and inclusion in the workplace; a topic that holds great personal significance.

Having first hand experience in a diverse and inclusive workplace I can appreciate the benefit of being treated fairly and with respect.

Being able to bring one's whole self to the workplace without concerns for recrimination enables employees to grow both personally and professionally, leading to improved morale and a more productive workforce."