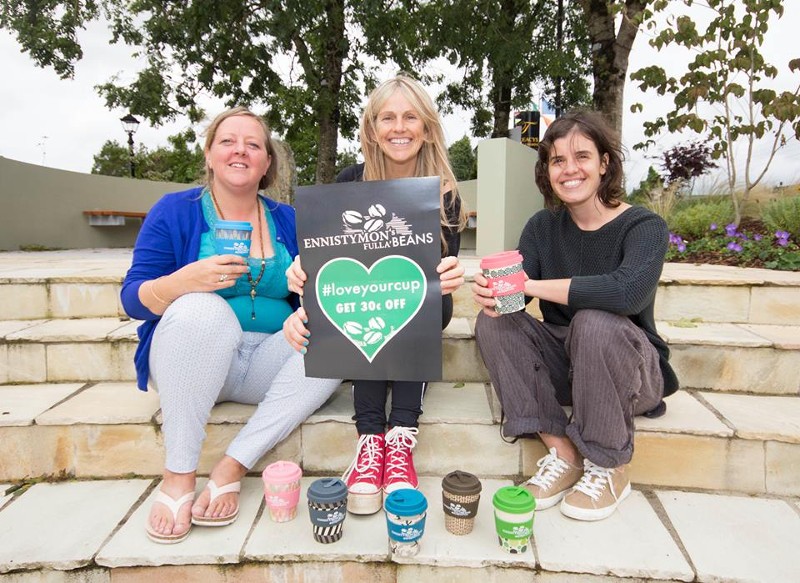 Ireland generates at least 200 million single use cups - which end up in landfill - every year.
Are you sick of this unnecessary waste, and interested in doing something practical about it? Have you considered a reuseable cup?
Love Your Cup is a country Clare based social enterprise which beautiful, dishwasher safe, re-usable, bio-degradable, bamboo coffee cups.
The initiative by social entrepreneur Roisin Garvey, is taking off rapidly, with coffee shops all over Ireland getting on board. It's good for business and for the customer's pocket too. "By getting businesses to offer cheaper hot drinks, customers can save money on a daily basis. At a discount of up to 30¢ per day, customers can save over €100 a year on take away drinks."
Businesses can reduce the cost associated with supplying drinks containers to their customers too. In fact, businesses can make a profit on the cups too, while reducing the litter they generate.
UCC library's Green Team is leading the way in making the entire campus more sustainable.
A range of thought-provoking and innovative initiatives, including a binless system and the banning of disposable cups have been introduced with strong student support.
The library was working with Building and Estates here in UCC to look at bringing down our energy bill." According to Ann Byrne of the Boole Library says.
The Library accounts for 10% of the electricity consumption across the entire portfolio of UCC buildings. We joined what is known as the "Saver Saves" Scheme where under the scheme the energy budget is transferred to the Library and any energy consumption savings made remain in the library and can be reinvested in future environmental projects, while any overspends are paid for through the Library operating budget."
The Green Team was formed, and waste and recycling were tackled. "Our bins were full every day and we were all acutely aware of the number of coffee cups in each bin." Not only was this a lot of unnecessary waste, it was a wet mess, sometimes spilling onto carpet.
"We decided to start of the new academic year with a ban on disposable coffee cups. We removed all the bins from around the library - including staff areas - and introduced 2 recycling stations on the ground floor. "
Students were given the opportunity to show their support. "We asked the students to sign a pledge to support our campaign and we had over 1,000 signatures in 24 hours." According to Byrne.
The Library now sells reusable cups and has increased its recycling rates 700%.
Dr. Maria Kirrane is the sustainability officer for UCC, responsible for coordinating the delivery of the university's sustainability strategy. Maria is based within the office of the Director of Buildings and Estates, but works with partners across all functions of the university.
According to Kirrane work is being done "with other buildings and contractors across UCC, to implement similar initiatives across campus."
Social Enterprise, sustainable development and food policy issues are all part of our new MSc in Co-operatives, Agri-Food and sustainable Development. Indeed, a better understanding of the supply and value chain is too. As the above examples show, environmentally-inspired behaviour can be a savvy, efficient way to save money and improve the working environment too. This MSc includes very practical modules, including a research-based placement with an organisation or business. Who knows? Maybe you'll find a way for said business or organisation to save money and the environment while on placement too! Find out more here.