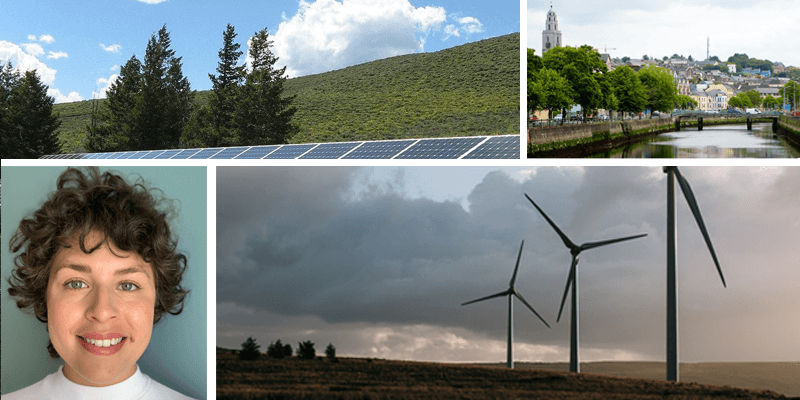 While studying Tourism Management at CIT, Ashley Amato became fascinated with the concept of sustainable tourism and the possibilities it offered communities.
However, Ashley understood that in order to break into the burgeoning industry, she would need to earn a specialist qualification.
As a result, while travelling in New Zealand, Ashley began to explore a number of different postgraduate programmes, a search that brought her into contact with Dr Noreen Byrne and Dr Olive McCarthy at Cork University Business School.
I was really interested in sustainable tourism and how it can generate sustainable development.

That encouraged me to look at programmes in the food sector, which eventually led me to the MSc Co-operatives, Agri-Food and Sustainable Development.

It seemed a really good fit for me, particularly the opportunity to explore areas that you are really interested in.
Once she enrolled in the programme, Ashley found that the course content challenged her to think differently about sustainability and how it could benefit communities.
Consequently, as the weeks rolled by, Ashley's thinking began moving away from sustainable tourism and toward harnessing the co-operative model to generate sustainable energy.
That journey was facilitated by Dr Byrne and Dr McCarthy, whose expertise and insights into the co-operative movement guided Ashley.
While the course is broad, it comes together under the co-operatives umbrella. You really get to see how co-operatives build solidarity and empower communities.

At the start of the programme, Noreen and Olive told us that it would challenge our thinking. That's how I came round to looking at sustainable energy.

I was also helped along that journey by my classmates. The fact that we had such a small class meant that everyone really came together, and I think that was important, it kept everyone motivated.
Ashley will complete that journey while on placement at Cork Chamber, where she will spend the summer months writing a report examining the possible viability of community-based bioenergy projects.
Although the Covid-19 restrictions have presented some difficulties, Ashley is now conducting desk research and stakeholder interviews.
Ultimately, the report will form the basis of her research project, which Ashley also anticipates finalising before the end of the academic year.
At the moment, the project is just in its initial phase. Cork Chamber want it to be very practical and available for anyone to read, businesses, politicians and everyday people.

So we're putting the report together with a general audience in mind. I'll make it a little more academic when the time comes for writing the research project.
Despite having just started her placement, Ashley is already appreciative of the networking opportunities it is presenting.
After all, Ashley isn't just getting access to some of Cork's senior business leaders, they understand that she is contributing to the future sustainability of the city.