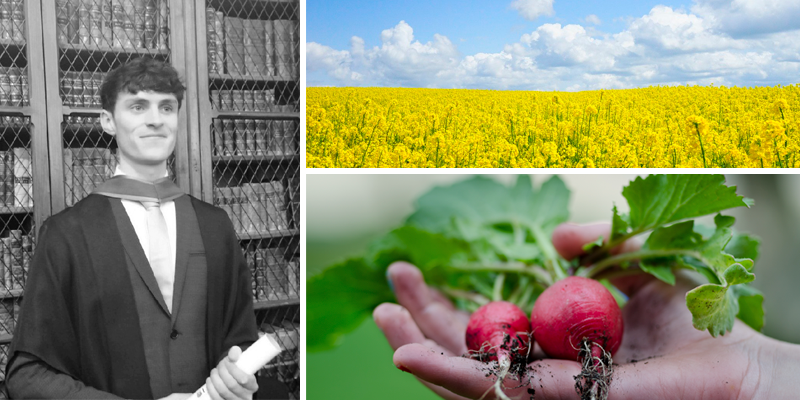 As someone who is eager to speak about sustainable development and the future of agriculture, the MSc Co-operatives, Agri-Food and Sustainable Development at Cork University Business School feels like an ideal fit for Mike O'Connor.
Having graduated from the BSc Applied Plant Biology at UCC, Mike wanted to enrol in a programme that would allow him to maximise his existing skills and knowledge in a discipline that he felt passionate about.
I come from a farming background and I became very interest in crops while studying ag science for my leaving cert. That's why I studied plant biology, and from there, I became attracted to co-operatives due their potential to empower small farmers and provide them with access to inputs and improved seed for example.
As a science graduate with little or no background in business, Mike found some of the specialist elements of the programme challenging. However, with the support and help of Dr Noreen Byrne and Dr Olive McCarthy, he was able to overcome any obstacle that arose.
In fact, once he became familiar with subjects like marketing and economics, Mike began to excel. Very quickly, he found himself exploring international co-operative movements as part of a research project under the supervision of Dr Byrne.
The programme is designed to complement your skills. If you're coming from business you're learning about sustainability, and if you're coming from science, you're learning about business.

The programme can be very challenging in that sense, but the inbuilt social and sustainability elements make it very interesting.
As part of my research project, I'm looking at how international networks can contribute to the establishment of a sustainable co-operative sector in Palestine.
That's hugely interesting.
With the academic year coming to a close, Mike's attention is being drawn to his internship at MagGrow, a company which aims to develop technological solutions that can help farmers around the world grow crops in a more efficient manner.
The role will allow Mike to combine the skills he has been developing as part of the MSc with his pre-existing knowledge of plant biology.
I don't really want to stray too far from agriculture. That's what I'm passionate about, particularly sustainable agriculture.

Whichever way you look at the future, sustainability will play a big part in it, and there will be a huge number of opportunities in the area.

It's a really exciting role from my point of view.
Once he graduates, Mike will be in the enviable position of having designed a career path that will allow him to excel in a specialist field that is close to his heart.