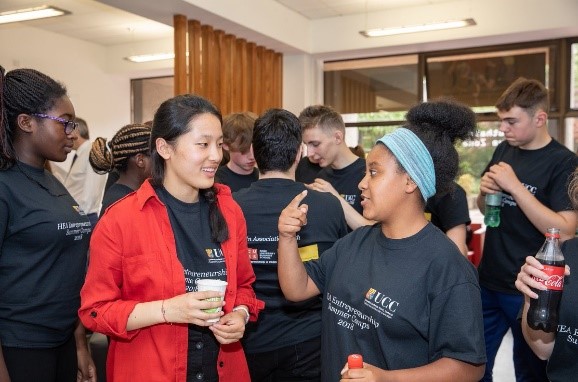 Cork University Business School is opening its doors to 2nd levels students this July to offer a fantastic programme of entrepreneurial activities. HEA Summer School 2019: Entrepreneurship, Innovation and Leadership Development will help to create the next generation of entrepreneurs by introducing students to entrepreneurial thinking, innovation and leadership development.
Led by Prof. Joe Bogue and Dr Lana Repar, the free Summer School will take place from 8-12 July 2019. Students will be carefully guided through an entrepreneurial journey, from creative thinking to commercialisation of their ideas and development of their leadership abilities. Students will work in groups to identify a solution to a contemporary societal problem that requires them to apply entrepreneurial thinking and leadership intuition.
University staff and established entrepreneurs will provide inspiration and deliver practical materials to help students to design and deliver their entrepreneurial projects. The student teams will respond to the Summer School's challenges in interactive ways, using the facilities in the Blackstone LaunchPad, and then present the outcomes of their work to a panel of judges. Prizes will be awarded to the student teams across different categories.
The 2019 Summer School builds on the success of previous UCC entrepreneurial summer camps: the HEA Entrepreneurship, Creativity and Innovation Summer Camps in July 2017 and 2018, and the HEA Entrepreneurial Thinking and Leadership Development Summer School in July 2018.
Click here for more information on how to apply for the Summer School.