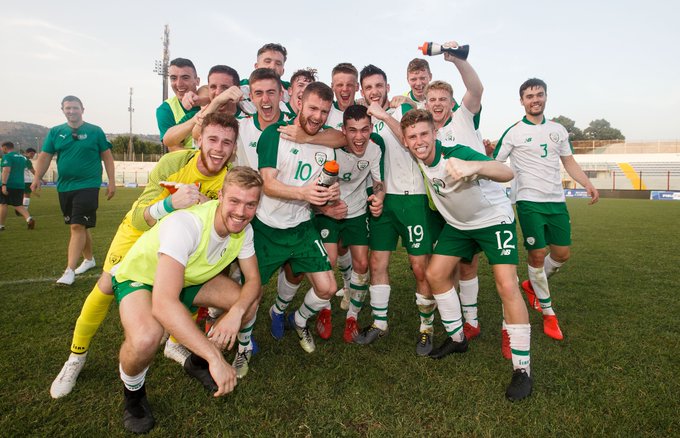 Rob Slevin, 2nd year Commerce, and David Coffey, 3rd year Accounting, starred in the Irish soccer team's victories over South Korea and Uruguay at the World University Games in Napoli last weekend.
On Friday night, both Coffey, goalkeeper, and Slevin, centre back, played key roles during Ireland's dramatic 3-2 win over South Korea. After conceding an early goal, Ireland struck back midway through the second half, scoring two goals inside five minutes.
With ten minutes left to play, Ireland scored their third goal from the penalty spot, before South Korea found the net three minutes later, setting up a tense finish.
The CUBS students once again lined out against Uruguay in a high stakes game on Sunday. Needing a point to qualify for the quarter finals as group winners, Ireland took the lead in the 20th minute, after a chip from Slevin was directed into the path of Alan O'Sullivan, who scored with a powerful finish.
⚽️ GOAL | Check out @AlanOSullivan8 opening goal for Ireland versus Uruguay! Second Half coming up soon!#WUG19IRL #Napoli2019 @StudentSportIrl @FAIreland pic.twitter.com/qdBFr7uVfz

— Third Level Football (@thirdlevelfootb) July 7, 2019
Needing to beat Ireland in order to stand a chance of qualification, Uruguay drew level six minutes later through a penalty. Although the South American team began to press for a winner, they couldn't find a way through the heart of the Irish defence.
Then, with ten minutes left to play, Uruguay were reduced to 10 men, after their captain took down UCC Student, Simon Falvey, as he raced toward goal. With their numerical advantage Ireland saw out the game to secure the point they needed to qualify.
The Irish men's team will look to follow in the footsteps of the women's team by beating Russia and qualifying for the semi-final at 8pm Irish time tonight.
Slevin and Coffey were selected to travel with the squad after a season that saw them lift the Collingwood Cup, the Munster Senior League title and the O'Connell Cup with UCC.
Slevin's haul of medals also included two personal accolades, after being named Munster Senior League Player of the Year and Collingwood Cup player of the tournament.
The Collingwood Cup was like living in a bubble. For three days we just concentrated on playing. I don't remember anything else, it was an incredible experience".
Their performances caught the attention the Irish management, who invited Rob and David to join up with the national squad for a training camp at the University of Limerick before taking on France in a warm up match.
Like each of the other athletes competing at the World University Games, they have worked hard to strike a balance between his passion and his academic career, so as to give himself the best opportunity to excel at both, as Rob Slevin pointed out.
Finding a balance can be difficult, but with planning it becomes very manageable. The coaches and the lectures offer a lot of support when things get busy".

"As the season came to a close, our course load obviously increased, so we didn't train as much. But because we had been training every second day up to then, we could concentrate on match preparation rather than fitness".
Following the World University Games, Slevin will link up with Waterford United, after signing a contract with the Blues that will see him line out RSC until the end of the season.
��️ "Whatever the Russians bring, we know that we'll bring our spirit, our fight and our ball and I think we'll do well"

Team Ireland defender Rob Slevin is content that the team are fulfilling their targets and is ready for the challenge of Russia in the Quarter Final#WUG19IRL pic.twitter.com/TGHbafFoNI

— Third Level Football (@thirdlevelfootb) July 8, 2019

Photo courtesy of @thirdlevelfootb