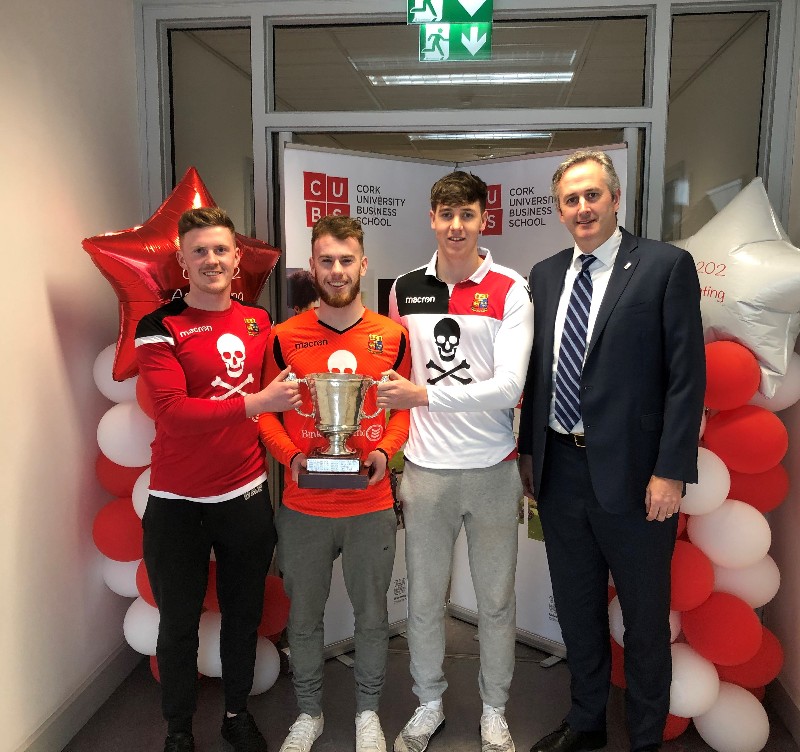 UCC were crowned the 2019 Collingwood Cup Champions following an extra time victory in Markets Field.
Led by captain and Player of the Tournament Robert Slevin, a 2nd year Commerce student, UCC claimed their 14th Collingwood Cup success following a 2-1 win over the University of Limerick.
The turning point in the match came for minutes from time, when Simon Falvey equalised following a cross from Commerce with Italian student, Patrick Crowley.
Two minutes into the ensuing extra time, the inspirational Slevin then headed home from a corner and put UCC on course to claim their third Collingwood Cup success in five years.
In all, Slevin and Crowley were among ten CUBS students who formed part of the UCC squad
| | |
| --- | --- |
| Name | Programme |
| Ben McAuliffe | MSc Management and Marketing |
| Robert Slevin | 2nd year Commerce |
| Brian Mulcahy | 2nd year Finance |
| Darren Mannix | 3rd year Commerce |
| Ethan Hurley | 1st year Commerce with Hispanic Studies |
| David Coffey | 3rd year Accounting |
| Patrick Crowley | 1st year Commerce with Italian |
| Bryan Cotter | 2nd year Commerce |
| Thomas O'Donovan | 2nd Year Finance |
| Ify Nzewi | 1st year Commerce |
The Colllingwood Cup is an association football cup competition featuring university teams from the Republic of Ireland and Northern Ireland. It is organized by the Irish Universities Football Union. It is the oldest surviving all Ireland association football competition.