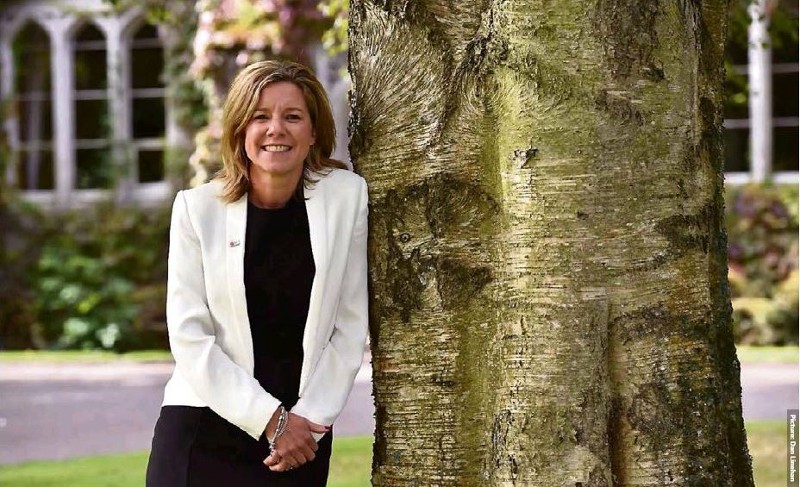 Professor Thia Hennessy of UCC's Cork University Business School (CUBS). Appointed dean of CUBS in March, Prof Hennessy is driving the most ambitious plans ever undertaken by UCC — to make the school a world-class institution that can be the envy of regions around the world.
Momentum is building at Cork University Business School (CUBS) and one of Ireland's most respected academics, Professor Thia Hennessy, is a main driver of it as Dean.
The Cork native was head of Teagasc Agricultural and Environmental Economic Research department before joining UCC in 2016; has a BA in economics and finance from NUI Maynooth, a Masters in business studies from the Smurfit Business School at UCD, a PhD from the University of Reading; and is a graduate of the Harvard Business School agri-business programme.
The glittering CV led to her appointment as Dean of CUBS in March this year, thrusting her front and centre of the most ambitious plans ever undertaken by UCC — to make the school a world-class institution that can be the envy of regions around the world.
"We are bringing together the existing departments of business in UCC under one umbrella and giving it a brand, and already we are one of the largest business schools in Ireland with 3,500 students. If you look across the different universities in Ireland, they have business schools for quite a long time. It is timely that we would launch a business school," said Prof Hennessy.
UCC is not hanging around in its ambitions. The former Cork Savings Bank on Lapps Quay, in the heart of Cork's business district, will be transformed to become home to its executive education programmes. It will also host education programmes offered by the Irish Management Institute, recently acquired by UCC. However, it doesn't end there.
"We have two building projects, with the restoration of the Cork Savings Bank on Lapps Quay due to open in November. The more substantial building is the one to house our student body and staff, with over 3,500 at the moment. We're talking about a 20,000 sq m building, about the size of the Western Gateway Building.
"Obviously we need a substantial site for a project of that size, and we hope to be able to make an announcement before the end of the year where it will be. We're closing in on a decision. Our president feels in the city centre, close to business, is best. It will also be a great development for the city, bringing up to 4,000 people into the city centre every day. To have so many young people in the city is a very good thing."
Once CUBS receives the global recognition standard, the Association to Advance Collegiate Schools of Business (AACSB) accreditation, it will be able to achieve its ambition to be a world-class institute.
"We are hoping in the next 12 to 18 months that we will have achieved it. That is particularly important to our own graduates who are travel internationally, because it is a stamp of approval or a quality assurance measure of the education they get here, but also for students from overseas who may be thinking of studying here. They may never have even heard of Ireland, never mind UCC, but when they see the Association to Advance Collegiate Schools of Business accreditation, they know they have that quality," said Prof Hennessy.
A mix of non-EU and homegrown students is vital for CUBS to grow its reputation across the world, she said.
"For the last three to four years, we have grown our international student number four-fold. It is important for lots of reasons. One is the diversity it brings to the classroom and onto the campus. Another is the huge economic impact for the city. But what we are increasingly hearing from employers is that they are putting graduates into a global workforce. They may be placed in a team in Beijing or Boston, and for them to have that exposure here in UCC to different cultures and perspectives, as well as working in such a team, is very important."
Brexit may be nightmarish for many business sectors, but it may be a boon for the likes of CUBS.
"As an agri-food economist, we always speak in the negative about Brexit, because of the impact it will have on that sector. But in the business school context, it is an opportunity. Non-EU student applications have gone up quite a lot, simply because of immigration restrictions in both the US and UK. But, also, a number of academics are applying to move to Ireland. In the academic community, having networks within the EU as well as access to EU funding is very important," said Prof Hennessy.
Utilising UCC alumni around the world — many of whom are CEOs and upper management of global companies — as ambassadors will be key to growing CUBS, as will the funding that non-EU students will bring.
UCC is also an outlier in appointing a woman business school dean.
"I would be in a small minority internationally of being a female dean of a business school. We have partnered with the 30% Club, which is targeting 30% of women in boards and senior management positions.
"We are offering a scholarship on our MBA programme this January for a female executive to study for free in partnership with the 30% Club. I would have been aware, coming from my background, of many times being the only woman in the room. It is a pity because you are missing half the population in terms of talent. But Rome wasn't built in a day and we're working hard at it," said Prof Hennessy.
Picture: Dan Linehan