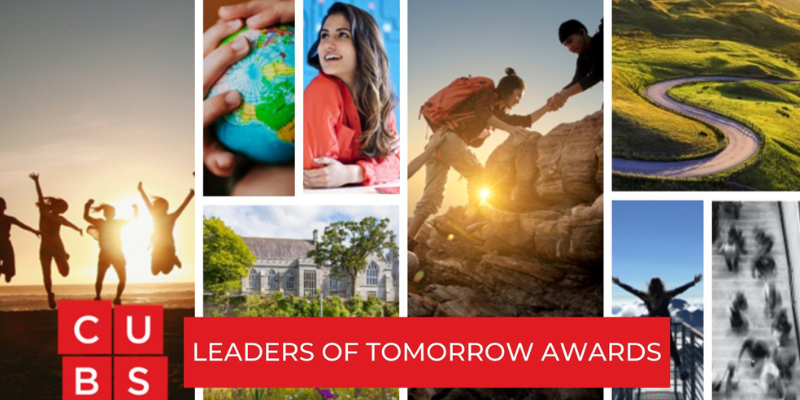 The Leaders of Tomorrow award programme aims to recognise the positive (non-academic related) impact and performance of CUBS students as they complete their university degree at UCC.
Students enrolled in a taught CUBS programme (undergraduate and postgraduate) can submit to the awards scheme with the possibility of attaining a Recognition Certificate, Outstanding Achievement, and Sustained Impact award. The initiative will provide opportunities for students to showcase their many capabilities and levels of impact across six categories - Innovation, Global Citizen, Learning Transformation, Exceptional Journey, Student's Choice, and Dean's Leadership.
You can find out more details about each of the categories and how to be nominated for the award here.
Congratulations to the 2021-2022 Leaders of Tomorrow award winners!
Find out more about each of the recipients below:
Mojabeng Mashale (MSc Co-Operatives, Agri-Food and Sustainable Development): won the Global Citizen category for a social gardening project in South Africa, which achieved a national funding grant.
Emma Coffey (BComm): won the Innovation category for developing a highly successful online retail start-up, FinalBend Ltd.
Denis O'Sullivan (BSc Food Marketing and Entrepreneurship): won the Learning Transformation category for being a founding student member of the FME Engagement Committee and Food Academy.
Eimear O'Loughlin (BSc Finance): joint winner of the Exceptional Journey category for demonstrating resilience in the face of challenges as she reached the world stage in Irish dancing.
Mwewa Kapotwe (MSc Business Economics): joint winner of the Exceptional Journey category for work on providing training to SME's on food packaging and being one out of 126 in gaining a government scholarship to Ireland.
Bonny Benny (MSc Business Information and Analytics Systems): won the Students Choice category for supporting over 150 Indian students in UCC as they transitioned to a life in Cork.
David Giles (BCL Law and Business): won the Deans' Leadership 2021 category for his contribution to student experience in CUBS. Instrumental in the CUBS Learning & Teaching Committee and establishment of CUBS Week 2021.
Huu Dai Nhat Tran (Sunny) (MSc Information Systems for Business Performance): won the Dean's Leadership 2022 category. Having faced numerous challenges and family circumstances he graduated at 29, while taking on multiple roles. He received an Irish Aid fellowship to study MScISBP. He co-founded the social enterprise MANTA Sail Training Centre, which diverted fisherman to water sports, and promoted sustainable green livelihoods and awareness in his community