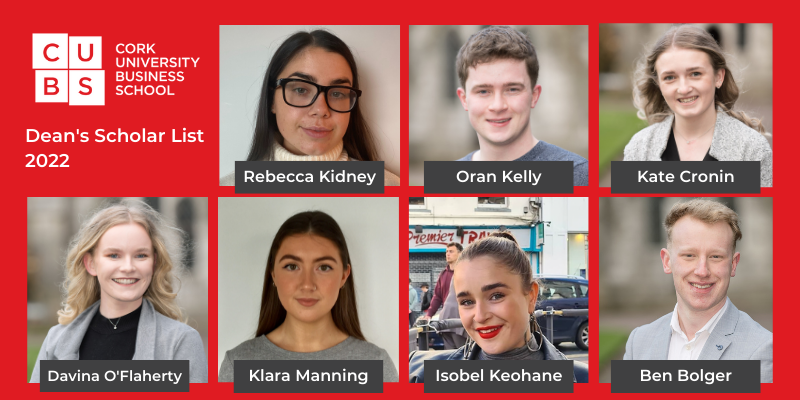 The CUBS Dean's Scholars List was introduced in 2018/19, an initiative to recognise the academic brilliance of top performing CUBS students. Compiled annually the exclusive list is made up of the top performing 3rd year student in each of the CUBS undergraduate programmes.
Students are welcomed with a congratulatory Dean's Scholars List gift box and are provided with exclusive access to a range of supports and activities that are specifically designed to facilitate the personal growth of these future leaders.
Monthly sessions are organised targeted at professional development seminars including networking, introduction/access to the UCC coaching panel, an IMI masterclass and invitations to exclusive CUBS networking events. The aim of these monthly sessions is to build a relationship between the students and the business school, to allow the students to get to know each other and build a network of peers for the duration of the programme and post university life and, to provide personal/professional development training (networking, leadership). The benefits to the students are linked to the building of their profile, increasing their visibility to prospective employers and building networks with peers, alumni, the business school and industry contacts.
The 2021/22 recipients are:
Benjamin Bolger - BA (Hons) Economics
Klara Manning - BComm (Hons)
Isobel Keohane - BSc (Hons) International Development and Food Policy
Kate Cronin - BSc (Hons) (Food Marketing and Entrepreneurship)
Rebecca Kidney - BSc (Hons) Accounting
Davina O'Flaherty - BSc (Hons) Finance
Oran Kelly - BSc (Hons) Business Information Systems
Jinting Zhou - BA Business & Fin Economics (BABFE)
Read about previous recipients on the Dean's Scholar's List here.