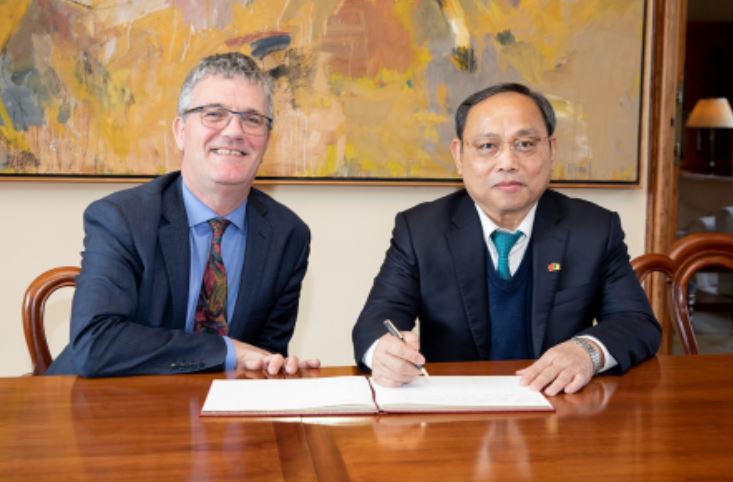 Following a successful completion the initial phase of the project, Cork University Business School (CUBS) in collaboration with Ministry of Planning and Investment (MPI) Vietnam and Vietnam University of Agriculture (VNUA) have been awarded a further €64,000 Irish Aid grant.
The grant is part of the Vietnam Ireland Bilateral Exchange (VIBE) Programme, of the project titled 'Building Capacity in Evaluating Investment Efficiency of Agricultural Project'.
Dr Noel Woods is the CUBS lead investigator on the project. The CUBS team of Jodi Cronin, Stephen Moore, and Susan Ahern led by Dr Woods, visited Hanoi in January 2019 to evaluate the Vietnamese system of project evaluation and to provide an exchange of expertise to build capacity for MPI staff on economic evaluation.
The engagement included a series of seminars and presentations on project evaluation and a provincial site visit.
During the visit the team were hosted at the Irish Embassy in Hanoi by the Deputy Ambassador to Ireland, Elisa Cavacece, to formulate a timeline for further collaborative research projects over the next three years as part of the Irish Aid Programme.
The Deputy Ambassador was highly complimentary as to the continuing role of UCC and CUBS in the programme. In a reciprocal arrangement, a team from MPI and VNU visited UCC in April 2019 and signed a memorandum of understanding with Vice President Prof John O'Halloran.
In July 2019, Dr Woods, Dr Siobhan Lucey and Tracy Bradfield (UCC/Teagasc) returned to Hanoi to complete phase 1 of the project. The second phase. commences on December 2019.