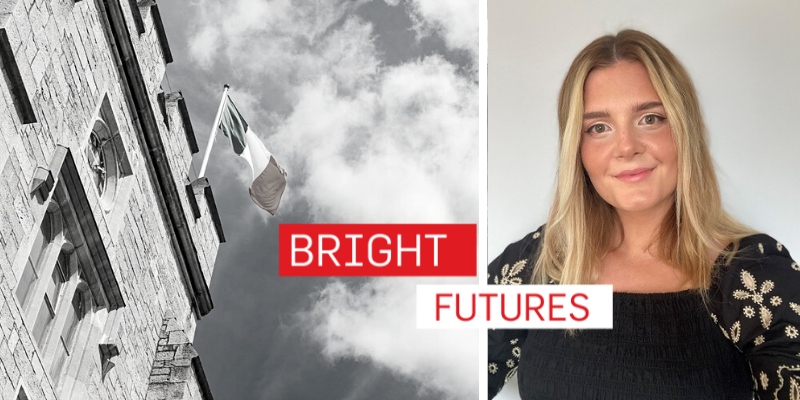 Graduating from the MSc in Management and Marketing in 2020, Andrea Piackova is currently working as a Marketing Associate at FDC Group. During her time at UCC, Andrea was awarded one of the inaugural Jack Murphy scholarships from the FDC Group. Specifically aimed at students from Cork University Business School's MSc Co-operatives, Agri-Food and Sustainable Development, and MSc Management and Marketing, the programme provides successful recipients with a scholarship valued at €12,500, along with a guaranteed five-month placement opportunity within the FDC Group. Andrea is originally from Slovakia and her fluency in English, Slovak and Czech can be very useful when connecting with people from different countries. She talks to us about her time at UCC and the impact of the Jack Murphy scholarship on her and her career.
Course/subjects studied in UCC and year of graduation
I studied MSc in Management and Marketing in UCC and I graduated in 2020.

What are your favourite memories of UCC?
My favourite memory of UCC that I look back on is the amazing people I have met throughout my journey. I have found the most amazing group of friends during my MSc that I consider friends for life. We supported each other during the most challenging times. Never underestimate the power of a strong support system. I also look back on the remarkable opportunities that were available to me during college like the FDC Group Scholarship. Through the scholarship, I was able to attain a lot of skills which have shaped my marketing career.
"I have found the most amazing group of friends during my MSc that I consider friends for life. We supported each other during the most challenging times. Never underestimate the power of a strong support system."
You were a recipient of a Jack Murphy scholarship from the FDC Group. How did this shape you/your career journey?
The FDC Group Scholarship has definitely pushed me outside my comfort zone. FDC have given me an amazing opportunity that I didn't want to squander. I have learned a lot on the job from digital marketing to graphic design to presenting more effectively to senior managers. I wouldn't have been able to grow without the amazing support of Pauline O'Keeffe and Dariusz Drozdzik. I really got to know the company culture and its people through various marketing projects that I have the privilege to be part of. FDC has allowed me to take on more and more responsibility which has definitely skyrocketed my confidence. FDC has over 39 offices and 430 consultants and we keep expanding. We have recently opened up a new office in Dublin which allows us to reach more businesses with our outstanding service offering. FDC is a family business and I feel like I'm part of a community that provides remarkable support to businesses across Ireland.
What do you enjoy most about what you do?
I love content marketing. It allows me to think creatively of new ways to add value to our target market through good content strategy. We are always trying to think of new ways to keep our content fresh for our audience. Content marketing has my favourite elements which include: research, writing and graphic design.
Do you have any advice for current UCC students?
Yes I do! The biggest advice I have for UCC students is to not self-reject. You might think you're not qualified enough/smart enough/good enough to apply for something but you are! Give it a shot what's the worst thing that can happen? If I didn't apply for the FDC Group Scholarship I would have missed an amazing career opportunity. Take the risk - it will feel uncomfortable in the moment as you can't control the outcome but it's better to say I gave it a shot and tried my best then wonder what if? If you're thinking of applying for the FDC Group Scholarship, do it. If you have any questions/doubts you can always reach out to me on LinkedIn, I will be happy to help you out anyway I can!
Were you involved in any clubs or societies?
I was involved in the UCC Venture Creation Module during my undergraduate degree. This module examined, critiqued and applied the main elements of business planning. The module utilised business cases and drew on the experience of Irish entrepreneurs. As part of this module we had to create an idea of a product or service for the market and present it through a business plan, and a group presentation. Our team came up with an idea to create an interactive learning app for Leaving Cert students. Our team won the best performing project for New Venture Creation 2017.