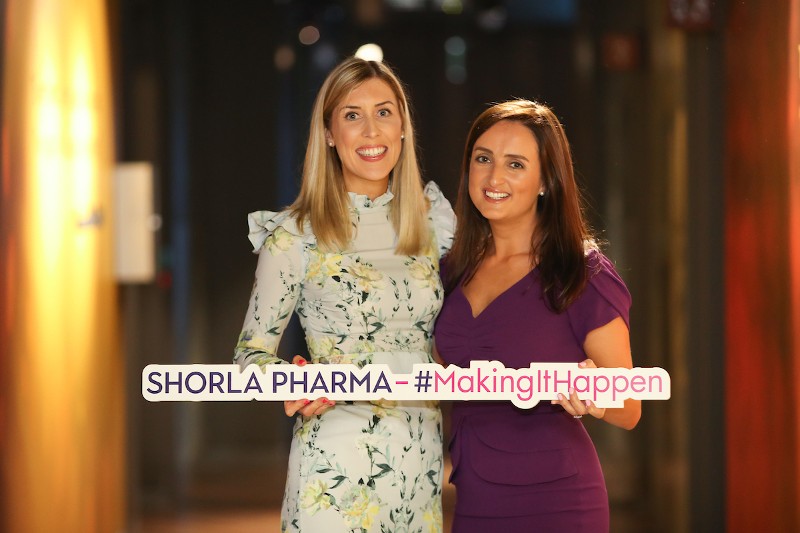 Since graduating with a BSc in Finance in 2006, Sharon Cunningham has enjoyed a stellar career.
After revelling in a number of roles across disparate business environments, Sharon established Shorla Pharma alongside fellow UCC alum, Orlaith Ryan, in 2018.
A driven and compassionate company, Shorla Pharma are developing innovative oncology products designed to overcome some of the difficulties associated with administering breast, ovarian and paediatric cancer drugs.
Sharon and Orlaith's vison and success has seen them named Ireland's Best Young Entrepreneurs for 2019, and included on a list of 50 people to look out for in 2020 by the Irish Times.
Sharon will also be speaking at the CUBS Conference on Tuesday 10th March, 2020 in the Cork Opera House.
You qualified as a charted accountant in 2009, but you now find yourself running an internationally renowned pharmaceutical company. From the outside at least, you seem to have followed a circuitous career path?
After graduating from UCC in 2006 with a BSc in Finance, I trained to become a Chartered Accountant with PwC. In 2011 I secured a role as a Management Accountant with EirGen Pharma, progressed to Financial Controller and then Head of Finance. In 2015 I graduated from UCD Michael Smurfit Graduate Business School with an MBA.
In 2018 I co-founded Shorla Pharma, a speciality pharmaceutical company developing innovative therapies in the oncology space addressing unmet needs. In 2019 I led a global team to win the final pitch competition on the highly competitive MIT-Harvard Medical School Healthcare innovation bootcamp in Boston, US.

I come from an entrepreneurial family and I always knew I would run my own business eventually but I wanted to spend time in practice and industry and gain as much formal education as possible in order to maximise my knowledge and skills, build an industry network and ultimately enhance my credibility in order to succeed.
As someone who excelled at EirGen Pharma, ultimately becoming Head of Finance in 2015, what stimulated your interest in moving into the development of oncology products?
My co-founder, Orlaith Ryan and I found ourselves inspired and fascinated by other entrepreneurial journeys, particularly having joined EirGen Pharma at an early stage and having witnessed that company grow and become a major Irish success story.
We were motivated to do something meaningful and purposeful; to have a wider impact and create positive change and we've always had an appetite for risk.
At Shorla Pharma, we now have a pipeline of oncology products with a focus on Women's and Paediatric cancers for global markets that deliver a major contribution to patient care and ultimately enhance patient outcomes.
Orlaith and I are like minded individuals with a complimentary skillset; Orlaith brings the science as a Chartered Scientist and Biochemist with a masters in regulatory affairs.
What learnings from your experience at EirGen could you lean on when you established Shorla Pharma alongside Orlaith Ryan in 2018?
Orlaith and I are very fortunate to have spent a large part of our careers working in a pharmaceutical company at a senior level.
We watched the company grow from a start up with a handful of people to a multinational company employing over 200 people in the South East of Ireland. We worked on the various transactions, including a large fund raise in 2012 and the due diligence associated with the sale of the company to a large US company, OPKO Health Inc.
In 2015, I became a Compliance Officer and a member of the SOX disclosure committee for that company which was quoted on the NYSE and later the NASDAQ. Orlaith led numerous regulatory inspections during this time. The training I got taught me how important the basic fundamentals are in order for a company to function optimally.
Creating agile business systems, covering legal and taxation bases and paying extremely close attention to the numbers is essential. Orlaith's training taught her to embrace change and not fear it and this mindset is at the core of our product development strategy and our ability to innovate.
How important was it to have the access to people like Tom Brennan at the Questum Centre in Clonmel when setting up Shorla Pharma?
The support and mentoring we've received has been fundamental to our success so far. Questum is a fantastic acceleration facility in Clonmel within an existing cluster of Pharma companies.
Tom Brennan was the co-founder of EirGen Pharma and he continues to be a major source of inspiration for us. In addition to our strategic investors, we have a strong, globally positioned team comprising scientists, medical doctors, key opinion leaders and IP lawyers with a proven track record and an industry network to ensure the products are funded, developed and commercialised.
Compassion and empathy are traits that are at the heart of Shorla Pharma. It must be incredibly rewarding to know that you will be helping families deal with paediatric cancers, and women suffering from breast and ovarian cancer?
Absolutely. Shorla is a female-led healthcare company and Orlaith and I are mothers of young boys. We are a driven and compassionate company with the patient's needs at the heart of our innovation guided by our vision of delivering more effective, less toxic products to those in need.

It is incredibly rewarding to have used the skills we have acquired and the opportunities that we have been given to create superior products that will make a positive difference and bring affordable and accessible treatments to those in need.
This must also bring its own pressure? Particularly as your products are nearing completion.
Yes it does bring pressure to execute and succeed. Our Shorla journey so far has been a very rewarding experience but not without significant challenges no different to any start-up company. We are lucky to have each other; we can support each other through the bad days and celebrate the good days together.
Finally, now that you have been named Ireland's Best Young Entrepreneur for 2019, what's next Shorla Pharma? And where do anticipate seeing the company in 10 years' time?
Winning the competition has been very impactful for us. The national and international exposure that it has brought has been phenomenal. The validation of the business plan that comes from the competition is invaluable and we feel the competition has greatly enhanced our credibility as a globally focused pharmaceutical company.
Our focus now is on fundraising, hiring key personnel, continuing our product developments and gearing up for the launch of our first product in 2021. In 10 years' time we hope we will have established a reputable brand and that our drugs are continuing to enhance the lives of cancer patients and their families around the world.