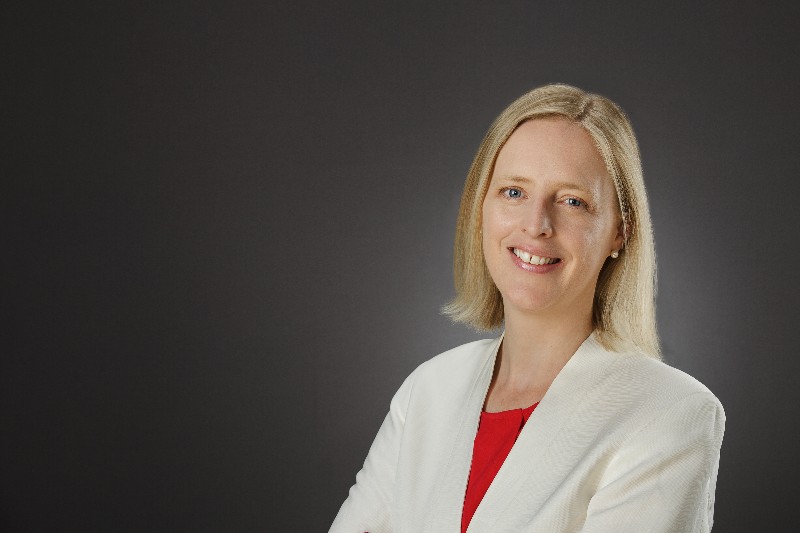 Founded as the Faculty of Commerce, the Business School's history stretches back over 150 years, to the formation of UCC. Since this time, our diverse, global and high achieving alumni have engaged in every field of business. From Finance, Food Business, to Accounting, Economics and Business Information Systems, we are proud to see our graduates fulfilling their potential and we seek to engage them in a continuous dialogue about Life in Business.
As we actively pursue accreditation and take our place among the top 50 Business Schools in Europe, we are committed to proactively engaging our alumni, telling their story and how the Business School put them on the road to success.
Read our most recent alumni profile below with Ruth Cotter, Chief Human Resources Officer and Senior Vice President of Worldwide Marketing and Investor Relations and a proud member of the UCC Economics and History class of 1992.

How does an economics graduate go onto become a Senior Vice President at AMD?
I began my career working as a part time marketer with Pepsi while studying Economics and History at UCC.
After graduating in 1992, I moved into Public Relations, but investor relations was what I was really interested in.
At the time in Ireland, there were only about 20 people working in investor relations, which meant that I really had to travel abroad if I wanted to pursue a career in the area as the profession was centered in the USA at that time.
After cutting my teeth throughout the late 90s in Europe, I took on a number of leadership positions at AMD before becoming Chief Human Resources Officer and Senior Vice President of Worldwide Marketing, Corporate Communications and Investor Relations in 2017.
Looking back now, I feel that the Economics programme at UCC gave a great grounding for a career in business and set the solid foundation on which I grew from.
What has been the proudest moment of your career?
Throughout the last number of years at AMD, we have experienced a great deal of CEO turnover. This obviously presented challenges to the company.
In order to adapt, we had to instigate cultural changes that would leave a long lasting positive impact on AMD.
We began to concentrate on innovation, performance and execution and stopped dabbling in areas that distracted us. As a result, AMD became a very united and focused company.
Helping to foster this cultural shift is something I'm particularly proud of, but it didn't compare to the pride I felt when 94% of AMD's 9,000 employees responded positively to our annual company survey subsequent to those changes being implemented.
The response rate beat all top global tech benchmarks and demonstrated a unity of purpose within AMD.

How have you and AMD remained innovative in such a rapidly evolving environment?
Although Silicon Valley is one of the most innovative places on the planet, it is also hugely competitive.
At AMD for example, we are sandwiched between competitors, which means that we spend a significant amount of time not only telling people what we do best, but also what we do not do.
It's a simple thing that came upon us by accident, but it ensures that we focus our efforts rather than dilute them with business and innovation distractions.
You must also remain ahead of the talent curve. This means recruiting and promoting the right people – no matter their background.
Companies must embrace diversity to encourage multi-voice thinking to foster innovation. When I speak about diversity, I mean it in every sense; gender, nationality, socio economic background, sexual orientation, etc. companies need to avoid becoming echo chambers where the same perspective gets recited time and again.
The Irish Technology Leadership Group, an organisation that supports female leadership, recently named you among the top 50 Irish or Irish American executives making a significant impact in the world of technology.
As a leader in the HR field, how important is it that we have a gender balanced work place?
It is hugely important and brings a unique competitive advantage to firms.
While Silicon Valley is a very diverse place where you have brilliant people from all over the world working in close proximity to each other, there is always a danger that companies can become siloed.
That's why AMD placed an emphasis on bringing more women into our engineering ranks after Dr Lisa Su became the company's first female president and chief executive officer in 2014.
Achieving gender balance needs to be part of an overarching diversity drive which fosters a culture of inclusiveness and innovation where the best ideas win regardless of the individual's identity.
At UCC there has always been a strong tradition of accepting students from disadvantaged backgrounds – How important is it that for business?
It's super important. Looking back at my time at UCC, there were people from all walks of life on campus.
You have to remember that this was at a time when Ireland was struggling economically, and opportunities were hard to come by.
Nevertheless, it wasn't uncommon for many students to be the first family member to attend university, which was a big deal.
We were all young and ambitious and the atmosphere on campus mimicked the work environment, which became huge for us in our professional careers.
You have to applaud UCC in the way they continue to support kids from disadvantaged backgrounds access 3rd level education. And I have no doubt that those of us who are graduates can do more to support and foster those efforts.

You left Ireland soon after graduating, was this a common phenomenon among your peers and how did it benefit your career?
It was difficult to get a break in Ireland during the early 90s and the staff/student ratio at University were pretty high.
Nothing was straightforward, so you had to differentiate yourself to stand out. I was a member of a student entrepreneurial group who introduced business programmes into secondary schools.
Unlike others however, I wanted to work abroad and pursue a career in investor relations. Like so many others though, I have benefitted from my experience at UCC throughput my career.
In fact, last year I attended the Silicon Valley Global Awards organised by The Irish Technology Leadership Group, where UCC President, Professor Patrick O'Shea was the keynote speaker.
In all, UCC alumni received the same number of awards as Stanford University. While many of us will continue to remain abroad, others will return home, bringing with them a wealth of experience and knowledge which benefits Irelands and our workforce of the future.

What do you think of the UCC's ambition to establish CUBS as a standalone business school?
I'm delighted to see UCC lean on their knowledge, experience and reputation to establish CUBS.
UCC programmes have always included a unique perspective and practical application that has given graduates a competitive edge globally.
CUBS can also call on a global set of successful graduates who can inspire and share their skills with current students.
Through collaborative projects, CUBS and their alumni have the potential to foster a spirit of innovation that will enable graduates to remain ahead of the curve for years to come.