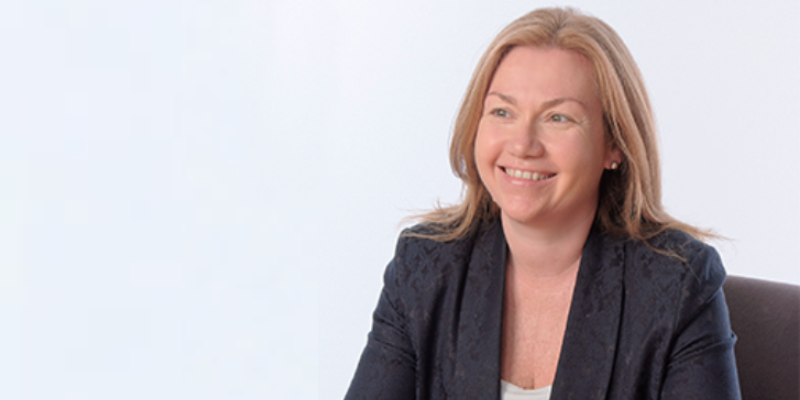 As part of our series of alumni profiles, Honor Moore, Partner in Deloitte, speaks to us about her successful career & her connection with UCC.
During your career you have worked at some of the largest accountancy firms in Ireland, how has the industry changed since you joined Arthur Andersen in 1994?
It's a bit sobering to realise that I'm at this nearly 25 years; at times, it feels like I started yesterday! And, while the core principle of what we, as auditors, are trying to do hasn't changed, (to ensure that the financial statements of the entities that we are auditing give a true and fair view), the way we and our clients work has changed hugely over that time, principally via technology changes.
Our associates in Deloitte laugh when I tell them that when I started my training contract, we did all of our audits manually, we had no laptops and got both them and our email addresses the following year, in 1995.
In 2019, technology is so much a part of our clients' businesses, and indeed in our own business, to enable us to test the technology that underpins the financial information. So graduates now are so much more tech savvy than we were and technology has such a huge influence in the way we all work.
What hasn't changed during that time though, for anyone in professional practice, is that our business remains a people business. I tell our new associates each year that our brand will only ever be as good as the people that work for us, which is why we at Deloitte are so focused on recruiting the top graduates, not just in Ireland but globally.

For graduates, the modern economy has created demands that may have been inconceivable when you began your career, how prepared are they for the modern workplace and how does Deloitte get them up to speed?
Working life is very different for graduates now compared to when I started. Back then, we worked very hard while we were 'at work' but when we walked out the door of the office, we completely switched off until we walked back in the next day or the following Monday.
Now, we live in an era of 'always on' and everyone needs to learn how to achieve a healthy work-life balance.
I strongly believe that the preparation of our young people for the demands of the modern workplace and teaching them how to switch off needs to start early. It is important that this message continues to be delivered as our young people move through school and into third level education.
At Deloitte, we operate an 'unplugged' strategy which focuses on supporting people to unplug from work and technology during their personal time. We also support flexible working to help people in this.
And we have recently launched a new policy 'Time Out' which enables our people to take four weeks of unpaid leave per annum in addition to their paid annual leave.
I remind my team regularly that we are not surgeons, and that a lot of the time that absolutely urgent thing on our to-do list can actually wait until tomorrow. And simple things, like reiterating the importance of people taking their holidays and relaxing and refuelling are really important and I strongly believe that those messages will never go out of fashion.
As a partner at an organisation with an established graduate programme, how do CUBS graduates compare to their peers both nationally and internationally?
I am a very proud UCC graduate and I continue to be impressed by the calibre of graduate that Deloitte recruits from CUBS each year. We hire in excess of 50 CUBS graduates each year.
The quality of those graduates manifests itself in a number of different ways, both in exam success in Chartered Accountants Ireland professional exams, where the success rate among CUBS graduates is consistently well ahead of the national average, and also in the experience we at Deloitte have with CUBS graduates on a day to day basis, in terms of the broad perspective and common sense approach they bring to their work.
I really believe that the commitment of CUBS to having placement modules in all of the undergraduate programmes has played a really important role in getting the students work ready by the time they graduate.
Fostering and identifying talent seems to be important to you, particularly as you previously held the role of Talent Partner at Deloitte and presented both the UCC Executive MBA Graduate of the year Award and the Deloitte Economics prize for BSc Finance.
I could talk to you on this topic all day. Deloitte is a people business and nurturing the talent that we recruit is really important to me. I was a member of Deloitte's talent steering group for 8 years, setting the strategy for the recruitment and development of all of our people.
UCC helped to launch my career and I feel very grateful to be able to give back to it in small ways through our sponsorship of the Executive MBA Graduate of the Year, a programme that brings great opportunity to its graduates; in fact, one of the recipients of the award, Ronan Murray, is now a partner of mine at Deloitte!, the Deloitte Economics prize for BSC Finance students and the Deloitte Innovation Zone, a collaboration space in the O'Rahilly building for students to come together to work on assignments, and now through our sponsorship of the CUBS conference.
Throughout your career, you seem to have retained a connection with UCC and have returned to Cork to manage Deloitte's Cork office – how confident are you that the city will achieve its future potential?
I am a proud Corkonian, born and bred here, and that Cork pride was always evident during the 13 great years that I spent in Dublin where all of my colleagues were never in any doubt about my love of Cork hurling and Munster rugby!
My husband and I moved back to Cork in 2007 and, like the rest of Ireland, the city struggled during the recession over the next 5-6 years. I am really excited for our city's future now though.
The very crude barometer of prosperity that I use, cranes on the skyline, fills me with confidence for the city. Having made the trip home myself, among other reasons, to achieve a better work-life balance, I really believe that Cork has a huge amount to offer in terms of infrastructure, education, opportunities and access to amenities.
There is an onus on all of us who are furthering our careers here to keep spreading the message that living in Cork and having a great career is a realistic ambition for our graduates.

Where does the Business School fit into that future?
The Business School is a really important part of that jigsaw. All of us in business in this region have an aspiration for our business graduates to excel, and having the opportunity to study in a world class business school is a cornerstone of this. I remember back in my B.Comm days, running from Lough Rovers to the Lee Maltings to the Western Road for various lectures and tutorials, so I really admire CUBS' vision of a dedicated home for its students.
And the IMI executive education centre in the wonderfully refurbished Cork Savings Bank building on Lapps Quay is another key element of this. I am a firm believer in lifelong learning and for the first time, the business people in this region now have access to the best of executive education on our own doorsteps.
As someone who has gravitated back to Cork, how important is it that graduates are provided with opportunities to pursue careers here and for the city to be able to attract the best international talent?
I think that this is really important. We all have big ambitions for our region and initiatives like 'We are Cork' and Project 2040 demonstrate the scale of our ambition. Cork is now acknowledged as a key European Tech hub with over 300 ICT related companies employing almost 30,000 people, from Ireland and overseas, in the region. We are really lucky in Cork that people can have the best of both worlds, a great career and a great place to live and the quality of life here has been key in attracting overseas talent in Cork. This is evident to me every day on my 10 minute commute to work, and even more so in the summer, when I can be on the beach with my kids, on the beautiful Wild Atlantic Way next to Mizen Head less than 2 hours after leaving the office. Not bad at all!
What has been the proudest moment of your career?
I have been really lucky in that I have had a great career to date and I love what I do. Two things really stand out for me when I look back over my career thus far.
The first was when I was appointed a partner in Deloitte, back in 2008. For anyone who has grown up with a career in practice, this is always a really special moment. And hard to believe now, when we have 4 female partners based in Cork, but I was the first female partner in Deloitte Ireland to be based outside of Dublin, so it was another reason to be proud.
The second moment that stands out for me was when I was asked to deliver the key note address at the Commerce Conferrings in 2013. UCC has been a big part of my life, I made lifelong friends during my 4 years there, my husband is a UCC graduate, my two siblings are UCC graduates and I hope that some day my two children will be UCC graduates. I remember vividly, as I delivered my conferring address, thinking back to when I was graduating from UCC some 19 years earlier, and thinking that if anyone had told me then that one day I would be delivering the keynote address, I would have thought that they were mad! But, there I was, and I achieved it all on the back of a great degree from a wonderful university.