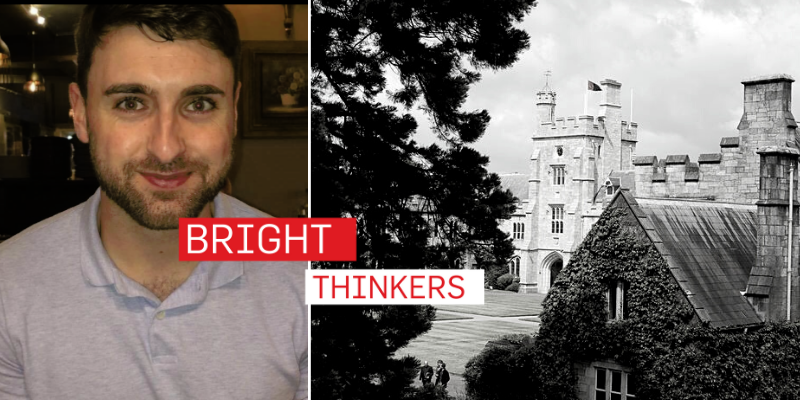 Can Blockchain technology help reduce Ireland's Agricultural Carbon Emissions?
As Ireland searches for sustainable solutions to reduce its agricultural carbon emissions, student researchers like Brian Madden are offering up industry inspired ideas that attempt to address some of the complex environmental challenges facing Irish farmers.
A graduate of the MSc Information Systems for Business Performance at Cork University Business School, Brian played a leading role in a collaborative research project which looked at how blockchain technology might allow farmers to reduce the size of their herds while increasing profitability.
The Irish dairy industry is trusted around the world. Our reputation instils confidence among global consumers who associate Irish produce with premium products.
But, as we all know, the industry has to change to meet the challenges posed by climate change and the demands of climate conscious consumers who want to make informed choices about what they purchase.
We're moving to a place in which it won't be good enough to simply display environmental certification labels on packaging.
Consumers will want to be able to validate products adhere to the highest environmental and production standards.
This is where blockchain technology can play a role in ensuring that consumers can confirm whether or not the produce that they are buying came from a farm or company that is doing all it can to reduce carbon emissions.
Designed to be non-corruptible, data uploaded to a blockchain cannot be modified or altered. As a result, if the technology was employed in combination with smart tags that uploaded data from farms and processing plants, every step involved in the production process could be recorded autonomously.
In turn, this non-corruptible data could be validated by consumers who would scan a QR code on packaging in their local supermarket.
Every block along the chain could represent a step in the production of a premium cut of beef for example.
The first block could provide information akin to what you see on bovine ear tags. Using smart tags, another block could describe what a cow was fed on a particular day or how long it spent grazing in fields etc.
Potentially, consumers could access all this information by scanning a QR code that would tell them all they need to know about what they are about to buy.
This would mean that producers couldn't just claim that they're cattle are 95% grass fed or that they source all their animals in West Cork, they would need to prove it.
It brings authenticity to a whole new level and could be marketed as a premium export product that would provide greater margins for producers.
Rather than being encouraged to over produce, Brian believes that farmers would instead be emboldened to limit supply in order to produce authentic products that international consumers would be willing to pay a premium for.
In turn, Ireland's national herd could potentially be reduced without impacting the livelihood of farmers and producers.
You can already see this shift happening in Ireland. Over the last few years, we have seen a growing number of premium milk producers emerge for example.
Authenticity is their biggest advantage and people are willing to pay for it directly in supermarkets and indirectly at coffee shops.
As we all become more climate conscious, imagine standing at a butcher's counter and choosing your steak based on the carbon footprint of a farm or processing company.
That's what we're talking about here. If you deploy the right tech, a consumer could potentially scan a QR code to see how much carbon was produced in the lifecycle of a cow and if any measures were employed to limit it.
However, for any such system to work, a regulatory and cultural change is required. Farmers and producers would also need help investing in smart tags and blockchain technology.
According to Dr Stephen Treacy, lecturer in the department of Business Information Systems at CUBS, investment represents a substantial hurdle, but it is not an insurmountable one.
Over the past few years, we have seen blockchain technologies challenge existing business models and, in many cases, reshape entire industries.
This research highlights the transformative potential these technologies may have for the Irish agricultural sector, which can lead to the reduction of food waste, and opening of new markets for these stakeholders.
However, further work is still needed to explore how such a powerful agent of change can be applied successfully, and the implications therein to capture this inherent value.
As Ireland searches for novel ways of reducing its agricultural emissions in a way that protects the livelihoods of farmers, multidisciplinary projects like these, which bring experts from academia and industry together, point to a way in which we might be able to successfully navigate toward a just transition.