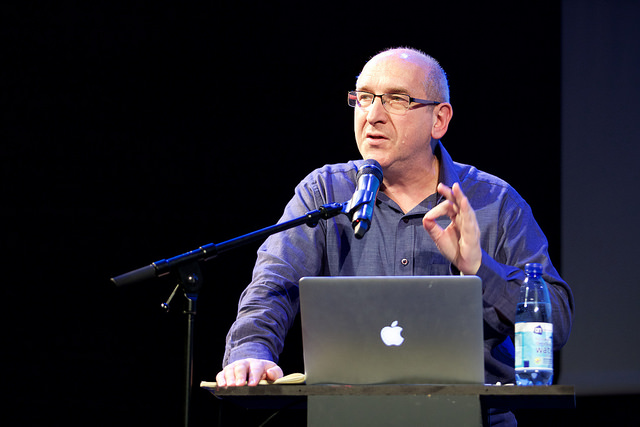 Uber. Deliveroo. Airbnb. Trip Advisor. Facebook. Work, life and business are changing rapidly in the era of the so called sharing economy. It's certainly convenient to manage it all through an online platform - accommodation, transport, take-aways, staying in touch - and it's fast becoming central to the economy.
PWC recently estimated that the five main sharing economy areas will grow globally from £15 billion to £335 billion by 2025.
As we are learning, this rapid change has huge implications. What about the data, and the uses to which it is put? How are the socio-economic costs – from taxes to pensions – dealt with? And what about the balance between profit and responsibility? Who owns the car, the bike, the house – and yes that information?
An inevitable part of this sharing economy is the gig economy, the ever more precarious world of work young people in particular find themselves in. Whether in self-employment or otherwise, they are more likely to find blogging or freelancing opportunities and work for exposure alone than to get one of those vanishingly rare jobs as a journalist. Trade union membership is down, and in the middle of all of this, there is the stressful business of arranging your own sick care, tax and pension plan.
The good news is that as the sharing economy takes off, co-operative approaches offer real solutions across a wide range of industries.
Our newly revamped MSc in Co-operatives, Agri-Food and Sustainable Development explores real world solutions to these challenges. New business models and case studies are examined through the lens of a collaborative economy which is fair for people and planet. What's more, our graduates will have a far greater understanding of the opportunities in this new terrain – opportunities for organisations, for organising, for career advancement.
Platform co-operatives have emerged as an innovative approach where freelancers can come together for their own benefit. Many involve a shared set of digital tools, such as the new Taxiapp – an uber-like platform owned by black car drivers in London.
Another model is the sMart platform co-op based in Belgium. 85,000 people are members of this co-op, which now operates in nine countries. SMart describes itself as "a cooperative dedicated to the needs of all freelancers. Without creating their own legal structure, freelancers can work within our legally secured framework, stay autonomous, focus on their core activity and on the customer relationships, while accessing the best social protection possible."
The core of this process is sMart's invoicing tools. Here's the sMart process:
"You negotiate with your client all aspects of your mission (tasks, the price, dates, etc.), then you declare that assignment through our website before starting to work. To validate that job, you will have to return your contract to us duly signed by you and your client. We will take care of the social declaration, we will pay the different social contributions and taxes to the relevant institutions and we will pay your salary (7 working days after the assignment is finished). SMart advances the payment of the salary even if your client has not paid yet."
So wages - salaries - are paid, rather than income earned. Pension and other contributions are made on behalf of the members. Administration, accounting, tax and co-working spaces are among the number of areas which falls under the remit of this platform coop. All this leaves the freelancers free to get on with their work, with financial security.
In many ways, this is back to the future – for sMart is a labour mutual by another name. SMart aims to make sure that individual entrepreneurship does not mean isolation and precariousness. This platform co-op "represents a very fruitful third way towards collective and cooperative enterprise," according to Michel Bauwens, founder and president of the Peer to Peer Foundation, and recently employed research and development worker with sMart,
Interested in finding out more? The Centre for Co-operative Studies is delighted to have Michel Bauwens present this exciting new third way towards collective and cooperative enterprise at its Credit Union Summer school in the week of 28th May. The Centre is also holding a dedicated event, open to all, with Michel Bauwens speaking on platform co-ops in UCC Libraries' creative zone, Tuesday 29th May, 6-8.30pm. All welcome. For more details, see the event page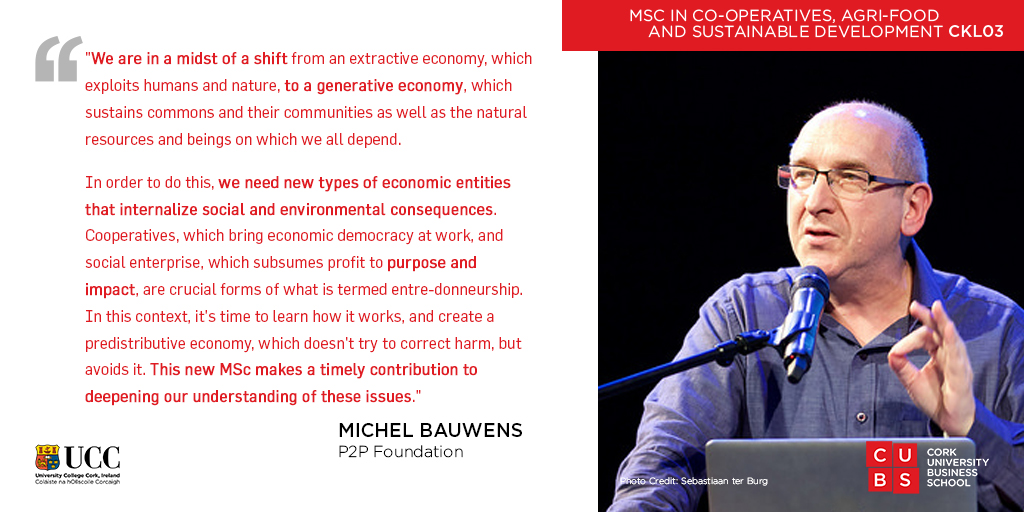 Photo by Sebastiaan ter Burg CC BY 2.0