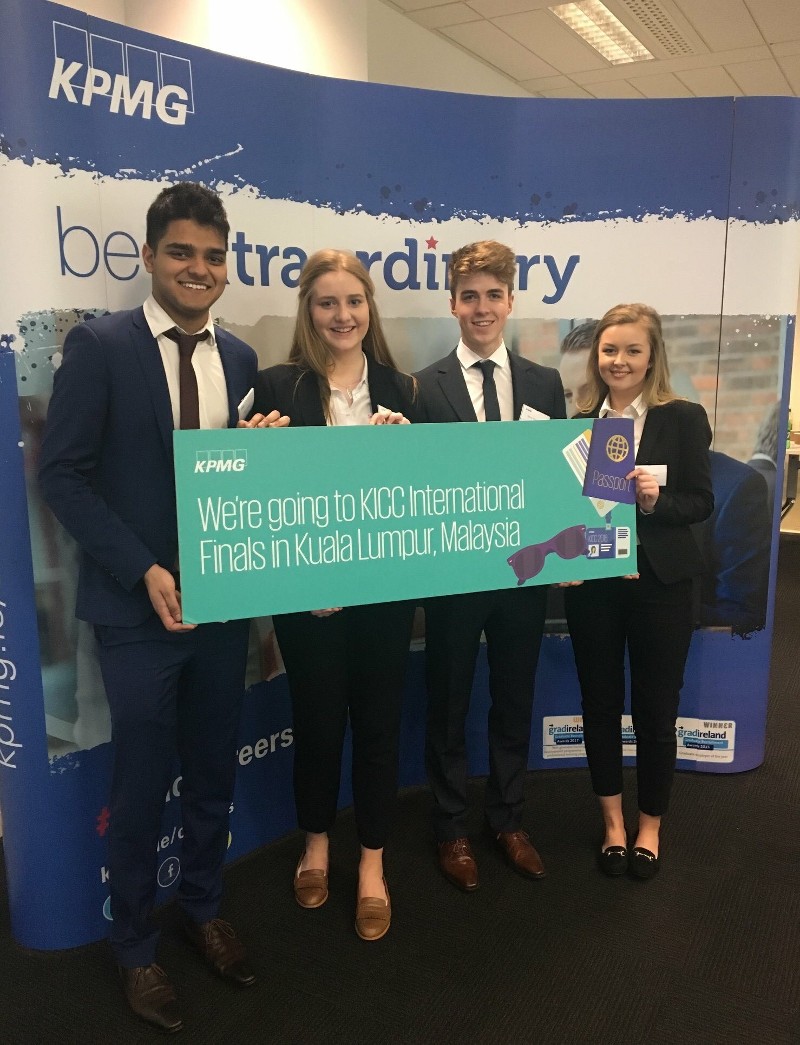 Cork University Business School will be represented at the KPMG International Case Competition in Kuala Lumpur after a team of four second year finance students triumphed at the national finals in Dublin earlier this month.
The prestigious international competition will take place between April 9-12 and see the CUBS team pit their consulting skills against competitors from 22 countries.
Following a challenging two day national competition in which the CUBS quartet of Rayan Suhail, Anna Harte, Harry Shanahan and Sinead Buckley developed hypothetical fintech solutions for Banco Santander and the wine cork industry, experts from KPMG selected the CUBS team to represent Ireland in Kuala Lumpur.
In what was a first for UCC, the four finance students saw off eight further teams from third level institutions across Ireland to triumph in Dublin.
Over the course of the two day event, the CUBS students had to go without their phones, think outside the box and challenge each other to develop original concepts.
On the first day of the national competition, they were asked to complete a 15 minute presentation in under three hours and present it in front of three KPMG directors.
Despite only qualifying for the second round as a wildcard selection, the CUBS team put their minds to work, creating a 20 minute presentation on the wine cork industry in under three hours, before spending the night working on detailed content.
In spite of the pressure, the following day, the CUBS team impressed the expert judging panel which this time included two KPMG directors and one partner.
Before travelling to Kuala Lumpur on April 5, the CUBS students will prepare for the international KICC competition at the Communications Clinic and have been receiving advice from leading academics at CUBS.
This story also appears in the Evening Echo News (3rd April 2018)