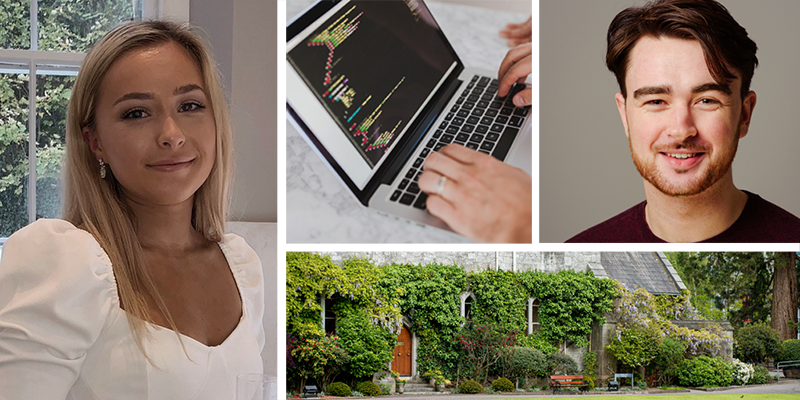 The BIS programme at Cork University Business School is unique in that it allows students to combine their love of tech with practical business skills that enables graduates to pursue dynamic careers in numerous sectors.
Take Sean Conlon and Imogen O'Sullivan for example, as Leaving Cert students, they were both drawn to BIS as it provided them with the opportunity to explore the rapidly evolving world of technology, while also promising to foster real-world skills.
As an inquisitive technology buff, Sean liked the idea of studying specialist programmes but knew that a greater understanding of the business world would be necessary if he was to satisfy his burgeoning desire to work in the industry.
As a creative type with a passion for technology, I wanted a course that would allow me to marry my interests and provide me with a platform to launch my career.

I did toy with a number of different options, but BIS remained my number one CAO choice throughout my Leaving Cert year.
Likewise, Imogen, who is motivated by the prospect of working in one of the world's tech capitals, is fascinated by the application of technology and the potential career paths arising from studying BIS at CUBS.
When I was looking at courses, Business Information systems always stood out to me as a wonderful opportunity to acquire the skills and knowledge, work with modern technology, and build on the business subjects I loved from school.
Once enrolled, both students quickly found their feet after being made feel very welcome and involved by the expert faculty.
From the outset of the programme, Imogen was taken aback by efforts to break down barriers between students and faculty, which created an innate sense of community within the programme.
The weekly coffee sessions organised by BIS faculty have been extremely beneficial and enjoyable.

In first year, they allowed me to get to know my fellow classmates and lecturers in an informal setting. We have a large year group of over 140 students, so these coffee sessions ensure that we get the chance to talk to everyone and make new friends.
The synergy generated during the coffee sessions helps foster a collaborative culture among students, which lends itself to the generation of far more interesting and engaging group projects.
In fact, Sean was blown away by the short length of time it took for the class to form a bond.
In first year, you have between 25 and 30 hours where everyone is working together. It's an amazing environment where you make friends really quickly.

It also encourages you to take part in extracurricular stuff. I joined the BIS society very early in the programme, and this year I'm the Chairperson. It is a great role to getting me started on what it takes to manage people and projects, and I get a great kick out of keeping the team on track.

The environment creates intangible benefits and allows you to start establishing networks.
The BIS society organises educational opportunities for all years of the BIS programme, for teaching young kids how to code with CoderDojo, and also tutoring people over the age of 55 how to use technology in partnership with Age Action and their Getting Started programme.
The society also organise fun social events including the BIS Soccer Cup and the BIS Ball. Although she is not yet a member of the BIS society, Imogen is a Student Ambassador and a Peer Support Leader, where she passes on some of this intangible knowledge to incoming first year students during induction.
That desire to give back typifies the kind of atmosphere that permeates through every level and class within the programme.
By the time students begin their final year projects, the constructive culture and progressive support structures built over the course of the preceding years generate an environment where ideas and concepts emerge without discouragement.
Now entering the final months of the programme, Sean is working on an app that could allow users to catalogue brand loyalty cards on their phones rather than have them attached to their keyrings.
The final year project is the epitome of what BIS is about. You get the opportunity to marry innovation, creativity and technical skill to develop solutions for real-world problems.

It's really interesting and something that employers love to hear about.
By fostering ambitious projects like these, and providing students with innovative work placement opportunities, the BIS programme creates a platform for students to establish careers with multinational organisations.
For example, Sean's placement with Barclays in London reaffirmed his desire to work in a fast-paced environment, where tech plays a central role.
Likewise, although she might just be in the midst of completing her second year, Imogen aspires to work in a global tech hub.