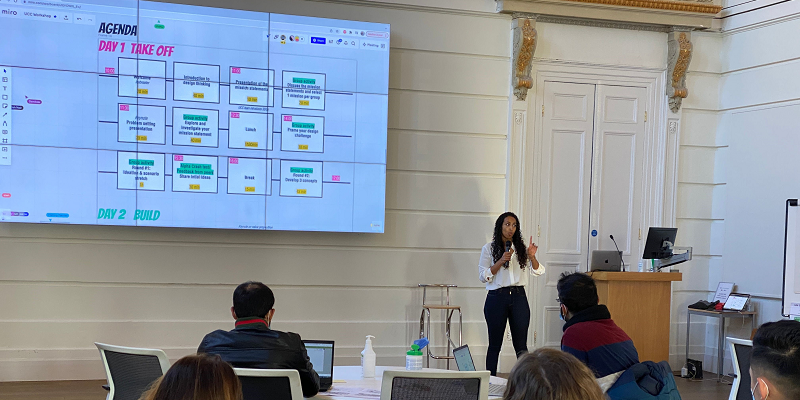 Masters students from the BIS department at Cork University Business School designed digital concepts that support the UN's Sustainable Development Goals during a 3-day collaborative workshop hosted by faculty and experts from specialist Belgian company, Strategic Design Scenarios.
Hosted in UCC's Centre for Executive Education, the workshop saw students develop ideas, business models and designs for digital concepts that promote, good health and well-being (SDG 3); industry, innovation, and infrastructure (SDG 9); and sustainable cities and communities (SDG 11).
A concept for a smart cooking app that promotes healthier living, and the prevention of non-communicable diseases was just one of the digital design concepts.
Devised with a specific target market in mind, the students who fleshed out the idea during the three-day workshop created a flexible design that also adhered to the stringent constraints imposed by organisers who prioritised sustainability.
A further concept developed by students explored how they could create an online community of farmers and agricultural professionals who would share knowledge and examples of best practice on a specifically designed website.
Speaking following the workshop, MSc Business Information and Analytical Systems student, Haoyu Sun, described how impressed he was with the entire experience.
It's been a wonderful experience participating in the workshop of the past three days. From initiating the ideas to coming up with solutions, we were introduced to a series of models such as the Problem Tree, brainstorming and developing our business-orientated ideas and solutions.

The card game really impressed me with how we can inspire ourselves to think out of the box to find surprising solutions. I learned new perspectives and gained a deeper understanding of things from my teammates.
Damilola Odili, another CUBS MSc student, also described how the workshop encouraged students to work collaboratively and to think critically in a fun environment.
The workshop developed the art of brainstorming for all groups and made it fun by picking random cards that helped us form our design challenges. Personally, this workshop helped develop my critical thinking skills, collaboration, and analysis abilities.

At the end of two days, two ideas were developed and implemented using strategic management templates. Over the three-day workshop, I went from knowing nothing about product design and digital solutions to developing sustainable ideas using digital solutions that can be used and utilised by society.
Anushree Bose praised the work of the organisers and the ambition of the workshop, which inspired students to rapidly develop ideas and concepts.
This was the first time I attended a workshop on designing sustainable digital solutions. At first, I thought that the three days were going to be really intensive but the way the workshop was designed was commendable, I enjoyed every bit of it.

The best part was that the focus was not only on the design but on the process of ideation and converting it into a concept.

It was so amazing to see how all the teams, which initially were confused with so many ideas, reached a point where they visualised their best ideas into concepts along with their business model and its prototype. It was an amazing learning and team-building experience.
What are the lessons learned from this experience? Dr Wendy Rowan and Dr Stephen McCarthy highlighted four key takeaways from the workshop.
The power of 'Learning by doing' cannot be underestimated for teaching the importance of sustainability.
Sustainability ideas come in many forms and testing the boundaries of our thinking is both creative and productive.
Sustainable solutions are out there, it is just about coming together to work collaboratively for the greater good.
Meeting the SDGs challenge can be an enjoyable experience, so get involved and make a difference.
Funding support for the workshop from the "Learning, Teaching and Assessment (LTA) Enhancement Fund" from the "Office of the VP for Learning and Teaching, UCC."