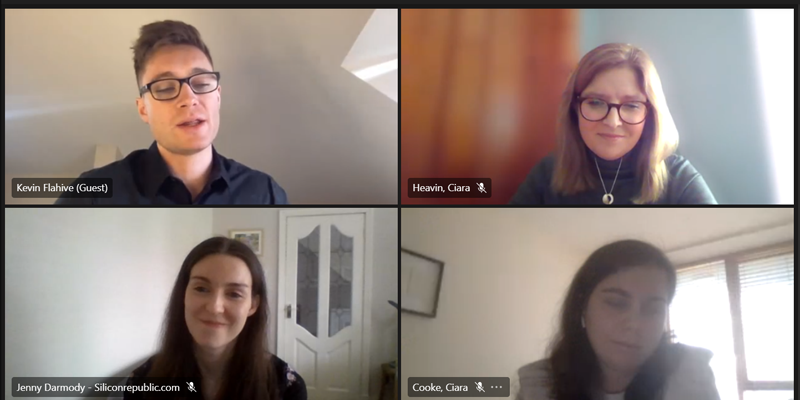 The Business Information Systems Athena Swan Committee held their annual International Women's Day event on the 8th of March 2021. The event focused on the topic of 'Career Planning Post Covid' and was discussed by a panel that included Jenny Darmody (Deputy Editor – SiliconRepublic), Kevin Flavhive (RAS Associate at PwC) and Ciara Cooke (Cloud Support Associate at Amazon Web Services).
The discussion provided excellent insights on the challenges and opportunities that have emerged with Covid. Chaired by Prof. Ciara Heavin, the tone of the discussion was very positive while also highlighting the current realities of working virtually.
Jenny, noted that many underlying assumptions around working from home have been significantly challenged over the last 12 months, which has prompted employers to rethink how they engage with their workforce or indeed how their workforce engages with customers. She also presented our current state of flux as a opportunity for current employees to shape a work environment that is unique to them.
For current students, Kevin advocated patience and painted a positive future for tech graduates given the increased demand for IT services. He identified the strengths that students have developed as a result of Covid, strengths that will facilitate an easier transition to current and future work environments.
Ciara Cooke, highlighted how covid has brought about many corporate online events which provide opportunities for upskilling, networking, and demonstrating an interest the company organising the event. Ciara also highlighted that current events should help people focus on what's important for them and their careers. Prioritising options in the order of the role, company, and location is a technique she found very useful when choosing her next steps.
Finally, resonating with International Women's Day, Jenny had the last word in advocating the need for organisations to not only celebrate females in the workplace but also support them.