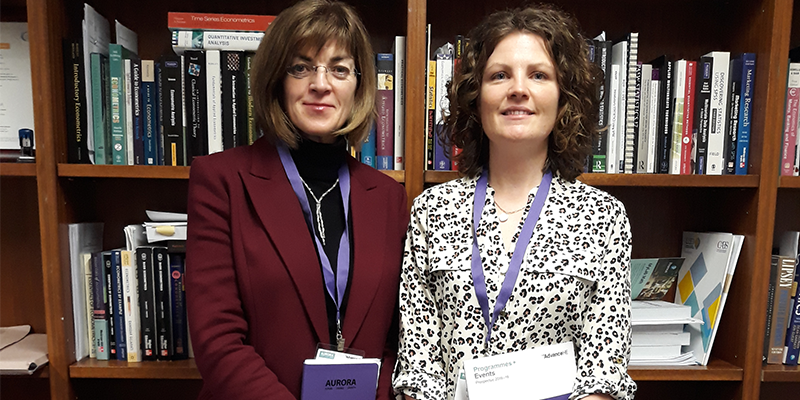 CUBS faculty, Dr Lee-Ann Burke and Dr. Siobhán Lucey, were recently selected to attend the prestigious Aurora Leadership Programme run by the Advance HE (UK).
Established in response to research indicating that the proportion of women in influential and senior positions in higher education is now lower than 10 years ago, Aurora is a women-only leadership development programme designed by the Leadership Foundation for Higher Education in the UK.
Now in its sixth year, the programme is targeted at women in lecturer, senior lecturer, research and professional services roles across all academic disciplines and throughout university administration.
It aims to introduce key leadership topics and skills in development workshops, complemented by networking, role models and guest speakers. Further on-going support is ensured through action learning, online resources and institutional level support including mentoring.
During the 2018-2019 academic year, UCC committed to making available up to 20 places on the Aurora Leadership Programme.
Such is the prestige associated with the programme, 42 female academics and professional staff from across the University applied, from which Dr. Lucey and Dr. Burke were selected to take part.
Dr. Burke and Dr. Lucey see Aurora as an additional opportunity for them, as women, to influence their institution and to develop their leadership skills.
The programme, which commenced in Dublin during December, has surpassed Dr. Burke's expectations and has provided her with the space to reflect on her own leadership experiences and possibilities.
Likewise, Dr. Lucey found that the programme's workshops provide an excellent opportunity to build a network of like-mined women across all of the Irish higher education institutions, both north and south of the border.
"The guest speakers to date have been excellent and overall Aurora provides a very positive experience of leadership; we are both looking forward to the remainder of the Aurora programme and the future additional leadership development opportunities".