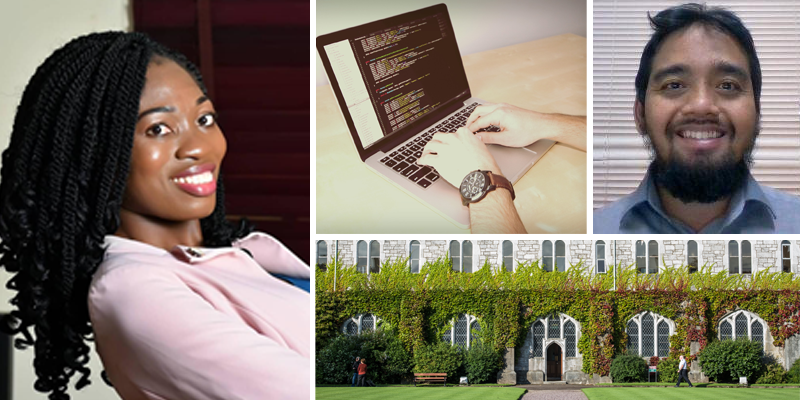 In 2018, Arif Wibisono enrolled in the PhD programme in Business Information Systems at Cork University Business School with the ambition of pursuing a career in academia.
Having researched similar PhD programmes at several international universities, he was drawn to the possibilities offered by the curriculum at CUBS, which seeks to strike a balance between the theoretical, methodological and practical elements of IS research.
Arif appreciated the advantages of providing a complete understanding of the paradigmatic complexities associated with the field.
The blend of teaching and research modules intrigued me. I could see that the teaching element of the program was one of the best in the world.
Equally ambitious, Iretioluwa Akerele came to the programme with a different set of goals. Having worked in the field of cybersecurity for several years, she decided to enrol in the PhD programme to propel her career.
After initially graduating in 2009 with a degree in Management Information Systems, and having subsequently completed a Masters in Information Security and Computer Forensics in 2014, Iretioluwa gained a huge amount of practical experience working as an information security consultant.
As such, she was keenly aware of the knowledge and skills gap that existed in the industry, particularly after working as a senior consultant at Deloitte, where Iretioluwa advised clients on issues relating to information security, IT governance, business continuity and service management.
I identified the BIS programme at CUBS because it doesn't just respond to the needs of industry, it encourages you to develop the advanced research skills demanded by the highest academic standards.

I feel that those research skills will ultimately complement my practical knowledge.
After enrolling in the programme under the Government of Ireland - International Education Scholarship, Arif worked with faculty to conceptualise his thinking around a research project that examined the phenomenon of technological workarounds.
With the help of the academic staff, Arif has excelled, publishing two articles during his first year on the PhD programme.
Throughout the programme, the academic staff encouraged me to develop my writing style, which has aided my professional development.

To date, I have authored seven papers, including three articles that are currently under review in leading international journals.
This kind of publication record will provide Arif with the résumé necessary to become Assistant Professor in the Information Systems Department at the Institut Teknologi Sepuluh Nopember in Indonesia.