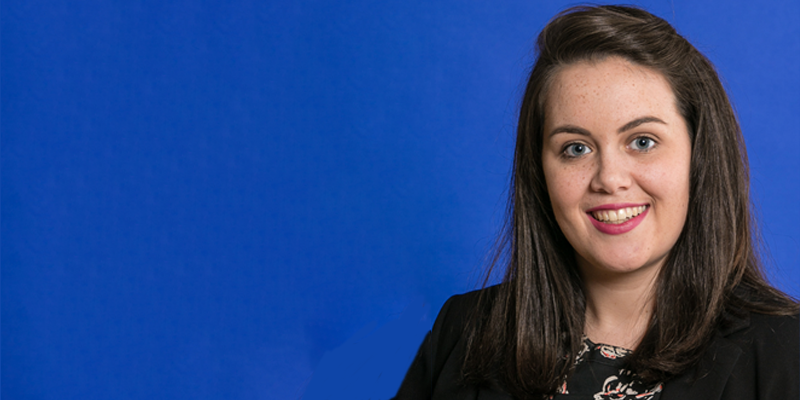 When Aideen Driscoll first graduated from CUBS with a Masters in Accounting, she was so focused on establishing a career as a chartered accountant that she overlooked some of the alternative career paths provided by the programme.
Having initially completed the BSc in Accounting at the Business School, Aideen sought to complete the postgraduate course in order to fast track her career by securing exemptions from professional exams.
However, not long after she had secured a position with KPMG, Aideen began to appreciate how versatile an accountancy degree can be.
As an undergraduate, I knew that I wanted to work with one of the big four accountancy companies.

I knew a lot of people working in accountancy who loved their roles and I figured that the MACC would give me a real advantage.

Obviously, I was delighted to be offered a position at KPMG in Cork. I worked with a number of different clients in a variety of sectors and across a number of departments in the firm e.g. valuations, actuarial

That kind of interdepartmental engagement introduced me to other areas of the business that really fascinated me.
One such area was risk management; a function Aideen had engaged with on numerous occasions in her role.
Although she had no background in risk management, Aideen felt confident that the accountancy qualifications she earned at CUBS provided her with the transferable skills, background and aptitude to make a transition if an opportunity presented itself.
Risk management is all about protecting the reputation of the firm, managing brand, legal and regulatory risk. It's about enabling teams to deliver for clients whilst balancing the risks and complying with applicable rules, regulations, and laws that exist in organisations, professions or jurisdictions.

Given my background in accountancy and auditing, I was encouraged to make the transition into risk management.

A big part of my role looks at monitoring compliance with our internal system of quality control. It's not all too different from auditing. I find myself using the same skills, I'm just deploying them within the firm rather than in an external client-facing role.
As a risk manager, Aideen is being exposed to an array of different departments and projects being undertaken within KPMG.
Although Aideen never saw herself working in such a role, she relishes the challenges it presents.
Speaking retrospectively, I was so focused on securing my accountancy qualifications, but I needed more variety and that's something I have only started to realise.

Because we work with all other departments, every day brings something different in risk management. To assist teams, I need to understand and apply policy across audit, tax, deal advisory and consulting offerings.

For example, even though I might not have ever worked in tax, I would engage and interact with that department to help teams apply policies and procedures to their tax engagement with a client from initial onboarding of the client to issuing the deliverable based on their requirements. It's a hugely challenging and dynamic role that requires many of the same skills accountants possess.
Reflecting on the last five years, Aideen takes pride in having graduated with Masters in Accounting from CUBS, a degree which she leveraged to attain a CAI qualification and progress to Manager within KPMG.
Casting on eye an optimistic on the future, Aideen is hopeful about progressing further in the firm.
The upcoming CUBS Conference is kindly sponsored by KPMG.