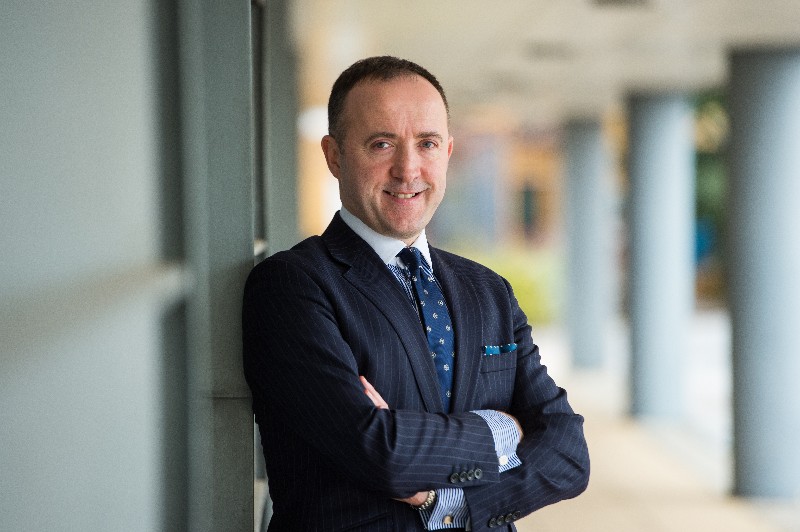 The Ireland of the early 1990s struggled to provide ambitious graduates with the same kind of opportunities that existed in metropolitan cities like London or New York.
Consequently, like many of his peers during that period, economic circumstances, mixed with an appetite for new experiences, drove Professor Thomas Lawton abroad to pursue a career that came to span the entire globe.
However, 29 years after graduating from UCC with an Arts Degree, Professor Lawton could no longer resist a yearning to return home.
Without ever really having a plan to return to Ireland, I always had the ambition of doing so. Both my wife and I wanted our two children to grow up with a sense of belonging and identity. At one point, we almost put down roots in France after I was appointed Professor of Strategy and International Business at EMLYON Business School.

Yet, despite our desire to live in France and our commitment to become fluent in the language, it never really felt like home. So when the opportunity at Cork University Business School arose, I grasped it with both hands.

The position didn't just provide me with the opportunity to return to Ireland, it allowed me to reconnect with my family and friends in West Cork.
By his own admission, Professor Lawton's career has followed a circuitous path. An Arts graduate with a passion for History, he never really imagined himself becoming a business academic.
As a student, he listened intently to the engaging lectures of Professors Brian Girvin, Dermot Keogh, JJ Lee and John A. Murphy, each of whom encouraged their students to think critically and challenge preconceived ideologies.
With a particular interest in international relations, Professor Lawton's scholarly ambition was ignited by Professor's Keogh's insight and research into geopolitics and international diplomacy.
Captivated by the subject matter, Professor Lawton was inspired to apply for the Irish Examiner Postgraduate Research Scholarship after finishing among the top students in his class.
Winning the Scholarship allowed him to attend the London School of Economics and attain an MSc in International Relations (Econ) which specialised in international political economy.
Although he flirted with the idea of becoming a journalist, Professor Lawton's continued interest in the relationship between Business and Government led him to the European University Institute in Florence, where he undertook a PhD under the supervision of the highly influential Professor Susan Strange.
While in Florence, Professor Lawton began to develop his network, travelling to the University of California at Berkeley as a visiting scholar at the Berkeley Roundtable on the International Economy, and then to INSEAD in France, where he finished writing up his thesis. He also spent time in Washington, D.C. as an EU press and public affairs intern at the Delegation of the European Union to the United States.
After completing his PhD in 1995, Professor Lawton became part of an EU Human Capital Mobility (now Marie Skłodowska-Curie) funded research team in the Government Department at the University of Essex investigating the deregulation of the European air transport industry. This paved the way for a career in academia.
After travelling to the US to be part of the EU delegation, I found myself seriously considering a career in journalism.

The academic route was a difficult one and involved making a huge number of sacrifices. Thankfully, my parents were always there to support me.

Their values, which are instilled within me, emboldened and reassured me when things got tough.

Positions at some of the world's most prestigious Business Schools followed as Professor Lawton began to focus on strategy, leadership and international business.
Yet, as he approached his 50th birthday, Professor Lawton's thoughts turned toward home and what he could achieve as he entered the next phase of his career.
I always kept in touch with UCC through the Alumni Network and I liked what was happening at CUBS. The partnership with the IMI is particularly exciting, as it provides a readymade platform for executive education and leadership development.

The focus on excellence in research combined with the ambition of the Business School really appealed to me also. We have an opportunity to build something really special here at CUBS.
Like so many other returning emigrants, Professor Lawton brings with him skills and years of international experience which will help place Cork at the centre of a global network and assist CUBS in becoming an internationally renowned hub for Business Education and Research.