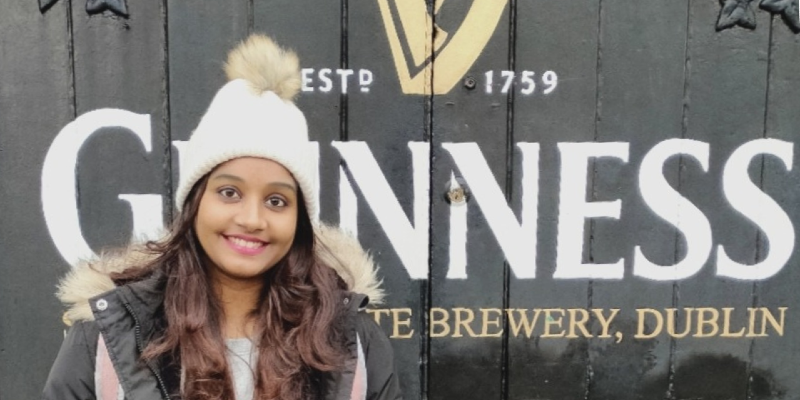 This forms part of an ongoing series of profiles with CUBS students, prepared by the CUBS Social Media team, and designed to fully portray the diversity and entrepreneurship of students in Cork University Business School at UCC.
Thanks for taking the time to talk with us today. Can you tell us a little bit about yourself and your interests?
I'm Janice Reyona Vas, an International student from Mangalore, India, the land of diverse cultures. Currently pursuing my Masters of Science in Food Business and Innovation at University College Cork, Ireland, I am an optimistic person along with a confident and hardworking outlook. My bachelor's degree was in Biotechnology, Chemistry and Zoology from St. Aloysius College Mangalore, India and I also hold an MSc in Food Science and Technology from D.Y. Patil University, Navi Mumbai.
Apart from my studies and career, I like spending time with my family and friends. I also enjoy meeting new people, listening to music, exploring new places, cooking, image editing and photography.
Why do you decide to study business after studying technology and choose CUBSUCC?
Business is an art to be mastered and a skill to be acquired. This is possible only through going deeper into the science and technology of the subject and implementing the techniques in consumer society. I was passionate about knowing how business works and its intricacies, strongly backed by technology, as it enlightened me to the fact that I needed to expand my understanding of the field of specialization available in Ireland. That is why I decided to pursue a Master's in Food Business and Innovation in order to equip myself with the necessary skills for my professional growth.
I was constantly searching for a university that suited my interests as well as being in line with my academic background. One day I came across an article naming Cork as the "Foodie Capital of Ireland" and I was drawn to UCC to gain more knowledge as it connected with my topic of interest. As an international student I chose UCC because of its reputation and its ranking, providing exceptionally good and well-developed systems of education, research, faculty, campus facilities and infrastructure. It is from my experience that I can say even though Covid has isolated us in our own workspaces not allowing us to interact face-to-face, there is virtual connectivity through collaboration between academics with world-class expertise in diverse aspects and gives students an opportunity to learn and expose us to different business sectors.
I decided to come to Ireland because it is the only English-speaking country in the Euro-zone and also the Irish are renowned for their friendliness and hospitality which greatly contributes to the ease with which overseas students adapt to student life. Another important aspect that makes Ireland conducive for learning are its landscapes and its people, which are among the most enriching reasons to study in this country.
What is your ideal job after graduating from CUBS?
It might be intriguing for people to understand the connection between science and business and the possibilities this combination holds. Once I graduate from CUBS, I'll be holding dual masters of science in Food Science as well as in Food Business which will open up ample opportunities like Research and Development, Quality Control Analyst, Production Assistant, Digital Business Analyst, Marketing and Sales. Personally, I would like to be a Quality Control Analyst or Digital Business Analyst. I believe the combination that I have will provide me great opportunities in the near future.
Can you suggest for me three reasons to try your favourite Indian restaurant or grocery store in Cork?
From my experience, I would rate Coriander Indian Restaurant (in Douglas and Ballincollig, Cork) higher than the others because of its taste, ambience and authenticity. Food here is absolutely delicious and every bite is enjoyable because of its balanced flavours, spices and hotness. Overall scrumptious and satisfying experience. Next I would suggest you try Mirch Masala Indian Restaurant (in Popes Quay, Shandon, Cork). The food here is really rich and tasty too with generous portion sizes. Finally, for an Indian grocery store I would recommend you visit Asian Foods on North Main Street in Cork city centre which is one of the best authentic shops to get any kind of asian foods. I like this shop because they have a great selection of loose vegetables, herbs, spices and meat as well.
Thanks again Janice, it was great to speak with you.