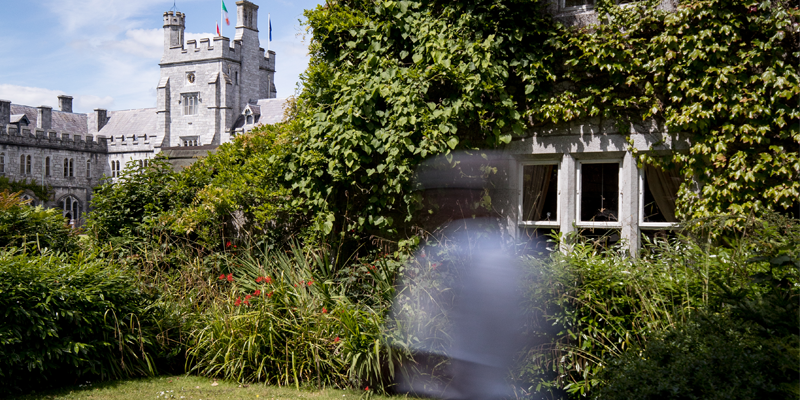 On several occasions in the recent past, faculty and staff at Cork University Business School have had to act swiftly to ensure the safety of students who have inadvertently found themselves at the centre of regional crises.
From the terrorist attack on Strasbourg in 2018 to the independence protest in Barcelona one year later, CUBS staff reacted quickly to return students to Ireland at a moment's notice.
That experience, knowledge and logistical know-how would prove vital as Covid-19 began to sweep its way across the globe.
At first, the virus only affected those students studying in Shanghai, with whom Dr Robbie Butler, Director of the BCOMM International programme began to receive correspondence in January.
We began receiving emails from our 12 BCOMM international students studying in Shanghai at the turn of the year.

Although they weren't too concerned, it didn't stop us from thinking about contingency planning. At first, we didn't envisage what ultimately came to pass but we knew that it would be problematic.

We employed an incremental process to deal with events in China. At first, we ensured that the 12 CUBS students studying in Shanghai could avail of online assessments. As events unfolded, we began to offer students the opportunity to return to Ireland.
Given the relatively small number of BCOMM students in Shanghai, the unfolding pandemic didn't seem too dissimilar to some of the regional crises that CUBS staff have dealt with.
However, as the virus began to take hold in Europe during late February, the scale of the task they faced grew exponentially.
No longer were the BCOMM International team dealing with regional crises, they were now having to act amid an international pandemic.
This meant that as things began to shut down across the continent, the BCOMM team were ramping up their efforts to offer support to the 79 students who were studying at a number universities around the globe.
As February gave way to March, the pace of events increased further. However, when Taoiseach Leo Varadkar formally announced the closure of schools, colleges and childcare facilities on Thursday, March 12, BIS placement co-ordinator, Stephanie Larkin, found herself attending a 2-day workshop in Maynooth University.
Someone at the workshop saw that the government announced the shutdown of universities on their phone.

I remember thinking it was surreal, but at the same time, I was completely preoccupied with the implications of what was happening nationally.

Then the University cancelled all placements. As I raced back to Cork queries from students and companies poured in to my inbox.

Priority number one was ensuring that overseas students were fully aware that they needed to return home.
Throughout the subsequent weekend, Stephanie was in constant communication with Professor John O'Halloran, Professor Ursula Kilkelly, Professor Thia Hennessy and Head of Student Health, Dr Michael Byrne, who were, in turn, updating the University Emergency Management Team.
Understandably, some students were worried about the financial implications of travelling home on short notice. However, Stephanie reached out to the Director of the RIAN Centre in Boston, who was able to offer advice on the implications of breaking a lease agreement in the US and give a second perspective on the situation from a US viewpoint.
With the vast majority of students scheduled to board planes back to Ireland, Stephanie's attention now turned to working with employers so that students could continue their placements remotely.
The following Monday the situation had shifted again.

Many companies had themselves been planning their own measures to deal with the pandemic and were putting remote work arrangements in place for staff, including many placement students.

This brought a lot of relief to the students who could be facilitated. We were required to document the arrangements being put in place by each company.
Unfortunately, however, not every employer could accommodate students as they adapted their processes to working remotely. This meant that Prof Joe Feller and Stephanie had to work very quickly to devise a programme of activities so that those students could continue to learn and build their skills.
As it turned out, Stephanie's unrelenting efforts proved to be extremely well-timed. Although she did not know then, Stephanie's swift response to the shifting crisis kept her one step ahead of events that were unfolding at USIT, which was facing liquidation in the face of the pandemic.
Had Stephanie not acted as fast, or with as much clarity as she did, then medical insurance could have become a hugely problematic issue for students stranded in the US as USIT entered into administration.
Having assisted 74 of the 79 students to return home, efforts turned to working with host universities to ensure the delivery of online lectures.
Given the immersive nature of studying abroad, this wasn't an ideal outcome for Dr Butler or the other members of the BCOMM international team. However, despite the challenges, the students have responded admirably.
From my perspective at least, the classroom teaching environment creates the best learning outcomes. So in that sense, our students are dealing with a challenging situation.

You have to remember that studying abroad is an immersive experience. Students aren't just learning a new language, they are absorbing different cultures.

They are missing out on that experience. Providing online lectures might satisfy students intellectually, but they are missing out on living and socialising in a different environment.

When you're studying a language that's crucial, because there are nuances to the way people communicate.
Despite this logistical success, the pace of events didn't slow as attention very quickly turned to making sure that the Business School could support staff and students transition to a digital environment.
Again, the professionalism and agility of the CUBS staff have come to the fore as the Business School quickly adapted to the "new normal".
In a relatively short space of time, CUBS staff embraced remote working and faculty began delivering online lectures to students who were eager to engage.
The speed of the transition impressed Claire Fennell, who was previously involved promoting and supporting the use of technology as a Senior Instructional Designer in the Office of the Vice President for Learning and Teaching.
Having spent weeks, and sometimes months, working with staff to prepare for online delivery, I have been very impressed at how staff and students have made the shift to online technologies literally overnight.

Technology has become central to all aspects of our lives and staff who I once knew to be slow adapters of technology now debate whether Google Meet or Teams is better for a virtual coffee.
Now in her role as the Strategic & Accreditation Data Analyst in CUBS, Claire is more familiar with some of the programmes and software that we all find ourselves using. Yet, despite her experience and knowledge, even Claire found the transition to be disruptive.
However, given her background, she also found the rapid transformation to be intriguing.
Like many others, my work changed somewhat. Perhaps ironically, my instructional design skills became more relevant than ever before.

I found myself on daily calls with colleagues I hadn't worked with previously and answering questions that I would never have thought of, and yet seemed perfectly relevant at the time.

Personally, I welcome these new experiences as I see them as an opportunity for variety and growth.
Although many staff across the Business School might be tempted to cast a critical eye over their own performance during the opening week of the crisis, given the scenario that they faced, the perfect was the enemy of the good.
When the Taoiseach announced the closure of the University, Stephanie was unable to contact anyone at CUBS because the Three network had buckled under the weight of the traffic passing through its systems. Nevertheless, she managed to get ahead of the crisis.
Likewise, despite the challenges, Dr Butler managed to establish an engaging teaching and learning environment for students.
Despite being relatively new to her role, Claire was able to call on her experience to offer advice and expertise to colleagues who may have been struggling with the transition to working remotely.
Their efforts are just a microcosm of the collective response from everyone across the Business School.