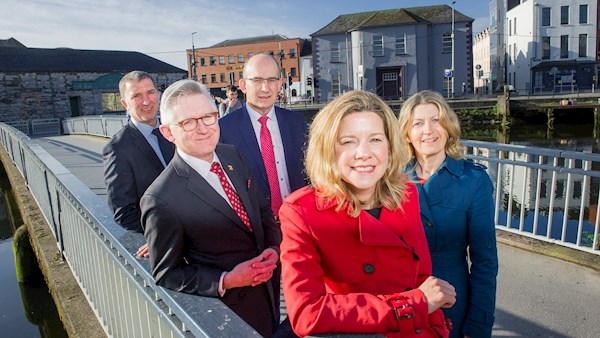 In a year that saw the government pledge to invest €25 million in a new home for Cork University Business School in the heart of Cork city, and news of a $1 million philanthropic donation that will help develop the next generation of business leaders, CUBS can look back on 2019 with a great deal of pride.
The Government's decision to invest in the Business School's ambitious plan to construct a state of the art infrastructure project was revealed in August.
Announced as part of the Higher Education Strategic Infrastructure Fund, the capital funding will contribute to the redevelopment of the Trinity Quarter site, placing the Business School in the heart of the Cork's commercial district.
The ambitious plan will see 200 staff and 4,000 students work and study in the city centre, which will, in turn, enhance the social and economic fabric of Cork.
Speaking at the time of the announcement, Professor Ursula Kilkelly, Head of the College of Business and Law, UCC, welcomed the Government's decision "to put substantial capital funding behind UCC's significant ambition of developing a new, state-of-the-art home for Cork University Business School in the heart of Cork city".
"It is a great development for UCC, for Cork city and for the future generations of students, families and employers who will benefit locally, nationally and internationally."
In November, CUBS revealed that it had received a $1,000,000 philanthropic donation that will support scholarships, learning through practical experience initiatives and entrepreneurship programmes for students.
Gifted anonymously, the donation will also accelerate the Business School's ambition of promoting the student experience, a facet touched on by Professor Thia Hennessy, Dean of Cork University Business School.
"Cork University Business School is at an exciting stage of development with growing student numbers and plans for a new building. This very generous philanthropic gift will allow us to focus on initiatives to improve the student experience in ways that we could otherwise not afford."

"Although we are starting from a very high base, with 95% of our students finding immediate employment, we plan to use this fund to support students in developing their professional skills, helping them secure employment. The fund will also be used to support students with exciting business start-up ideas."