Dr Carol Kelleher
Back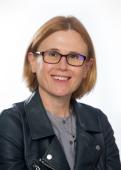 Contact
Management & Marketing
O Rahilly Building
Cork University Business School
Cork University Business School
[email protected] ResearchGate Profile LinkedIn profile

ORCID profile https://scholar.google.com/citations?view_op=search_authors&mauthors=carol+kelleher&hl=en&oi=ao
Biography
Carol is a Senior Lecturer in Service Management and Design in Cork University Business School. Having spent over ten years in industry in various executive roles including working as a Management Consultant and as a Senior Brand Manager, Carol commenced her academic career in Dublin Institute of Technology (DIT) in 2004.
Carol joined UCC in August 2007, where she is involved in lecturing on postgraduate, undergraduate and executive programmes. Carol was awarded her PhD in Marketing from the triple accredited Cranfield School of Management , Cranfield University, United Kingdom in 2013. Carol was also awarded a Masters in Business Studies (1st Degree Hons) from the Smurfit School of Business, UCD and an MSc in Executive in Executive and Personal Coaching (1st Degree Hons) from UCC. She also has a Higher Diploma and Certificiate in Teaching and Learning in Higher Education from UCC. She is currently completing the UCC Certificate in Digital Education.
Together with Professor Patricia Kearney, UCC School of Public Health, Carol is Co-PI for the PPI Ignite@UCC network (2022-2026). She is also member of the Executive Management team of UCC's interdisciplinary Institute of Social Science of the 21st Century (ISS21) and co-leads UCC's ISS21 Caring Working Group. Other membership roles include UCC Academic Council (non-professorial member), the UCC College of Business and Law Athena Swan Equality and Diversity Commitee member, CUBS Postgraduate Research Committee and Departmental Postgraduate Coordinator.
Carol has received a number of international and national awards and grants (including four Irish Research Council New Foundation awards) for her interdisciplinary research in the areas of care and care relations in health and social care contexts. . Her other research interests relate to co-creation, collective consumption and service design/management. She was awarded UCC Early Career Researcher of the year in 2019, as well as UCC College of Business and Law Early Career Researcher of the year.
Languages
English
French
German
Italian
Other
Irish
Back to top
Grants and Honours
01/12/2020 - CUBS Research Excellence Award, Cork University Business School
01/11/2019 - New Foundations CARERENGAGE Centering and Embedding Family Carers in the Co-Production of Carer Research, Supports and Policy, Irish Research Council
01/09/2019 - Early Career Researcher of the Year, University College Cork
01/05/2019 - CUBS Research Excellence Award, Cork University Business School
01/03/2019 - Early Career Researcher of the Year, College of Business and Law
01/09/2018 - College of Business and Law Strategic Research Fund, College of Business and Law
01/05/2018 - CUBS Research Excellence Award, Cork University Business School
01/09/2017 - Department of Management and Marketing Small Project Funding, Department of Management and Marketing, UCC
01/04/2017 - Transformative Consumer Research Grand - Family Experience of Dementia Care, Association for Consumer Research
01/06/2016 - New Foundations Post-Caregiving: Family Carers Experiences of Role and Identity Transition on Cessation of the Caring Role., Irish Research Council
01/09/2015 - UCC Strategic Research Fund, University College Cork
01/01/2015 - Journal of Service Research coauthored article (2012) listed as top twenty most cited marketing articles in the four year period 2011 - 2015
01/01/2013 - Conference Best Paper Award Naples Forum of Service
01/01/2012 - American Marketing Association Services Marketing SIG (AMS Servsig) Conference - Conference Best Paper Award
01/12/2010 - Innovation Voucher: Sustainable mobility for a university campus community - Avego's Shared Transport system., Enterprise Ireland
01/12/2010 - Strand I: Postgraduate R & D Skills Programme, Dublin Institute of Technology
01/01/2008 - Best Paper Award Value Co-Creation Track - Helkkula, A. & C. Kelleher
01/01/2008 - Recipient of scholarship and bursary to attend the Interdisciplinary Doctoral Colloquium on Service-Dominant Logic 2008 and Logic and Science of Service Conference 2008
01/01/2007 - Recipient of the American Marketing Association (AMA) & Arizona State University Centre for Services Leadership (ASU CSL) Liam Glynn PhD Research Scholarship Award, Oct 2007
01/01/2007 - American Marketing Association and ASU CSL scholarship to attend the AMA SERVSIG Doctoral Colloquium and the Frontiers in Services Conference
01/01/2005 - Best paper award Marketing track - Kennedy A., Kelleher C. & M. Quigley (2005), CRM Best Practice: Getting it Right First Time at ESBI, Proceedings of the Irish Academy of Marketing (IAM) Conference, Irish Academy of Management (IAM)
01/01/1999 - Italian Government bursary to attend Universita di Perugia, Umbria, Italy for one month
ISS 21 Interdisciplinary Ageing Research Collaboration, University College Cork
Back to top
Other Activities
28/06/2021 - Transformative Consumer Research Conference
01/02/2021 - European Journal of Management
01/10/2020 - Association of Consumer Research Conference
01/10/2020 - Association of Consumer Research Conference
20/08/2019 - 14th Conference of the European Sociological Association
04/07/2019 - Naples Forum on Service,
10/06/2019 - QUIS16, The 16th International Research Symposium on Advancing Service Research and Practice
06/09/2018 - Frontiers in Service
03/09/2018 - Irish Academy of Management Conference
19/06/2018 - Maximising the Potential for Carer Research and Knowledge, Care Alliance Ireland Family Carer Research Network
17/06/2018 - Care Transitions: Research and Clinical Experience in Ireland: The POSTCARE Project
10/06/2018 - 15th International Research Conference in Service Management
02/02/2018 - Member of the UCC College of Business and Law Athena Swan Diversity and Equality Committee, College of Business and Law
01/02/2018 - Member of UCC Athena Swan Equality Diversity and Inclusion Commitee, University College Cork
01/02/2018 - Journal of Business Research
02/01/2018 - Journal of Service Research
26/10/2017 - Association of Consumer Research North American Conference
04/10/2017 - 7th International Carers Conference
29/08/2017 - 13th European Sociological Association Conference
12/06/2017 - QUIS 15
06/06/2017 - 5th Naples Forum on Service
15/03/2016 - Anthropological Association of Ireland (AAI) Annual Conference
07/01/2016 - Agricultural Economics Society of Ireland (AESI) Conference
01/10/2015 - Association of Consumer Research (ACR) Conference
15/05/2015 - Naples Forum on Service
15/05/2015 - 4th Naples Forum on Service
02/09/2014 - Cork Institute of Technology, Cork Institute of Technology
26/06/2014 - Consumer Culture Theory Conference,
26/06/2014 - Consumer Culture Theory Conference
24/06/2014 - INBAM (International Network of Business and Management Journals Conference
16/06/2014 - Forum for Markets and Marketing,
01/02/2014 - Irish Academy of Management
01/09/2013 - 19th International Nursing Ethics Conference
16/06/2013 - Consumer Culture Theory Workshop VII
18/05/2013 - 3rd Naples Forum on Service
15/05/2013 - Academy of Marketing Science Conference
10/05/2013 - QUIS 13
10/12/2012 - Forum for Markets and Marketing (FMM)
16/08/2012 - 7th Consumer Culture Theory Conference,
07/06/2012 - American Marketing Association Services Marketing SIG (AMA Servsig) Conference
07/06/2012 - American Marketing Association Services Marketing SIG (AMA Servsig) Conference,
27/09/2011 - International Colloquium in Relationship Marketing.
01/09/2011 - Irish Academy of Management
07/07/2011 - Consumer Culture Theory Conference.
13/06/2011 - 2nd Naples Forum on Service
23/09/2010 - FMM 2010 The Forum on Markets and Marketing: Extending Service-Dominant Logic,
30/06/2010 - European Conference of the Association of Consumer Research
17/06/2010 - AMA Servsig International Service Research Conferenc
10/06/2010 - 19th Annual Frontiers in Service Conference.
25/05/2010 - 11th International Research Seminar in Service Management,
01/01/2010 - Journal of Marketing Management
03/09/2009 - Irish Academy of Management (IAM) conference
03/09/2009 - Irish Academy of Management (IAM) conference
16/06/2009 - The 2009 Naples Forum on Service-Dominant Logic, Service Science and Network Theory
11/06/2009 - Quality in Services Symposium QUIS 11 Services Marketing Conference
10/06/2009 - Tenth International Conference on HRD Research and Practice across Europe
02/05/2009 - EIASM 5th Workshop on Interpretive Consumer Research
02/02/2009 - External Examiner, Dublin Institute of Technology
03/09/2008 - Irish Academy of Management Conference,
06/08/2008 - 22nd Service Conference and Workshop
06/08/2008 - 22nd Service Conference and Workshop
08/07/2008 - Academy of Marketing Annual Conference,
05/06/2008 - AMA SERVSIG International Research Conference
01/06/2007 - Global Mobility Roundtable
16/05/2007 - European Academy of Management (EURAM) Conference
03/05/2007 - Irish Academy of Management (IAM) Conference
Back to top
Pedagogic Experiences
2021 - Qualitative Research Methods, Cork University Business School
2020 - Research Methods, Cork University Business School
2019 - Service Design, Cork University Business School
2015 - Service Marketing, University of Naples Federico II
2015 - Strategic Marketing, Cork University Business School
Back to top
Research Domains
Services Marketing
Critical marketing
Service Design
Value Co-creation
Consumer Research
Care and Caring
Back to top
Publications
Journal article
| Year | Publication |
| --- | --- |
| 2017 | SEO, Y., KELLEHER, C., BRODIE, R. J. (2017). Broadening brand engagement within the service-centric perspective: An intersubjective hermeneutic framework. Journal of Service Theory and Practice. doi:10.1108/JSTP-02-2015-0055. Details |
| 2017 | O'RIORDAN, J., KELLEHER, C., O'HADHMAILL, F. (2017). Interdependence and the transformative potential of caring relations. Irish Journal of Anthropology. |
| 2017 | ROSENBAUM, M. S., KELLEHER, C., FRIMAN, M., KRISTENSSON, P., SCHERER, A. (2017). Re-placing place in marketing: A resource-exchange place perspective. Journal of Business Research. doi:10.1016/j.jbusres.2017.01.009. Details |
| 2016 | QUERO, M. J., VENTURA, R., KELLEHER, C. (2016). Value-in-context in crowdfunding ecosystems: how context frames value co-creation. Service Business. doi:10.1007/s11628-016-0314-5. Details |
| 2014 | AKAKA, M. A., CORSARO, D., KELLEHER, C., MAGLIO, P. P., SEO, Y., LUSCH, R. F., VARGO, S. L. (2014). The role of symbols in value cocreation. Marketing Theory. Details |
| 2012 | HELKKULA, A., KELLEHER, C., PIHLSTRÖM, M. (2012). Characterizing Value as an Experience: Implications for Service Researchers and Managers. Journal of Service Research. doi:10.1177/1094670511426897. Details |
| 2012 | HELKKULA, A., KELLEHER, C., PIHLSTRÖM, M. (2012). Practices and experiences: Challenges and opportunities for value research. Journal of Service Management. doi:10.1108/09564231211260413. Details |
| 2012 | C., D., DOMEGAN, C., M., H., HAASE, M., K., H., HARRIS, K., ... PEÑALOZA, L. (2012). Value, values, symbols and outcomes. Marketing Theory. Details |
| 2010 | KENNEDY, A., COUGHLAN, J. P., KELLEHER, C. (2010). Business process change in E-government projects: The case of the irish land registry. International Journal of Electronic Government Research. doi:10.4018/jegr.2010102002. Details |
| 2019 | KELLEHER, C., WILSON, H. N., MACDONALD, E. K., PEPPARD, J. (2019). The Score Is Not the Music: Integrating Experience and Practice Perspectives on Value Co-Creation in Collective Consumption Contexts. Journal of Service Research. doi:10.1177/1094670519827384. Details |
| 2006 | KELLEHER, C., KENNEDY, A. (2006). CRM best practice: getting it right first time at ESBI. Irish Management Journal, 55-273. |
| 2020 | KELLEHER, C., O'LOUGHLIN, D., GUMMERUS, J., PEÑALOZA, L. (2020). Shifting Arrays of a Kaleidoscope: The Orchestration of Relational Value Cocreation in Service Systems. Journal of Service Research. doi:10.1177/1094670519882495. Details |
| 2020 | PEÑALOZA, L., KELLEHER, C., WILSON, H. N., MACDONALD, L. (2020). Enabling Participation in a High-Competence Cultural Community of Practice: Negotiating the Inclusion-Exclusion Dilemma. Advances in Consumer Research, 48. |
| 2021 | GUMMERUS, J., O'LOUGHLIN, D., KELLEHER, C., PEÑALOZA, L. (2021). Shifting sands: Actor role and identity reconfigurations in service systems. Journal of Business Research, 71, 7. doi:10.1016/j.jbusres.2021.08.001. Details |
| 2023 | O'RIORDAN, J., DALY, F., LOUGHNANE, C., KELLEHER, C., EDWARDS, C. (2023). CareVisions: Enacting the Feminist Ethics of Care in Empirical Research. Ethics and Social Welfare. doi:10.1080/17496535.2023.2173794. Details |
| 2023 | LOUGHNANE, C., KELLEHER, C., EDWARDS, C. (2023). Care full deliberation? Care work and Ireland's citizens' assembly on gender equality. Critical Social Policy. doi:10.1177/02610183231169195. Details |
| 2023 | O'LOUGHLIN, D., GUMMERUS, J., KELLEHER, C. (2023). It Never Ends: Vulnerable Consumers' Experiences of Persistent Liminality and Resource (Mis)Integration. Journal of Service Research. doi:10.1177/10946705231184610. Details |
Book chapter
| Year | Publication |
| --- | --- |
| 2011 | KELLEHER, C., WHALLEY, A., HELKKULA, A. (2011). Collaborative value co-creation in crowd-sourced online communities - Acknowledging and resolving competing commercial and communal orientations. Research in Consumer Behavior. Emerald Publishing. Details |
| 2016 | KELLEHER, C., CÉILLEACHAIR, A. Ó., HELKKULA, A., PEPPARD, J. (2016). Value proposal co-creation in online community-based idea contests. Springer Publishing. Details |
| 2017 | KELLEHER, C., PEÑALOZA, L. (2017). Aging and consumption. Routledge Handbook on Consumption. Routledge. Details |
Conference paper
| Year | Publication |
| --- | --- |
| 2011 | KELLEHER, C. (2011). Consumer experience of value creation – a phenomenological perspective. |
Journal issue
| Year | Publication |
| --- | --- |
| 2010 | KELLEHER, C. (2010). Circularity of customer service experience and customer perceived value. |
Dissertation
| Year | Publication |
| --- | --- |
| 2013 | KELLEHER, C. (2013). Interpreting the score: participant experiences of value co-creation in a collaborative consumption contexts. |
| 2019 | KELLEHER, C. (2019). An Exploration of the Experience and Impact of Coaching in Irish Primary Schools. |
Report
| Year | Publication |
| --- | --- |
| 2017 | KELLEHER, C., O'RIORDAN, J. (2017). Post-Caregiving: Family Carers' Experiences of Cessation of the Caring Post-Caregiving: Family Carers' Experiences of Cessation of the Caring Role – Implications for Policy and Practice. Irish Research Council New Foundations Report. Retrieved from https://familycarers.ie/media/1418/irc-nf-postcare-report-final.pdf |
| 2016 | KELLEHER, C. (2016). A fine balance: mental health and family caring. Irish Research Council New Foundations Report for Family Carers Ireland. |
| 2009 | KELLEHER, C. (2009). The web experience -Trends in e-service'. Report commissioned and published by the Institute of Customer Service (ICS), UK. |
Other
| Year | Publication |
| --- | --- |
| 2017 | KELLEHER, C., O'LOUGHLIN, D. (2017). Navigating symbolic pollution through symbolic boundary work – shaping a sense of home and family in family assemblages. Advances in Consumer Research. |
| 2016 | KELLEHER, C., O'RIORDAN, J. (2016). Life after care: family carers' experiences of role and identity transition on cessation of the caring role. Family Carers Ireland, Ireland. |
| 2015 | KELLEHER, C. (2015). Short Film We Care Let's Care Family Carers' Experiences of Life After Care. |
Back to top