Dr Ann Kirby
Back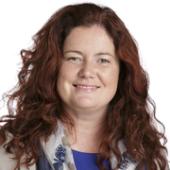 Contact
Economics
University College Cork
Cork University Business School
[email protected] ResearchGate Profile LinkedIn profile

ORCID profile
Biography
Dr Ann Kirby is a lecturer in the School of Economics, UCC. She completed a PhD in the University of Ulster, Jordanstown in 2012. Her principal research interests are in the area of Health Economics and Economic Evaluations. Ann was the Program Director for the Postgraduate Diploma and Masters in Health Economics Practice in UCC from 2011 to 2018. In addition, Ann and colleagues from the Health Economics group in the School of Economics in UCC have run a series of Executive Workshops on Economic Evaluations and Survey Methods. Her research contains 3* publications publishing in for example BMJ Open.
Projects include the Food Choice at Work study (including an economic evaluation of work place interventions) and collaborations with Mercy University Hospital (cost analysis of Warfarin and a RCT on mobility amongst the elderly), Cork University Hospital (effects of NOACs on cardioversion use and costs for patients with Atrial Fibrillation). Recently, she has completed a series of analyses on the anticoagulant prescribing landscape in Ireland in conjunction with the Department of General Practice in UCC as well as completing a HTA for a medical device through the Health Innovation Hub. Currently she has completed research in the area of Cancer having secured funding from MSD Oncology.
Previously she has supervised research assistants, as well as supervisied doctoral (2) and post graduate students (> 28). Ann has been awarded funding as a PI, co applicant and collaborator on grants from for example the Food Safety Promotions Board, MSD Oncology.
Back to top
Grants and Honours
01/11/2021 - The impact of Covid 19 on Cancer patients from an economic and social perspective, Merck & Co
20/04/2017 - Study on the Implications of new economic models on different stakeholder groups -the case of different eco-systems, European Commission
20/04/2004 - Standard of health eating on the Island of Ireland, Safefood
Back to top
Research Domains
Microeconomics for Business
Health Economics  
Survey Research Methods  
Back to top
Publications
Journal article
| Year | Publication |
| --- | --- |
| 2017 | FITZGERALD, S., GEANEY, F., KIRBY, A., MURPHY, A., PERRY, I. J., GEANEY, F., PERRY, I. J. (2017). A cost-analysis of complex workplace nutrition education and environmental dietary modification interventions. BMC Public Health, 17 (1). Details |
| 2016 | O'SHEA, M., MURPHY, A., KIRBY, A., ALLEN, G., O'SHEA, S., CURTIN, R. (2016). A cost minimisation analysis of NOACs compared to warfarin to attain therapeutic anticoagulation amongst AF patients, pre- and post- cardioversion. Irish Medical Journal. |
| 2014 | WALSH, C., MURPHY, A., KIRBY, A., VAUGHAN, C. (2014). Retrospective costing of warfarin. Irish Medical Journal. |
| 2008 | HARRINGTON, J., FRIEL, S., THUNHURST, C., KIRBY, A., MCELROY, B. (2008). Obesogenic island: The financial burden of private transport on low-income households. Journal of Public Health. doi:10.1093/pubmed/fdm084. Details |
| 2013 | GEANEY, F., SCOTTO DI MARRAZZO, J., KELLY, C., FITZGERALD, A. P., HARRINGTON, J. M., KIRBY, A., ... PERRY, I. J. (2013). The food choice at work study: Effectiveness of complex workplace dietary interventions on dietary behaviours and diet-related disease risk - study protocol for a clustered controlled trial. Trials. doi:10.1186/1745-6215-14-370. Details |
| 2018 | MURPHY, A., KIRBY, A., BRADLEY, C. (2018). Knowledge is power: General practitioners prescribing of new oral anticoagulants in Ireland. BMC Research Notes. Details |
| 2018 | KIRBY, A., MURPHY, A., BRADLEY, C. (2018). Multi-Disciplinary Decision Making In General Practice – A Case Study Of Switching Between Oral Anticoagulants.. Journal of Health Organization and Management.. |
| 2018 | FITZGERALD, S., MURPHY, A., KIRBY, A., GEANEY, F., PERRY, I. J. (2018). Cost-effectiveness of a complex workplace dietary intervention: an economic evaluation of the Food Choice at Work study. BMJ Open. doi:10.1136/bmjopen-2017-019182. Details |
| 2017 | KIRBY, A., MURPHY, A., BRADLEY, C. (2017). New Oral Anaticoagulant Prescribing Decisions amongst General Practitioners: Handle with Care. Journal of Health Economics and Outcomes Research. |
| 2016 | FITZGERALD, S., KIRBY, A., MURPHY, A., GEANEY, F. (2016). Obesity, diet quality and absenteeism in a working population. Public Health Nutrition. doi:10.1017/S1368980016001269. Details |
| 2003 | KIRBY, A., MCELROY, B. (2003). The effect of attendance on grade for first year economics students in University College Cork. Economic and Social Review. |
| 2020 | MURPHY, A., KIRBY, A., BRADLEY, C. (2020). Monitoring of atrial fibrillation in primary care patients prescribed direct oral anticoagulants for stroke prevention. Irish Journal of Medical Science. doi:10.1007/s11845-019-02150-0. Details |
| 2019 | WALSH, E. K., KIRBY, A., KEARNEY, P. M., BRADLEY, C. P., FLEMING, A., O'CONNOR, K. A., ... SAHM, L. J. (2019). Medication reconciliation: time to save? A cross-sectional study from one acute hospital. European Journal of Clinical Pharmacology. doi:10.1007/s00228-019-02750-w. Details |
| 2020 | MURPHY, A., BROSNAN, S., MCCARTHY, S., BRADLEY, C., O'REILLY, P., KIRBY, A. (2020). A World Café Approach - Exploring the Future Vision of Oral Anticoagulants for Atrial Fibrillation (AF) Patients in Ireland. BMJ Open, 10 (9). doi:10.1136/bmjopen-2019-036493. Details |
| 2020 | , BRADLEY, C., KIRBY, A., MURPHY, A., BRADLEY, C. (2020). From novel to routine: New oral anticoagulants for stroke prevention in primary care in Ireland. British Journal of Health Care Management, 26 (12). doi:10.12968/bjhc.2020.0013. Details |
| 2020 | MURPHY, A., BROSNAN, S., MCCARTHY, S., O'REILLY, P., BRADLEY, C., KIRBY, A. (2020). World Café approach: Exploring the future vision of oral anticoagulants for patients with atrial fibrillation (AF) in Ireland. BMJ Open, 10 (9). doi:10.1136/bmjopen-2019-036493. Details |
| 2018 | KIRBY, A., KEARNEY, A., WALSH, E. K., HALLERAN, C., BYRNE, D., HAUGH, J., SAHM, L. J. (2018). A budget impact analysis of a clinical medication review of patients in an Irish university teaching hospital. Global and Regional Health Technology Assessment, 5 (1). doi:10.1177/2284240318807726. Details |
| 2017 | KIRBY, A., MURPHY, A., BRADLEY, C. (2017). New Oral Anaticoagulant Prescribing Decisions amongst General Practitioners: Handle with Care. Journal of Health Economics and Outcomes Research, 5 (1), 55-64. doi:https://doi.org/10.36469/9798. Details |
| 2022 | MURPHY, A., KIRBY, A., LAWLOR, A., DRUMMOND, F. J., HEAVIN, C. (2022). Mitigating the Impact of the COVID-19 Pandemic on Adult Cancer Patients through Telehealth Adoption: A Systematic Review. Sensors, 22 (9). doi:10.3390/s22093598. Details |
| 2022 | MURPHY, A., KIRBY, A., LAWLOR, A., DRUMMOND, F. J., HEAVIN, C. (2022). Mitigating the Impact of the COVID-19 Pandemic on Adult Cancer Patients through Telehealth Adoption: A Systematic Review. Sensors, 22 (9). doi:10.3390/s22093598. Details |
| 2022 | KIRBY, A., DRUMMOND, F. J., LAWLOR, A., MURPHY, A. (2022). Counting the social, psychological, and economic costs of COVID-19 for cancer patients. Supportive Care in Cancer, 30, 8705–8731. doi:10.1007/s00520-022-07178-0. Details |
| 2022 | KIRBY, A., MURPHY, A. (2022). Would universal general practitioner care impact Irish adolescents' utilisation? Health Policy, 126 (7), pp. 652-660. Details |
| 2017 | KIRBY, A., MURPHY, A., BRADLEY, C. P. (2017). New Oral Anaticoagulant Prescribing Decisions amongst General Practitioners: Handle with Care. Journal of Health Economics & Outcomes Research, 5 (1). |
Book
| Year | Publication |
| --- | --- |
| 2017 | DORAN, J., BOURKE, J., KIRBY, A. (2017). Introduction to Applied Econometrics and Analysis Using Stata. Oak Tree Press. |
| 2016 | BOURKE, J., KIRBY, A., DORAN, J. (2016). Survey & Questionnaire Design: Collecting Primary Data to Answer Research Questions. Oak Tree Press. |
Conference abstract
| Year | Publication |
| --- | --- |
| 2017 | MURPHY, A., KIRBY, A., BRADLEY, C., BROWNE, J. (2017). The Cost Of Prescribing Direct Oral Anticoagulants (DOACS) – There Is A Drug Cost But What Else?. Details |
| 2017 | FITZGERALD, S., MURPHY, A., KIRBY, A., GEANEY, F., PERRY, I. (2017). An economic evaluation of a complex workplace dietary intervention: a cluster controlled trial. Details |
| 2016 | KIRBY, A., MURPHY, A., BRADLEY, C. (2016). Analysing the Prescribing Landscape for Oral Anticoagulants. Details |
Back to top