Dr Selja Seppälä
Back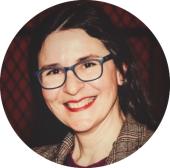 Contact
Business Information Systems
13 South Mall Cork
Cork University Business School
Cork University Business School
[email protected] ResearchGate Profile LinkedIn profile Twitter

ORCID profile https://seljaseppala.wordpress.com/
Biography
I am a lecturer in the Department of Business Information Systems, Cork University Business School, University College Cork (UCC), Ireland.

Previously, I worked in the Department as a Marie Curie Career-FIT Research Fellow investigating natural language processing (NLP) methods to develop a computer-assisted definition authoring and formalisation system for legal experts (RegDef). Before that, I conducted postdoctoral research in the areas of NLP for regulatory technologies in the financial industry at the Governance, Risk and Compliance Technology Centre (GRCTC) at UCC (2017-2019), and of applied ontology and biomedical informatics in the Department of Health Outcomes and Policy at the University of Florida (2016-2017) and the Departments of Philosophy and Biomedical Informatics at the State University of New York at Buffalo (UB) (2012-1016), where my research was funded from 2012 to 2015 by the Swiss National Science Foundation (SNSF).
My interdisciplinary research aims at:
developing NLP resources (e.g., annotated datasets, methods and models) leveraging knowledge representation artefacts, such as ontologies, to advance the automated processing of domain-specific texts, especially legal documents, to enhance organisations' information systems and assist organisations in areas such as regulatory compliance in the financial sector;
laying the groundwork for developing computer-assisted natural language definition writing tools leveraging ontological data. Such tools are intended to be used by terminologists and ontologists, as well as domain experts such as scientists and lawyers. This work focuses on the automation of definition production, editing, and checking in dictionaries, legal documents, technical manuals, and ontologies.
My work includes research on ontology mapping and versioning, mapping of lexico-semantic resources to ontologies, as well as the use of corpus linguistics and NLP techniques and methods to process data. My primary domains of expertise are NLP, terminology, and applied ontology.
Languages
English
French
Spanish
Finnish
Back to top
Grants and Honours
01/02/2019 - Marie Sk?odowska-Curie Career-FIT Fellowship, Marie Skłodowska-Curie Actions and Enterprise Ireland
01/09/2014 - Advanced Postdoc.Mobility Fellowship, Swiss National Science Foundation
01/09/2013 - Advanced Postdoc.Mobility Fellowship, Swiss National Science Foundation
01/09/2012 - Fellowship for Prospective Researchers, Swiss National Science Foundation
01/09/2007 - Fellowship for Prospective Researchers, Swiss National Science Foundation
Back to top
Pedagogic Experiences
2022 - Foundations of Programming for Information Systems 2, University College Cork, BSc (Hons) Business Information Systems
2022 - Foundations of Programming for Information Systems 1, University College Cork, BSc (Hons) Business Information Systems
2022 - Business Data Visualisation, University College Cork, MSc Business Information and Analytics Systems
2022 - Programming for Data and Business Analytics, University College Cork, MSc Business Information and Analytics Systems
Back to top
Research Domains
Analysis of Texts  
Artificial intelligence  
Compliance knowledge management systems
Governance Risk and Compliance (GRC) Systems for Financial Services
Information Extraction  
Information processing  
Information Retrieval  
knowledge modeling  
Smart Regulation (based on Semantic Technologies)
Unstructured text processing  
Back to top
Publications
Journal article
| Year | Publication |
| --- | --- |
| 2021 | BUTLER, T., ESPINOZA LIMON, A., SEPPÄLÄ, S. (2021). Towards a capability assessment model for the comprehension and adoption of AI in organisations. Journal of AI, Robotics & Workplace Automation, 1 (1), 18-33. |
| 2022 | BACLAWSKI, K., BENNETT, M., BERG-CROSS, G., DICKERSON, L., SCHNEIDER, T., SEPPÄLÄ, S., ... WESTERINEN, A. (2022). Ontology Summit 2021 Communiqué: Ontology generation and harmonization. Applied Ontology, 17 (2), 233-248. doi:10.3233/AO-210266. Details |
| 2017 | SEPPÄLÄ, S., RUTTENBERG, A., SMITH, B. (2017). Guidelines for writing definitions in ontologies,Diretrizes para criação de definições em ontologias,Directrices para creación de definiciones en ontologías. Ciencia da Informacao, 46 (1), 73-88. doi:10.18225/ci.inf.v46i1.4015. Details |
| 2016 | SEPPÄLÄ, S., RUTTENBERG, A., SCHREIBER, Y., SMITH, B. (2016). Definitions in Ontologies. Cahiers de Lexicologie, 109, 173-205. |
| 2014 | SEPPÄLÄ, S., SMITH, B., CEUSTERS, W. (2014). Applying the realism-based ontology-versioning method for tracking changes in the basic formal ontology. Frontiers in Artificial Intelligence and Applications, 267, pp. 227 - 240. Details |
| 2011 | MACHERY, E., SEPPÄLÄ, S. (2011). Against Hybrid Theories of Concepts. Anthropology & Philosophy, 10, 99-127. |
| 2015 | SEPPÄLÄ, S. (2015). An ontological framework for modeling the contents of definitions. Terminology, 21 (1), 23-50. doi:10.1075/term.21.1.02sep. Details |
| 2021 | BUTLER, T., , A. E.-L., SEPPÄLÄ, S. (2021). Towards a Capability Assessment Model for the Comprehension and Adoption of AI in Organisations. Journal of AI, Robotics & Workplace Automation, 1 (1), 18-33. |
Book
| Year | Publication |
| --- | --- |
| 2016 | SEPPÄLÄ, S., RUTTENBERG, A., SMITH, B. (2016). The functions of definitions in ontologies. Frontiers in Artificial Intelligence and Applications. Details |
Conference paper
| Year | Publication |
| --- | --- |
| 2021 | HAHMANN, T., MASOLO, C., VITA, R., HOEHNDORF, R., KUTZ, O., TROQUARD, N., ... NEUHAUS, F. (2021). Preface. CEUR Workshop Proceedings - Joint Ontology Workshops 2021 Episode VII: The Bolzano Summer of Knowledge, JOWO 2021. CEUR-WS. |
Book review
| Year | Publication |
| --- | --- |
| 2013 | SEPPÄLÄ, S. (2013). Book review of "Sylviane Granger and Magali Paquot (eds.). 2012. Electronic Lexicography". Terminology. Details |
Dissertation
| Year | Publication |
| --- | --- |
| 2012 | SEPPÄLÄ, S. (2012). Contraintes sur la sélection des informations dans les définitions terminographiques : vers des modèles relationnels génériques pertinents. Université de Genève. Details |
Other
| Year | Publication |
| --- | --- |
| 2005 | SEPPÄLÄ, S. (2005). Structure des définitions terminographiques : une étude préliminaire. Actes de la conférence Terminologie et Intelligence Artificielle, TIA'05. |
| 2013 | SEPPÄLÄ, S., RUTTENBERG, A. (2013). Preface. CEUR-WS. |
| 2014 | SEPPÄLÄ, S., SCHREIBER, Y., RUTTENBERG, A., COX, A. P., RAY, P., JENSEN, M., ... CEUSTERS, W. (2014). Preface. CEUR-WS. |
| 2014 | SEPPÄLÄ, S. (2014). Joint Proceedings of The First International Workshop on Drug Interaction Knowledge Representation (DIKR 2014), The Second International Workshop on Definitions in Ontologies (IWOOD 2014), and The Starting an OBI-based Biobank Ontology Workshop (OBIB 2014) co-located with 5th International Conference on Biomedical Ontologies (ICBO2014). CEUR-WS. |
| 2018 | HICKS, A., HOGAN, W., PEPINE, C., BOIRE, N., HERRING, C., SEPPÄLÄ, S. (2018). Introducing hypertension facts: Vital sign ontology annotations in the Florida annotated corpus for translational science. Association for the Advancement of Artificial Intelligence. |
| 2016 | SCHLEGEL, D. R., ELKIN, P. L., SEPPÄLÄ, S. (2016). Definition coverage in the OBO foundry ontologies: The big picture. CEUR-WS. |
| 2016 | BONA, J., SEPPÄLÄ, S., CEUSTERS, W. (2016). Analysis of SNOMED 'bleeding' concepts & terms. CEUR-WS. |
| 2009 | SEPPÄLÄ, S. (2009). A Proposal for a Framework to Evaluate Feature Relevance for Terminographic Definitions. Association for Computational Linguistics. |
| 2010 | SEPPÄLÄ, S. (2010). Automatiser la rédaction de définitions terminographiques : questions et traitements. Association pour le Traitement Automatique des Langues. |
| 2011 | GALA, N., HATHOUT, N., NASR, A., REY, V., SEPPÄLÄ, S. (2011). Création de clusters sémantiques dans des familles morphologiques à partir du TLFi. Association pour le Traitement Automatique des Langues, France. |
| 2013 | TAO, C., HE, Y., TOLDO, L., ARABANDI, S., SEPPÄLÄ, S., RUTTENBERG, A. (2013). Proceedings of the ICBO2013 Workshops: International Workshop on Vaccine and Drug Ontology Studies (VDOS 2013), International Workshop on Definitions in Ontologies (DO 2013), part of the Semantic Trilogy 2013. CEUR-WS. |
| 2019 | BARTON, A., SEPPÄLÄ, S., PORELLO, D. (2019). Preface. CEUR-WS. |
| 2018 | SEPPÄLÄ, S., CECI, M., HUANG, H., O'BRIEN, L., BUTLER, T. (2018). SmaRT visualisation of legal rules for compliance. CEUR-WS. |
| 2014 | , SCHREIBER, Y., RUTTENBERG, A., SEPPÄLÄ, S. (2014). Textual and logical definitions in ontologies. CEUR-WS. |
| 2006 | SEPPÄLÄ, S. (2006). Vérification automatique de définitions terminographiques (Automatic Checking of Terminographic Definitions). Journée d'étude de l'ATALA. |
| 2018 | HICKS, A., SEPPÄLÄ, S., BOND, F. (2018). Toward constructing the national cancer institute thesaurus derived wordnet (NCITWN). Global WordNet Association. |
| 2016 | SEPPÄLÄ, S., HICKS, A., RUTTENBERG, A. (2016). Semi-Automatic mapping of WordNet to basic formal ontology. Global WordNet Association. |
| 2006 | SEPPÄLÄ, S. (2006). Semi-Automatic Checking of Terminographic Definitions. Association for Computational Linguistics. |
| 2007 | SEPPÄLÄ, S. (2007). Repérage automatique de génériques dans les définitions terminographiques (Automatic Identification of Genuses in Terminographic Definitions). Association pour le Traitement Automatique des Langues. |
| 2015 | SEPPÄLÄ, S., HICKS, A. (2015). Enhancing terminological knowledge with upper level ontologies. CEUR-WS. |
| 2012 | SEPPÄLÄ, S., NASR, A., BARQUE, L. (2012). Extracting a semantic lexicon of French adjectives from a large lexicographic dictionary. Association for Computational Linguistics. |
| 2007 | SEPPÄLÄ, S. (2007). La définition en terminologie : typologies et critères définitoires (Definitions in Terminology: Typologies and Defining Criteria). Presses Universitaires Savoie Mont Blanc. Details |
| 2015 | SEPPÄLÄ, S. (2015). Mapping WordNet to the basic formal ontology using the KYOTO ontology. CEUR-WS. |
Back to top