Mr William Emerson
Back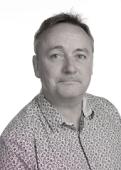 Contact
Business Information Systems
University College Cork
Cork University Business School
Biography
I am a lecturer/researcher with the Business Information Systems department. My areas of interest include data science, analytics, augmented reality and AI. I have significant industry expertise in financial services and education. My areas of technical expertise include software development with Java, Python and C, mobile development with Android, Ontologies and Semantic Web Technologies. I also work extensively with data science tools including R, Juypter notebooks, the Python/R data science tools available.
After working for many years as a computer programmer and software architect in London and Cork, I initially joined a small team in UCC working on a software project for the United Nations Population Fund and then worked on larger project for the Department of Marine and Natural Resources, developing a complex knowledge management system.
After joining UCC as a lecturer, I have worked on a number of different projects, in the areas of Compliance and Regulation in FInancial Markets and the application of AI to data-based problems.
I am currently engaged with a research group looking at 'Fake News' and the rise of citizen jounalism
Other Activities
07/01/2020 - Presented paper on peer production of the news artifact
20/08/2019 - Presenting
Back to top
Research Domains
Business Information Systems
Compliance knowledge management systems
Data Analytics  
Ontology and Process Model Development
User Interface (UI) design  
Back to top
Publications
Journal article
| Year | Publication |
| --- | --- |
| 2008 | BUTLER, T., FELLER, J., POPE, A., EMERSON, W., MURPHY, C. (2008). Designing a core IT artefact for Knowledge Management Systems using participatory action research in a government and a non-government organisation. Journal of Strategic Information Systems. doi:10.1016/j.jsis.2007.10.002. Details |
| 2023 | O'RIORDAN, S., EMERSON, W., FELLER, J., KIELY, G. (2023). The Road to Open News: A Theory of Social Signalling in an Open News Production Community. Journal of Management Information Systems. |
| 2023 | O'RIORDAN, S., EMERSON, W., FELLER, J., KIELY, G. (2023). The Road to Open News: A Theory of Social Signaling in an Open News Production Community. Journal of Management Information Systems, 40 (1), 130. doi:10.1080/07421222.2023.2172777. Details |
Book chapter
| Year | Publication |
| --- | --- |
| 2008 | BUTLER, T., EMERSON, W., MCGOVERN, D. (2008). Compliance-as-a-Service in Information Technology Manufacturing Organizations: An Exploratory Case Study. Information technology in the service economy: Challenges and possibilities for the 21st century. Springer Publishing. |
Conference paper
| Year | Publication |
| --- | --- |
| 2010 | BUTLER, T., EMERSON, W., MCGOVERN, D. (2010). COMPLIANCE-AS-A-SERVICE IN IT. Information Technology in the Service Economy: Challenges and Possibilities for the 21st Century. |
| 2010 | MCGOVERN, D., BUTLER, T., EMERSON, W. (2010). Compliance-as-a-Service in Information Technology Manufacturing Organizations: An Exploratory Case Study. IFIP International Federation for Information Processing. |
Other
| Year | Publication |
| --- | --- |
| 2008 | BUTLER, T., EMERSON, W., MCGOVERN, D. (2008). Pragmatic Design: A Case Study of Innovation in a Small Software Company.. |
| 2006 | BUTLER, T., FELLER, J., ANDREW, A., EMERSON, W., MURPHY, C. (2006). An action research study on the design and development of core IT artifacts for knowledge management systems. |
| 2019 | KIELY, G., O'RIORDAN, S., EMERSON, W., FELLER, J. (2019). Do You Have a Source for That? Understanding the Challenges of Collaborative Evidence-based Journalism. Proceedings of the 15th International Symposium on Open Collaboration. Association for Computing Machinery. |
| 2019 | O'RIORDAN, S., EMERSON, W., KIELY, G., FELLER, J. (2019). Do you have a source for that? Understanding the challenges of collaborative evidence-based journalism. Proceedings of the 15th International Symposium on Open Collaboration, OpenSym 2019. Association for Computing Machinery. Details |
| 2020 | O'RIORDAN, S., EMERSON, W., KIELY, G., FELLER, J. (2020). Theorizing hybrid models of peer production: A case study of an open collaborative journalism platform. Elsevier. |
Back to top