Dr Robert Butler
Back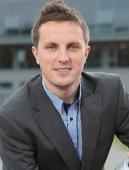 Contact
Economics
University College Cork
Cork University Business School
Biography
Dr Robert Butler has been a college lecturer in the Department of Economics since September 2006, completing his doctorate in 2013 under the supervision of Veblen-Commons award winner Professor Geoffrey Hodgson.
Robbie's research interests are focused on institutional economics and the economics of sport. He is a founding member of the World Interdisciplinary Network for Institutional Research (WINIR) and is a member of both the International Association of Sports Economists (IASE) and European Association of Sports Economists (ESAE).
His research has been published across international peer-reviewed journals including the British Journal of Industrial Relations (ABS 4*), European Journal of Operational Research (ABS 4*), Journal of Instiutional Economics, Journal of Agricultural Economics, European Sport Management Quarterly, Journal of Sports Economics and Scottish Journal of Political Economy.
Grants and Honours
01/02/2016 - IRC "New Foundations Award 2015" Dr R Butler -SEW16, Irish Research Council
01/01/2016 - Teaching Hero, National Forum for the Enhancement of Teaching and Learning in Higher Education
22/04/2015 - Department of Economics Early Career Conference Support Scheme, National University Ireland, Galway
01/01/2015 - UCC Nomination for National 'Teaching Experts' Award, National Forum for Teaching and Learning
01/01/2015 - President's Prize for Teaching, University College Cork
03/09/2014 - College of Business and Law Conference Travel Support Scheme for Junior Staff, National University Ireland, Galway
01/01/2013 - Doctoral Completion Award, University College Cork
01/01/2012 - Conference Recognition Award, University College Cork
01/01/2011 - Outstanding Teaching Award, University College Cork
Back to top
Research Domains
Sports economics  
Economics  
Back to top
Publications
Journal article
| Year | Publication |
| --- | --- |
| 2018 | BUTLER, D., BUTLER, R., DORAN, J., O'CONNOR, S. (2018). Explaining international footballer selection through Poisson modelling. Journal of Economic Studies. doi:10.1108/JES-10-2016-0194. Details |
| 2017 | BUTLER, D., BUTLER, R. (2017). Fergie Time and the Allocation of Additional Time: Evidence from the English Premier League 2009 to 2013'. International Journal of Sport Finance. |
| 2016 | BUTLER, D., BUTLER, R., CONSIDINE, J. (2016). What The Simpsons Can Teach Us About Sports Economics. Journal of Economics and Finance Education. |
| 2010 | CONSIDINE, J., BUTLER, R. (2010). Dr Olson's antidote for institutional sclerosis. Economic Affairs, 30 (1), 55 - 60. doi:10.1111/J.1468-0270.2009.01974.X. Details |
| 2014 | BUTLER, D., BUTLER, R. (2014). The relative age effect and under-21 irish association football: A natural experiment and policy recommendations. Economic and Social Review. |
| 2016 | BUTLER, D., BUTLER, R. (2016). Rule changes and incentives in the League of Ireland from 1970 to 2014. Soccer & Society. doi:10.1080/14660970.2016.1230347. Details |
| 2018 | BUTLER, R., MASSEY, P. (2018). Has Competition in the Market for Subscription Sports Broadcasting Benefited Consumers? The Case of the English Premier League. Journal of Sports Economics. doi:10.1177/1527002518784121. Details |
| 2017 | PARENT, A., BUTLER, R. (2017). Clément Juglar and Algeria: Three pillars of modern anti-colonial criticism. Journal of Institutional Economics. doi:10.1017/S1744137417000303. Details |
| 2021 | BUTLER, D., BUTLER, R., EAKINS, J. (2021). Expert performance and crowd wisdom: Evidence from English Premier League predictions. European Journal of Operational Research, 288 (1), 170 - 182. doi:10.1016/J.EJOR.2020.05.034. Details |
| 2020 | BUTLER, R., LENTEN, L. J. A., LENTEN, LIAM J, A., MASSEY, P. (2020). Bonus incentives and team effort levels: Evidence from the "Field" *. Scottish Journal of Political Economy, 67 (5), 539-550. doi:10.1111/SJPE.12249. Details |
| 2020 | BRADFIELD, T., BUTLER, R., DILLON, E. J., HENNESSY, T. (2020). The factors influencing the profitability of leased land on dairy farms in Ireland. Land Use Policy, 95. doi:10.1016/j.landusepol.2020.104649. Details |
| 2021 | BRADFIELD, T., BUTLER, R., DILLON, E., HENNESSY, T., KILGARRIFF, P. (2021). The Effect of Land Fragmentation on the Technical Inefficiency of Dairy Farms. Journal of Agricultural Economics, 72 (2), 486-499. doi:10.1111/1477-9552.12413. Details |
| 2020 | BUTLER, D., BUTLER, R., MAXCY, J. (2020). New insights on the Louis-Schmeling paradox: determinants of demand for subscription and pay-per-view boxing. European Sport Management Quarterly, 22 (4). doi:10.1080/16184742.2020.1820063. Details |
| 2022 | BUTLER, D., BUTLER, R., SIMMONS, R. (2022). Contracts, pay and performance in the sport of kings: Evidence from horse racing. British Journal of Industrial Relations, 60 (1), 152-175. doi:10.1111/BJIR.12600. Details |
| 2021 | BUTLER, D., BUTLER, R., MULLANE, E. (2021). Changing Competition Design and Spectator Turnout: Evidence from the League of Ireland. Economic and Social Review. |
| 2021 | BUTLER, D., BUTLER, R. (2021). The evolution of the football jersey – an institutional perspective. Journal of Institutional Economics, 17 (5), 1-15. doi:10.1017/S1744137421000278. Details |
| 2021 | BUTLER, D., BUTLER, R., SIMMONS, R. (2021). Contracts, pay and performance in the sport of kings: Evidence from horse racing. British Journal of Industrial Relations, 1-24. doi:10.1111/bjir.12600. Details |
| 2022 | DONG, D., BUTLER, R., HERBERT, J. (2022). Evaluation of the effectiveness of developing real-world software projects as a motivational device for bridging theory and practice. Journal of Further and Higher Education, 46 (9), 1276-1289. doi:10.1080/0309877X.2022.2070727. Details |
| 2023 | BRADFIELD, T., BUTLER, R., DILLON, E. J., HENNESSY, T., LOUGHREY, J. (2023). Attachment to land and its downfalls: Can policy encourage land mobility? Journal of Rural Studies, 97, 192-201. doi:10.1016/j.jrurstud.2022.12.014. Details |
| 2021 | BUTLER, D., BUTLER, R., MULLANE, E. (2021). Changing Competition Design and Spectator Turnout: Evidence from the League of Ireland. Economic and Social Review, 52 (3), 333-353. |
| 2015 | BUTLER, D., BUTLER, R. (2015). The Relative Age Effect and Under-21 Irish Association Football: A Natural Experiment and Policy Recommendations. Economic and Social Review, 46 (4), 511 - 519. |
| 2023 | BRADFIELD, T., BUTLER, R., DILLON, E. J., HENNESSY, T., LOUGHREY, J. (2023). The impact of long-term land leases on farm investment: Evidence from the Irish dairy sector. Land Use Policy, 126. doi:10.1016/j.landusepol.2023.106553. Details |
| 2022 | BUTLER, D., BUTLER, R. (2022). Winner alright? New evidence on high-stakes bidding and returns to ownership in the thoroughbred horseracing industry. Behavioural Sports Economics, 139 - 156. doi:10.4324/9781003080824-9. Details |
| 2017 | BUTLER, R., BUTLER, D. (2017). Fergie Time and the Allocation of Additional Time: Evidence from the English Premier League 2009 to 2013. International Journal of Sport Finance, 12 (3), 185 - 203. |
| 2023 | BUTLER, D., BUTLER, R., MAXCY, J., WOODWORTH, S. (2023). Outcome Uncertainty and Viewer Demand for Basic Cable Boxing. Journal of Sports Economics. doi:10.1177/15270025231156052. Details |
| 2023 | FAHY, R., BUTLER, D., BUTLER, R. (2023). Broadcasting demand for Formula One: Viewer preferences for outcome uncertainty in the United States. Managing Sport and Leisure. doi:10.1080/23750472.2023.2235348. Details |
| 2023 | BUTLER, D., BUTLER, R. (2023). Ghost games and ex-post viewing preferences for the English Premier League: Evidence from YouTube highlights. Sports Economics Review. doi:10.1016/j.serev.2023.100012. Details |
Book
| Year | Publication |
| --- | --- |
| 2019 | BUTLER, R. (2019). A Primer on the Economics of Sport. Oak Tree Press. |
Book chapter
| Year | Publication |
| --- | --- |
| 2022 | BUTLER, R. (2022). A Brief History of Sports Economics. Advances in Sports Economics. Agenda Publishing. Details |
| 2022 | BRADFIELD, T., BUTLER, R., HENNESSY, T. (2022). Economic Issues of Horse Racing in Ireland. Advances in Sports Economics. Agenda Publishing. Details |
| 2022 | BUTLER, D., BUTLER, R. (2022). The Economics of Association Football. Advances in Sports Economics. Agenda Publishing. Details |
| 2021 | BUTLER, R., BUTLER, D. (2021). Winner Alright: New Evidence on High-Stakes Bidding and Returns to Ownership in the Thoroughbred Horseracing Industry. Behavioural Sports Economics. Routledge. |
| 2021 | BRADFIELD, T., BUTLER, R., HENNESSY, T. (2021). Agricultural Policy Schemes: European Union's Common Agricultural Policy. In Paul L.H. McSweeney, John P. McNamara (Eds.), Encyclopedia of Dairy Sciences (Third edition) (pp. 688-695). Academic Press. Details |
| 2021 | BRADFIELD, T., BUTLER, R., HENNESSY, T. (2021). ECONOMIC ISSUES OF HORSE RACING IN IRELAND. Advances in Sports Economics (pp. 165-180). Agenda Publishing. Details |
| 2021 | BRADFIELD, T., BUTLER, R., HENNESSY, T. (2021). Policy Schemes and Trade in Dairy Products: Agricultural Policy Schemes: Other Systems. In Paul L.H. McSweeney, John P. McNamara (Eds.), Encyclopedia of Dairy Sciences (Third edition) (pp. 696-702). Academic Press. Details |
| 2021 | BRADFIELD, T., BUTLER, R., HENNESSY, T. (2021). World Trade Organization and Other Factors Shaping the Dairy Industry in the Future. In Paul L.H. McSweeney, John P. McNamara (Eds.), Encyclopedia of Dairy Sciences (Third Edition) (pp. 770-777). Academic Press. Details |
Edited book
| Year | Publication |
| --- | --- |
| 2022 | BUTLER, R. (2022). Advances in Sports Economics. Agenda Publishing. Details |
Encyclopedia entry
| Year | Publication |
| --- | --- |
| 2021 | BRADFIELD, T., BUTLER, R., HENNESSY, T. (2021). Agricultural Policy Schemes: European Union's Common Agricultural Policy. Elsevier. Details |
| 2021 | BRADFIELD, T., BUTLER, R., HENNESSY, T. (2021). Policy Schemes and Trade in Dairy Products: Agricultural Policy Schemes: Other Systems. Elsevier. Details |
| 2021 | BRADFIELD, T., BUTLER, R., HENNESSY, T. (2021). World Trade Organization and Other Factors Shaping the Dairy Industry in the Future. Elsevier. Details |
Magazine article
| Year | Publication |
| --- | --- |
| 2009 | BUTLER, R., SHERMAN, M. (2009). Government Support for Horse Racing Ireland: The Allocation & Distribution of Public Funds. New Developments in Economic Research. |
Back to top