Dr Geraldine Ryan
Back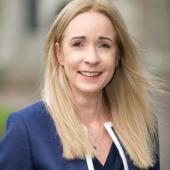 Contact
Accounting & Finance
University College Cork
Cork University Business School
Biography
Dr. Geraldine Ryan (MA, Ph.D.) is a Senior Lecturer and Vice Dean for Learning & Teaching in Cork University Business School/ Department of Accounting and Finance at University College Cork. She undertook her doctoral thesis entitled 'Understanding Asset Values' in the Department of Economics, University of Warwick. Her research interests focus around firm valuation and business innovation, performance & exit.
She has published in highly ranked journals such as Economic Letters, Business Strategy & The Environment, and Urban Studies. She has received a best paper award from Transeo, the European Association for SME Transfer. This paper was part of an IRCHSS funded project on small business succession (with Dr. Bernadette Power). She has secured competitive funding from bodies such as the IRCHSS, Enterprise Ireland, and the SEAI.
She is Principal investigator on a H2020 research project sponsored by Marie Sklodowska-Curie Innovative Training Networks on Multi-sectoral approaches to Innovative Skills Training for Renewable energy and sociAL acceptance (MISTRAL) and she is co-investigator on a Sustainable Energy Authority of Ireland (SEAI) project called Community Engagement in Wind Energy: Innovative approaches to achieving a social license (with Dr, Bernadette Power and Dr. John Eakins).
Within UCC Geraldine is the Programme Director for MSc Finance (Corporate Finance), Chair of CUBS Academic Developments and Standards Committee, and serves on the College of Business and Law Curriculum Committee, the Accounting Staff-Student Consultation Committee and the MSc Finance Programme Academic Board of Studies.
Grants and Honours
01/01/2021 - Cork University Business School PhD Scholarship Funding Award, Cork University Business School, University College Cork
01/09/2019 - Community Engagement in Wind Energy: Innovative approaches to achieving a social license (Co-Wind), Sustainable Energy Authority of Ireland
30/08/2019 - Multi-sectoral approaches to Innovative Skills Training for Renewable energy and sociAL acceptance (MISTRAL), Horizon 2020
03/01/2014 - Best Paper Award (Transeo), Transeo - European association for SME transfer
10/01/2008 - Business Transfers in Ireland (Northern Ireland Voucher), MISC Invest Northren Ireland
01/01/2008 - Research Grant, Irish Research Council for the Humanities and Social Sciences, Irish Research Council for the Humanities and Social Sciences (IRCHSS)
Back to top
Other Activities
17/11/2022 - DTU Riso, Denmark, Roskilde University
17/11/2022 - Invited speaker
16/09/2022 - St Gallen, University of St. Gallen
01/09/2022 - Irish Academy of Finance
01/09/2022 - Chair Staff Student Consultative Council, Cork University Business School
11/08/2022 - Chair CIM Attributes Working Group, University College Cork
01/03/2022 - CoBL Learning and Teaching - CUBS rep, Cork University Business School
01/03/2022 - ADSC - COBL rep, University College Cork
01/03/2022 - University Student Survey Boad - COBL rep, University College Cork
14/02/2022 - Vice Dean Learning and Teaching, Cork University Business School
01/12/2021 - UCC Curriculum Steering, University College Cork
01/09/2021 - CoBL Curriculum Committee, Cork University Business School
01/11/2020 - Chair, Academic Developments and Standards Committee, Cork University Business School
28/11/2019 - Local organiser IAF Annual Conference 2019
12/09/2019 - Session Chair, Communities, Renewables and the Low Carbon Transition Conference
08/04/2019 - British Accounting and Finance Association Annual Conference, British Accounting Association
01/01/2019 - MCF PABS, Cork University Business School
03/10/2018 - Irish Academy of Management Annual Conference 2018
03/09/2018 - Determinants of Equity Financing for Irish Technology-Based Firms, Irish Academy of Management (IAM)
09/04/2018 - British Accounting and Finance Annual Conference 2018
15/03/2018 - Dublin City University, Dublin City University
02/10/2017 - Conference organiser of the Inaugural CUBS Conference, Cork University Business School
01/06/2017 - MSc Finance (Corporate Finance) Programme Director, Department of Accounting, Finance, and Information Systems, University College Cork
08/06/2016 - INFER Annual Conference 2016
18/11/2015 - RENT Annual Conference 2015
01/09/2015 - BComm Programme Director, Cork University Business School
08/06/2015 - INFINITI Conference on International Finance 2015
07/05/2015 - Irish Economic Association Annual Conference 2015
18/09/2014 - ISBE Paper Development Workshop 2014
03/09/2014 - Irish Academy of Management Annual Conference 2014
18/05/2014 - INFER Annual Conference 2014
26/03/2014 - European SME Transfer Summit 2014
Back to top
Research Domains
Financial Economics
Small Business Economics
Applied Econometrics
Innovation  
Back to top
Thesis
2021 - Macroeconomic and Financial Leading Indicators of Economic Activity and Sovereign Bond Yields: a Financial Markets Perspective, University College Cork (Thesis Co-Supervisor)
2017 - Masters Degree by Research, University College Cork (Thesis Primary Supervisor)
2020 - Equity Financing of Technology-based Firms in Ireland, University College Cork (Thesis Co-Supervisor)
2024 - Opportunities and barriers for citizen participation in the energy transition: Onshore wind energy policy in Ireland, University College Cork (Thesis Co-Supervisor)
2024 - The Effect of Environmental Enforcement of Industry on Environmental Outcomes, University College Cork (Thesis Co-Supervisor)
Back to top
Publications
Journal article
| Year | Publication |
| --- | --- |
| 2020 | DORAN, J., RYAN, G., BOURKE, J., CROWLEY, F. (2020). IN-HOUSE OR OUTSOURCING SKILLS: HOW BEST TO MANAGE FOR INNOVATION? International Journal of Innovation Management, 24 (1). doi:10.1142/S1363919620500103. Details |
| 2011 | RYAN, G., SHINNICK, E. (2011). Real economic activity leading indicators: Should we have paid more attention? Journal of Economic Policy Reform. doi:10.1080/17487870.2011.577645. Details |
| 2019 | POWER, B., DORAN, J., RYAN, G. (2019). The effect of agglomeration economies on firm deaths: A comparison of firm and regional based approaches. Urban Studies. Details |
| 2017 | DORAN, J., RYAN, G. (2017). The role of stimulating employees' creativity and idea generation in encouraging innovation behaviour in Irish firms. Irish Journal of Management. doi:10.1515/ijm-2017-0005. Details |
| 2014 | DORAN, J., RYAN, G. (2014). Eco-Innovation – does additional engagement lead to additional rewards? International Journal of Social Economics, 41 (11). doi:10.1108/IJSE-07-2013-0169. Details |
| 2014 | DORAN, J., RYAN, G. (2014). The Importance of the Diverse Drivers and Types of Environmental Innovation for Firm Performance. Eco-Innovation Drivers and Firm Performance. Business Strategy and The Environment. doi:10.1002/bse.1860. Details |
| 2012 | DORAN, J., RYAN, G. (2012). Regulation and firm perception, eco?innovation and firm performance. European Journal of Innovation Management. doi:10.1108/14601061211272367. Details |
| 2006 | RYAN, G. (2006). Irish stock returns and inflation: a long span perspective. Applied Financial Economics. doi:10.1080/09603100600691919. Details |
| 2016 | DORAN, J., RYAN, G. (2016). The effectiveness of R&D and external interaction for innovation: Insights from quantile regression. Economic Issues. |
| 2019 | DORAN, J., RYAN, G. (2019). Does nanotechnology research generate an innovation premium over other types of research? Evidence from Ireland. Technology in Society, 59. doi:10.1016/j.techsoc.2019.101183. Details |
| 2015 | DORAN, J., RYAN, G. (2015). Firms' Skills as Drivers of Radical and Incremental Innovation. Economics Letters. doi:https://doi.org/10.1016/j.econlet.2014.08.011. Details |
| 2012 | RYAN, G., POWER, B. (2012). Small Business Transfer Decisions: What Really Matters? Evidence from Ireland and Scotland.. Irish Academy of Management, 31(2), pg.99-126. |
| 2020 | DORAN, J., RYAN, G., BOURKE, J., CROWLEY, F. (2020). IN-HOUSE or OUTSOURCING SKILLS: HOW BEST to MANAGE for INNOVATION? International Journal of Innovation Management, 24 (1). doi:10.1142/S1363919620500103. Details |
| 2020 | RYAN, G., POWER, B., DORAN, J. (2020). A micro-analysis of Irish firm deaths during the financial crisis (2006–2010). Irish Journal of Management. doi:10.2478/ijm-2010-0004. Details |
| 2021 | CROWLEY, F., DORAN, J., RYAN, G. (2021). Covid-19: How important is education for social distancing and remote work. Economic and Social Review, 52 (2), 217-239. |
| 2021 | CROWLEY, F., DALY, H., DORAN, J., RYAN, G., CAULFIELD, B. (2021). The impact of labour market disruptions and transport choice on the environment during COVID-19. Transport Policy, 106, 185-195. doi:10.1016/j.tranpol.2021.04.008. Details |
| 2023 | SIRR, G., POWER, B., RYAN, G., EAKINS, J., O'CONNOR, E., MAITRE, J. L. (2023). An analysis of the factors affecting Irish citizens' willingness to invest in wind energy projects. Energy Policy, 173. doi:10.1016/j.enpol.2022.113364. Details |
| 2023 | MAITRE, J. L., RYAN, G., POWER, B., O'CONNOR, E. (2023). Empowering onshore wind energy: A national choice experiment on financial benefits and citizen participation. Energy Policy, 173. doi:10.1016/j.enpol.2022.113362. Details |
| 2022 | POWER, J., POWER, B., RYAN, G. (2022). Determinants of equity financing: a demand-side analysis of Irish indigenous technology-based firms. Irish Journal of Management, 41 (1), 52-68. doi:10.2478/ijm-2022-0002. Details |
Book chapter
| Year | Publication |
| --- | --- |
| 2009 | RYAN, G., POWER, B. (2009). Does the Technological Sophistication of a Firm Influence an Owner-Mangers Choice of Exit Mode?. Handbook of Research on E-Government Readiness for Information and Service Exchange: Utilizing Progressive Information Communication Technologies. IGI Global. |
| 2009 | RYAN, G., POWER, B. (2009). Exit Routes: A Comparative Analysis using Irish and Scottish Data. Ankara University International Conference on Market, Marketing & Entrepreneurship: Creating & Capturing Value in 21st Century Antalya, Turkey. pp.15. Ankara University. |
| 2009 | RYAN, G., POWER, B. (2009). Exit Routes: What are your Options?. Babson College Entrepreneurship Research Conference Babson Park. Frontiers of Entrepreneurship Research, 29(1), article 4. pp. 10.. Babson College. |
| 2010 | SHINNICK, E., RYAN, G. (2010). Economic issues in media regulation: An EU and US perspective. Handbook of Research on Digital Media and Advertising: User Generated Content Consumption. ICG Global. |
| 2009 | RYAN, G., POWER, B. (2009). SME Exit Mode Choice; Some Lessons for Public Policy. Public Goods, Public Policy and Taxation: A European Perspective. LIT Verlag. |
| 2012 | RYAN, G., MCCARTHY, N., BYRNE, R., XIONG, R. (2012). Educating University Students; Can Mobile Technologies Help?. Student Usability in Educational Software and Games: Improving Experiences (pp. 59-86). IGI Global. Details |
| 2021 | POWER, B., DORAN, J., RYAN, G. (2021). Spatial Effects in Regional Tourism Firm Births and Deaths. Advances in Spatial Science. Springer Publishing. Details |
Encyclopedia entry
| Year | Publication |
| --- | --- |
| 2008 | SHINNICK, E., RYAN, G. (2008). The Role of Information in Decision Making. Encyclopedia of Decision Making and Decision Support Technologies. Details |
| 2013 | RYAN, G., SHINNICK, E. (2013). Knowledge and Intellectual Property Rights. An Economics Perspective. Details |
| 2008 | RYAN, G., COFFEY, S. (2008). Games of Strategy. Encyclopedia of Decision Making and Decision Support Technologies. Details |
| 2010 | RYAN, G., SHINNICK, E. (2010). Economic incentives and the knowledge economy. Encyclopedia of Knowledge Management. |
| 2008 | RYAN, G., SHINNICK, E. (2008). The Power of Incentives in Decision Making. Encyclopedia of Decision Making and Decision Support Technologies. Details |
| 2011 | RYAN, G., SHINNICK, E. (2011). Knowledge and Intellectual Property Rights. An Economics Perspective. Encyclopedia of Knowledge Management, Second Edition. Details |
Magazine article
| Year | Publication |
| --- | --- |
| 2015 | POWER, B., RYAN, G., DORAN, J. (2015). A Cohort Analysis of Firm Deaths During the Financial Crisis. AIIP Research Briefing. |
| 2017 | DORAN, J., RYAN, G. (2017). CO2 emissions, economic growth and urbanisation: Insights from vector error correction modelling. Irish Journal of Social, Economic and Environmental Sustainability. |
| 2009 | POWER, B., RYAN, G. (2009). Fail to Prepare, Prepare to Fail. UCC Nuacht. |
Back to top