Dr Caterina Santi
Back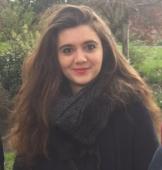 Contact
Accounting, Finance & Information Systems
Room 3.11, O' Rahilly Building
University College Cork
Cork University Business School
Caterina.Santi@ucc.ie ResearchGate Profile https://papers.ssrn.com/sol3/cf_dev/AbsByAuth.cfm?per_id=2726037 LinkedIn profile

ORCID profile https://www.caterinasanti.com/
Biography
Caterina Santi is Lecturer in Finance in the Department of Accounting and Finance, Cork University Business School (CUBS), University College Cork.
Caterina holds a BSc in Economics and a MSc in Banking, Corporate Finance and Financial Markets from the University of Pisa and a PhD in Economics from the Scuola Superiore Sant'Anna. During her PhD, Caterina visited the Department of Finance at the Vrije Universiteit Amsterdam and the Department of Economics at the University of Technology Sydney.
Caterina's research interests include Climate Finance, Behavioral Finance, Empirical Asset Pricing, Portfolio Optimization and Financial Econometrics.
Languages
Italian
English
French
Spanish
Back to top
Other Activities
18/03/2021 - Southwestern Finance Association 2021 Annual Meeting - Virtual conference
06/03/2021 - Referee for Journal of Economic Dynamics and Control
01/02/2021 - Member of the European Research Action Plan Committee, University College Cork
14/12/2020 - Winter School of the Econometric Society and Delhi School of Economics
14/12/2020 - Winter School of the Econometric Society and Delhi School of Economics
01/11/2020 - Member of the Internationalisation committee
09/09/2019 - Co-director MSc Finance (Asset Management), Department of Accounting, Finance, and Information Systems, University College Cork
01/07/2019 - Academic Mentor Placement Students - BSc Finance, Department of Accounting, Finance, and Information Systems, University College Cork
13/06/2019 - European Conference of the Financial Management Association
23/05/2019 - Global Conference in Latin America of the Financial Management Association
01/12/2018 - Simposio de Análisis Económico
01/09/2018 - Research in Behavioral Finance Conference
01/06/2018 - China Meeting of the Econometric Society
01/09/2017 - Workshop for PhD students in Econometrics and Empirical Economics
25/01/2017 - 7th Italian Congress of Econometrics and Empirical Economics
01/09/2016 - Research in Behavioral Finance Conference
01/06/2016 - 21st Workshop on the Economic Science with Heterogeneous Interacting Agents
01/01/2016 - 3rd PhD Workshop in Economics of Innovation, Complexity and Knowledge
Back to top
Pedagogic Experiences
2020 - Introduction to Asset Valuation, University College Cork
2020 - Corporate Restructuring, University College Cork, MSc Finance (Corporate Finance)
2019 - Business Research Skills, University College Cork, MSc Finance (Corporate Finance)
Back to top
Research Domains
Applied Econometrics  
Asset Pricing
Behavioral Finance  
Econometrics  
Empirical Finance
Finance  
Financial Economics  
Environmental Economics
Climate Finance  
Sustainable Finance  
Back to top
Publications
Journal article
| Year | Publication |
| --- | --- |
| 2017 | SANTI, C., SANTOLERI, P. (2017). Exploring the link between innovation and growth in Chilean firms. Small Business Economics. Details |
| 2021 | CHAN, J. C., SANTI, C. (2021). Speculative Bubbles in Present-Value Models: A Bayesian Markov-Switching State Space Approach. Journal of Economic Dynamics and Control, 127, 104101. doi:10.1016/j.jedc.2021.104101. Details |
Conference paper
| Year | Publication |
| --- | --- |
| 2021 | SANTI, C. (2021). Investors' Climate Sentiment and Financial Markets. Details |
Back to top