Dr Alan Collins
Back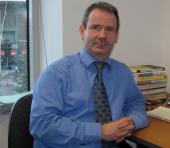 Contact
Food Business & Development
University College Cork
Cork University Business School
Biography
My main area of interest lies in the food retailing, its supply chain, consumer and shopper behaviour.
I consider myself an interdisciplinary researcher drawing on my background in sociology, economics and marketing with a passion for food retailing formed over many years working in Cork's English Market, Tesco UK, and with extensive collaboration with Musgrave and Supervalu retailers throughout the country both as an educator and store of the year adjudicator.
To date, much of my research interests and publications occupied the field of marketing channels and in particular how evolving retail strategies have impacted on the indigenous supplier base and channel relationships particularly in light of the emergence of the retailer as the brand. This work has been published in a variety of ABS 3 publications including Supply Chain Management: an International Journal, the Journal of Marketing Management and the European Journal of Marketing.
More recently, I have turned my research focus to consumer and shopper behaviour with a particular emphasis on search related activities. These have included price and promotional search,published in the Journal of Marketing Management and the emergence of a new consumer heuristic in the form of a Store Brandscape to be published shortly in the European Journal of Marketing.
While much of my published research adopts a positivist approach, more recent research with collaborators has extended to integrate a more nuanced and interpretivist perspective on the phenomena under investigation. The focus of this work has been on food consumption and health related behaviours and displays the influence of consumer culture theory and engagement theory.
I have been a programme director continuously since 2001. Programmes directed include the industry programmes in retailing (2001-2010); MSc/MBS Food Marketing (2002-2016) and more recently the BSc Food Marketing and Entrepreneurship (2016- Current)
BA (Economics Sociology) 1986 National University of Ireland, Cork
MA (Economics) 1988 National University of Ireland, Cork
PhD (Marketing) 2001 University of Stirling
Grants and Honours
02/01/2017 - Teagasc"Walsh Fellowship 2014054 Hedhir Hasno" Dr A Collins 2014054, Teagasc
06/01/2014 - Sustainability and Consumer's use of mobile Optical Recognition systems in Food Engagement and Search., Teagasc
10/01/2005 - Teagasc "Salmonella in Pork: Risks of Transmission", Teagasc
01/01/2004 - President's Award for Excellence in Teaching
01/01/2004 - [MUSGRAVE A/C] {Collins Dr. Alan} V, Miscellaneous
Back to top
Other Activities
28/01/2021 - Headed up the FME/Food Academy Collaboration
04/01/2021 - Externing Marketing and Retail Stream
01/01/2020 - Conference President St. Vincent de Paul
01/01/2019 - Conference President St. Vincent de Paul
11/07/2018 - Collequium on European Retailing (CERR)
04/07/2017 - EAERCD 2017
03/07/2017 - The 10th International Critical Management Studies (CMS) Conference – CMS 2017
02/06/2016 - Collequium on European Retailing
01/07/2015 - EAERCD 2015
Back to top
Research Domains
Food Retailing and the Supply Chain  
Consumer and shopper behaviour  
Consumer Culture
Price and promotional search  
Transaction Cost Economics (TCE)
Back to top
Thesis
2018 - Complexity and Competitive Advantage, University College Cork (Thesis Primary Supervisor)
2018 - Exotic Fruit Awareness, University College Cork (Thesis Primary Supervisor)
2018 - Cross Shopping Behaviours in Skibbereen, University College Cork (Thesis Primary Supervisor)
2018 - Cross Shopping Behaviours in a Suburban area, University College Cork (Thesis Primary Supervisor)
2018 - Supply Chain Agility, University College Cork (Thesis Primary Supervisor)
2018 - Sustainability and Goal Implementation (Thesis Primary Supervisor)
2018 - Remanufacturing: the challenge for supply chains, University College Cork (Thesis Primary Supervisor)
2018 - Humanitarian Supply Chains (Thesis Primary Supervisor)
2018 - Change Management and Industry 4.0, University College Cork (Thesis Primary Supervisor)
2018 - Lean Problem Solving Tools, University College Cork (Thesis Primary Supervisor)
2018 - Workplace Training, University College Cork (Thesis Primary Supervisor)
2018 - Business Continuity Management, University College Cork (Thesis Primary Supervisor)
2018 - Employee Engagement, University College Cork (Thesis Primary Supervisor)
2018 - Complexity in the Cork PepsiCo Plants, University College Cork (Thesis Primary Supervisor)
2018 - Aldi - Alternatives to price as the basis for competitive strategy, University College Cork (Thesis Primary Supervisor)
Back to top
Publications
Journal article
| Year | Publication |
| --- | --- |
| 2019 | FLAHERTY, S. J., MCCARTHY, M. B., COLLINS, A. M., MCAULIFFE, F. M. (2019). A different perspective on consumer engagement: exploring the experience of using health apps to support healthier food purchasing. Journal of Marketing Management. doi:10.1080/0267257x.2019.1576756. Details |
| 2017 | COLLINS, A. M., GEORGE, R. G. (2017). Mavens' price and non-price on-pack extrinsic cue search behaviours. Implications for store brands. International Journal of Retail & Distribution Management. doi:10.1108/ijrdm-09-2016-0148. Details |
| 2015 | COLLINS, A. M., CRONIN, J. M., BURT, S., GEORGE, R. J. (2015). From store brands to store brandscapes: the emergence of a time and money saving heuristic. European Journal of Marketing. doi:10.1108/ejm-01-2014-0038. Details |
| 2011 | COLLINS, A., BURT, S. (2011). Below-cost legislation: lessons from the Republic of Ireland. International Review of Retail, Distribution and Consumer Research. doi:10.1080/09593969.2011.537818. Details |
| 2007 | COLLINS, A. M. (2007). Retail Control of Manufacturers' Product-Related Activities. Evidence from the Irish Food Manufacturing Sector. Journal of Food Products Marketing. doi:10.1300/j038v13n02_01. Details |
| 2006 | O'CONNELL, S., HENCHION, M., COLLINS, A. (2006). Optimising the service mix for Irish hoteliers: the challenge for small food suppliers. International Journal of Contemporary Hospitality Management. doi:10.1108/09596110610658625. Details |
| 2006 | CANTILLON, P., COLLINS, A., O'REILLY, P. (2006). The Small Food Manufacturing Sector in the Irish Grocery Market. Ensuring Survival by Closing the Supplier-Customer Requirements Gap. Journal of Food Products Marketing. doi:10.1300/j038v11n04_07. Details |
| 2006 | COLLINS, A., BURT, S. (2006). Private brands, governance, and relational exchange within retailer–manufacturer relationships: Evidence from Irish food manufacturers supplying the Irish and British grocery markets. Agribusiness. doi:10.1002/agr.20068. Details |
| 2005 | COLLINS, A., MCCARTHY, M. (2005). Top shelf foods and drinks: Female adolescents' eating motives, constraints and behaviours during the school day. Details |
| 2003 | COLLINS, A., BURT, S. (2003). Market sanctions, monitoring and vertical coordination within retailer?manufacturer relationships. The case of retail brand suppliers. European Journal of Marketing. doi:10.1108/03090560310465080. Details |
| 2002 | MANGAN, E., COLLINS, A. (2002). Threats to brand integrity in the hospitality sector: evidence from a tourist brand. International Journal of Contemporary Hospitality Management. doi:10.1108/09596110210436823. Details |
| 2002 | COLLINS, A. (2002). The determinants of retailers' margin related bargaining power: evidence from the Irish food manufacturing industry. International Review of Retail, Distribution and Consumer Research. doi:10.1080/09593960210127718. Details |
| 2001 | COLLINS, A., BURT, S., OUSTAPASSIDIS, K. (2001). Below?cost legislation and retail conduct: evidence from the Republic of Ireland. British Food Journal. doi:10.1108/00070700110406978. Details |
| 2001 | COLLINS, A., HENCHION, M., O'REILLY, P. (2001). Logistics customer service: performance of Irish food exporters. International Journal of Retail & Distribution Management. doi:10.1108/09590550110366299. Details |
| 1999 | COLLINS, A., BURT, S. (1999). Dependency in Manufacturer-Retailer Relationships: The Potential Implications of Retail Internationalisation for Indigenous Food Manufacturers. Journal of Marketing Management. doi:10.1362/026725799785037030. Details |
| 1997 | COLLINS, A. (1997). The UK Grocery Supply Chain. Journal of Food Products Marketing. doi:10.1300/j038v04n02_02. Details |
| 2017 | MCCARTHY, M. B., COLLINS, A., FLAHERTY, S. J., MCCARTHY, S. N. (2017). Healthy eating habit: A role for goals, identity, and self-control?. McCarthy et al.. Psychology and Marketing. doi:10.1002/mar.21021. Details |
| 2013 | COLLINS, A., KAVANAGH, E., CRONIN, J., GEORGE, R. (2013). Money, Mavens, Time and Price Search: Modelling the Joint Creation of Utilitarian and Hedonic Value in Grocery Shopping. Journal of Marketing Management. |
| 2012 | COLLINS, A., KAVANAGH, E., GEORGE, R. (2012). 'Store Deal Prone Shoppers: Motivators and Implications for the Supply Chain in a Distressed Market. The International Review of Retail, Distribution and Consumer Research. |
| 2011 | O'SULLIVAN, S., RICHARDSON, B., COLLINS, A. (2011). How brand communities emerge: The Beamish conversion experience. Details |
| 2014 | CRONIN, J. M., MCCARTHY, M., COLLINS, A. (2014). Creeping edgework: Carnivalesque consumption and the social experience of health risk. Sociology of Health and Illness. doi:10.1111/1467-9566.12155. Details |
| 2014 | CRONIN, J. M., MCCARTHY, M., COLLINS, A. (2014). Covert distinction: How hipsters practice food-based resistance strategies in the production of identity. Consumption, Markets and Culture. doi:10.1080/10253866.2012.678785. Details |
| 2017 | FLAHERTY, S.-J., MCCARTHY, M., COLLINS, A., MCAULIFFE, F. (2017). Can existing mobile apps support healthier food purchasing behaviour? Content analysis of nutrition content, behaviour change theory and user quality integration. Public Health Nutrition. doi:10.1017/S1368980017002889. Details |
| 2020 | FLAHERTY, S. J., MCCARTHY, M., COLLINS, A., MCCAFFERTY, C., MCAULIFFE, F. M. (2020). A phenomenological exploration of change towards healthier food purchasing behaviour in women from a lower socioeconomic background using a health app. Appetite. doi:10.1016/j.appet.2019.104566. Details |
| 2021 | FLAHERTY, S. J., MCCARTHY, M., COLLINS, A., MCCAFFERTY, C., MCAULIFFE, F. (2021). Exploring engagement with health apps: the emerging importance of situational involvement and individual characteristics. European Journal of Marketing. doi:10.1108/ejm-06-2019-0531. Details |
| 2022 | ROSS, M. M., COLLINS, A. M., MCCARTHY, M., KELLY, A. L. (2022). Overcoming barriers to consumer acceptance of 3D-printed foods in the food service sector. Food Quality and Preference, 100. Details |
| 2023 | COLLINS, A. M., MAGLARAS, G. (2023). Smart shopper feelings in the case of store brands: the role of human capital as a key antecedent and the implications for store loyalty. International Review of Retail, Distribution and Consumer Research. doi:10.1080/09593969.2023.2200965. Details |
Back to top