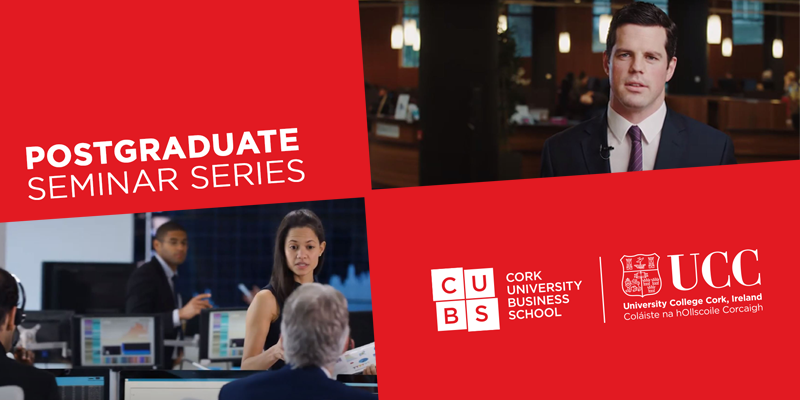 Next in our series of Postgraduate webinars is an information session on the MSc Finance (Banking and Risk Management). Cork University Business School is delighted to host a series of webinars, focusing on CUBS postgraduate programmes and their relevance, over the coming weeks.
The next webinar will take place on Mon April 26 at 12pm and will focus on current debates in Finance in relation to negative interest rates. We are delighted to be joined by Prof. Niall O'Sullivan, University College Cork; John Twomey, Head of Research at Abbey Capital (below right); and Kathryn Prendergast, Chief Risk Officer at BlackBee Investments Limited (below left). Prior to joining BlackBee, Kathryn worked for nearly 5 years in the banking supervision arm at the European Central Bank. Our Industry speakers are past graduates of the MSc Finance Banking and Risk Management programme, and will speak to how the current bond market is influencing policy and investment in their respective organisations.
The event will be hosted Dr Fergal O'Connor, co-Programme Director of the MSc Finance, Banking and Risk Management; and Trish O'Shaughnessy, CUBS Postgraduate Programme Manager. The topics under discussion will include:
Key aspects of the current bond market and negative interest rates
Industry experts will speak to policy and investment implications of this
Graduate career opportunities in banking and finance
We will also answer any application queries or questions you may have about the MSc Finance career opportunities.
All are welcome to attend!