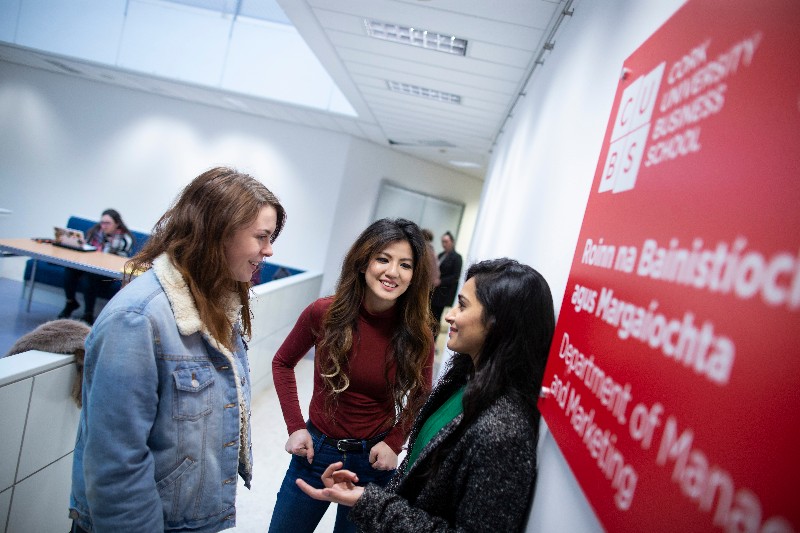 A information evening will take place for prospective PhD students interested in applying for the newly announced scholarship scheme with our Department of Management & Marketing.
The Department of Management and Marketing, Cork University Business School, University College Cork invites motivated and talented graduates with outstanding academic records to apply to a PhD Scholarship scheme within Marketing. We are looking to recruit the highest calibre PhD students from across the globe. Our scholarship offers up to four years funding, covering doctoral programme tuition fees and an annual stipend of €16,000 per year (subject to satisfactory progress in studies). Teaching experience will also be provided and is part of the scholarship.
Information Evening
To provide further information, we are inviting you to attend our information evening
| | |
| --- | --- |
| Date | Monday 4 March |
| Time | 5PM - 6PM |
| Venue | ORB 212, O'Rahilly Building, UCC |
| RSVP | c/o Dave Alton david.alton@ucc.ie |
Event Schedule
Opening Address: What is a PhD? Why do a PhD? Scholarship Information (Professor Mary McCarthy)
PhD Candidate Presentation on B2B Social Media Marketing (Mr. Conor Drummond)
Academic Paper Presentation: "The Score is not the Music: Experience and Practice Perspectives of Value Co-Creation in Collective Consumption Contexts (Dr. Carol Kelleher)
The PhD Journey (Dr. Dave Alton)

Presentations will be wrapped up by 5:30 at the latest and will be followed by tea/coffee in the social area where you can mingle with potential Ph.D. Supervisors.
ABOUT THE SCHOLARSHIP
Research Proposals
Research projects within this field will focus on understanding the implications of marketing practices on society. Research projects that examine and explore potential programmes/marketing strategies that will engage the public in order to impact individual, community and societal wellbeing in the context of health and social care, sustainability, tourism/heritage, and new media are welcomed. For details please click here
Applicant criteria
To be eligible for the scholarship, applicants must have obtained a standard of at least Second Class Honours, Grade I in a relevant Undergarduate degree.
If English is not your first language you will need to satisfy the English language requirement:
IELTS: 6.5- with no individual section lower than 5.5
TOEFL: 90 - with minimum scores as follows: Listening- 17; Reading - 18; Speaking - 20; Writing – 17
APPLICATIONS
The closing date for PhD scholarship applications is 12 noon on Monday 8th April 2019. Presentations and interviews will take place in May 2019.
To apply you must email through a completed application form (attached to email). In the case of applicants where English is not your first language, you must also provide evidence that you meet the entry criteria set out above.
Please note that candidates who do not submit a fully completed application form (and evidence of satisfying the English language requirements where required) by the specific deadline will not be considered. Please note that we reserve the right to check any submitted proposal for originality.
Your application should be emailed to Derek O'Meara: derek.omeara@ucc.ie. Every application will be acknowledged. Dowload the application form here
The successful scholarship awardees will then have to submit a formal application through the University applicant system with an anticipated start date in either July or October 2019.