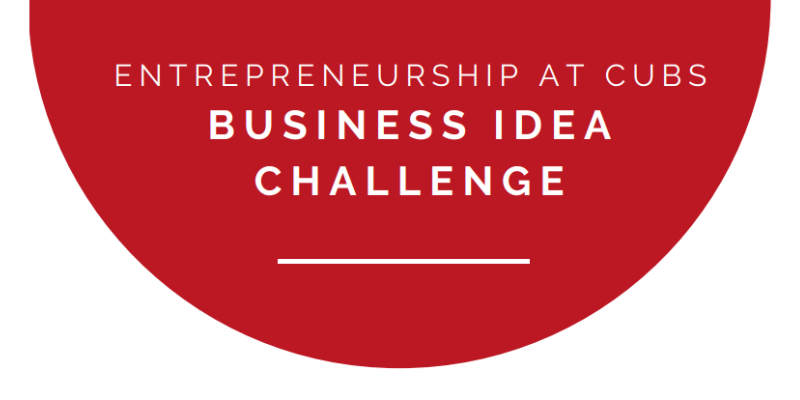 The Entrepreneurship at CUBS Business Idea Challenge (BIC) is an entrepreneurship challenge open to all CUBS students from all levels and programmes.
The Challenge comprises of two main categories:
Undergraduate
Postgraduate
You can enter the BIC as an individual or as a group. You can submit a maximum of two individual ideas and one group idea. Your idea can be a product or a service, for profit or not for profit.
THE BIC IS ORGANISED IN TWO PHASES:
In Phase 1, you submit your three-minute video pitch via e-mail (as a link or a video format attachment). Successful applicants will progress to the next step.
In Phase 2, you submit (1) your five-page (max. 2,500 words) Business Proposition via e-mail and (2) you pitch your business idea live to a panel of judges. During Phase 2, and before the submission of your materials and the pitch, you will have an opportunity to participate in a Mentoring Session that will assist you in your pitch preparation.
KEY INFORMATION AND DATES
All applications will be submitted online via e-mail before each deadline.
Each applicant can submit a maximum of two individual and one group idea.
In Phase 1, the video submission can last a maximum of 3 minutes and it should cover: introduction to your idea, what is the problem you are trying to solve and for whom, and what is your inspiration to solve that problem.
In Phase 2, a five-page (max. 2,500 words) Business Proposition will be submitted in a Word doc with these headings: Introduction, Problem you are solving, Inspiration for solving this problem, Market (dynamics, target market and customer validation), 4Ps (Product, Price, Place and Promotion), Competitor and risk analysis, Unique selling points, Positioning of the product/service, Sales projection and Business model (how do you plan to generate revenue?)
In Phase 2, the live pitch will be performed by the applicant(s).
In Phase 2, the applicant/group will attend a Mentoring Sessions
The e-mail address for submitting your application is: [email protected]
| | |
| --- | --- |
| Description | Date |
| Applications Open | 1st November 2022 |
| Deadline for Phase 1 | 13th February 2023 |
| Announcement of successful applicants | 27th February 2023 |
| Start of Phase 2 | 27th February 2023 |
| Deadline for Phase 2 | 20th March 2023 |
| Live Pitching | 4th April 2023 |
For more information contact the 2023 Business Idea Challenge Co-ordinators: