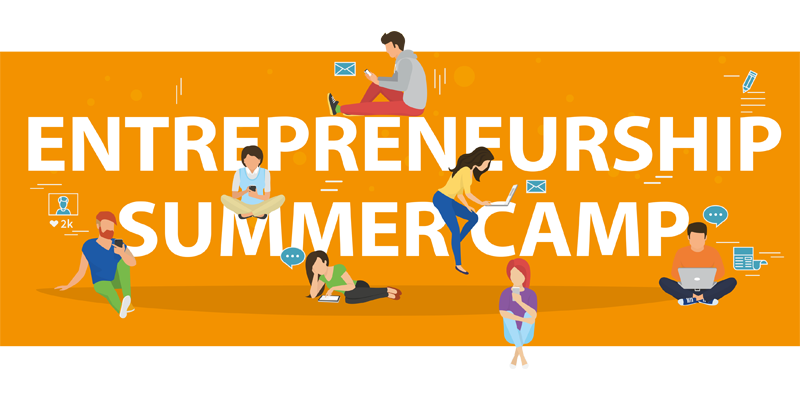 It was difficult not to be struck by the level of enthusiasm emanating from the library's creative zone as the inaugural HEA Entrepreneurship, Creativity and Innovation Summer Camp drew to a close.
The summer camp saw 28 budding entrepreneurs from second level schools across Kerry, Cork and Tipperary take part in a host of activities that were designed to illustrate various aspects of the entrepreneurial journey.
The weeklong event, jointly organised by CUBS, the College of Business and Law and Blackstone Launchpad, invited students to develop creative ideas to solve real world problems in the areas of IT, sustainability, food and health.
Mentored by staff from across UCC, the students took part in a series of fun activities that were designed to refine their ideas as the week progressed.
Working in groups of four, the students also took part in brainstorming sessions, developed business plans, engaged with successful entrepreneurs and advanced their presentation skills - all within a fun and friendly environment.
In fact, one student compared the atmosphere among the participants as being more akin to a "soccer match with your friends… You want to win but you don't mind if you lose either".
Delighted to meet our budding entrepreneurs @ucc summer camp @LaunchPadUCC @EntrepCUBSUCC @CBLUCC pic.twitter.com/aRky5lep7f

— Pádraig G. Ó Sé (@osheaucc) July 14, 2017
By the end of the week, each team had developed innovative concepts and were preparing to pitch their solutions to a judging panel that included Eamon Curtin (Ignite Graduate Business Innovation Programme) Brad Noel (College of Medicine and Health), Richael Connolly (Joup) and Rebecca O'Keeffe (Taste of Cork).
After a great deal of deliberation among the expert judges, President of UCC, Professor Patrick O'Shea, and Professor Thia Hennessy concluded the summer camp at prize giving ceremony on Friday afternoon.
Error 404 finished in a close second with a solar panelled smart jacket titled SmartWear, and The Fantastic Four in third with Working Well. However, such was the level of competition, the judges were left with little choice but to grant COPS a special mention for their product – Aquabia.
Given the success of the summer camp and the level of engagement among the students, organisers are considering making it an annual event on the CUBS calendar. Indeed, the summer camp didn't only provide students with an insight into the world of entrepreneurship, but gave them a taste of life at CUBS.